Taylor Bay Beach: Steamy Seclusion on Provo's South Coast
So many people flock to Provo expressly for the fun and sun of Grace Bay that it's easy to forget that there exist many other wonderfully sublime stretches of sand sprinkled throughout the island. Remote shores devoid of bars, restaurants, or facilities of any kind. The kind of beaches I remember from my childhood in St. Croix; where your imagination and all that nature provides is all that you need to have the time of your life. On a recent visit to Provo, I found all this (and more) at Taylor Bay Beach.
Stumbling Upon Taylor Bay
My friend and former Provo resident, Bob Davies, and I found Taylor Bay a bit by accident. We had just enjoyed lunch at Las Brisas, a restaurant, located on the southern shores of Chalk Sound. Nearby Sapodilla Bay Beach would've made a good spot for a post-lunch swim. Bob, though, was curious to explore further up Chalk Sound Road.
After driving for just a few minutes, we encountered a small collection of cars parked haphazardly in a grass parking area at the side of the road. Some tennis courts and a smattering of private homes were scattered nearby.
At first we thought we'd stumbled upon a private party at one of the homes. A small group of people carrying inflatable rafts down a dirt path, however, suggested otherwise…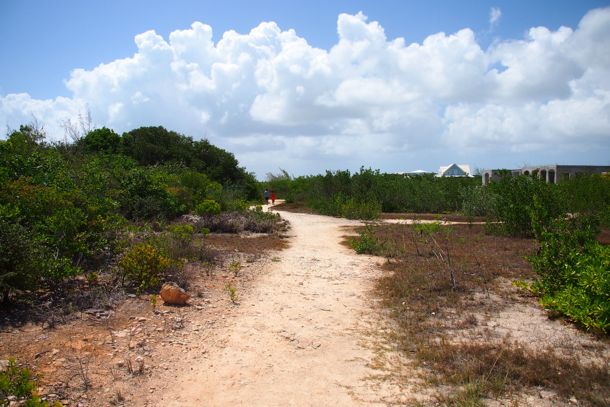 We followed in their footsteps…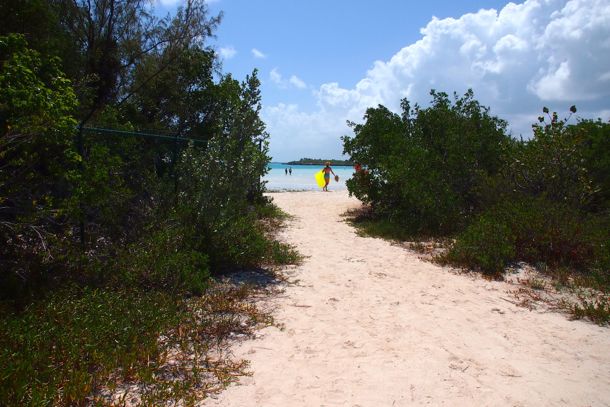 …eventually emerging here – glorious Taylor Bay.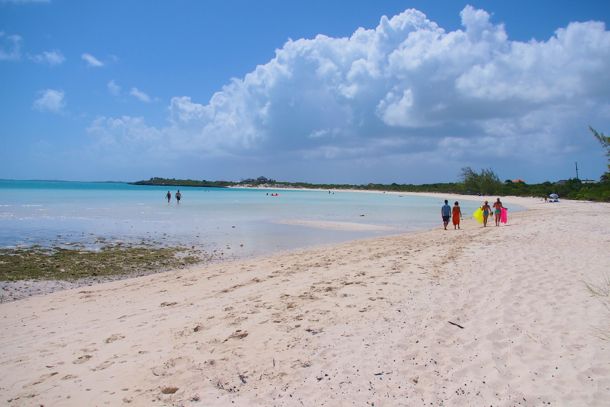 Across the island on Grace Bay, throngs typical of a Saturday afternoon in Provo were no doubt gathering en masse.
Here, on Taylor Bay, though, there were maybe 20 of us. Plus the odd dog or two. And not much else. A blessing in this part of the Turks and Caicos Islands.
Sweet and Steamy Seclusion
About the only thing missing that I would've liked was a breeze. Taylor Bay has such a pronounced horseshoe shape that the air just seemed to sit in there. The atmosphere is heavy and hot, like a sauna.
Luckily, though, Taylor Bay is also blessed with tons of seriously calm and shallow water. It's perfect for sitting in to stay cool. The virtually still waters here barely get higher than your ankles over an area that appears to extend hundreds of yards out to sea.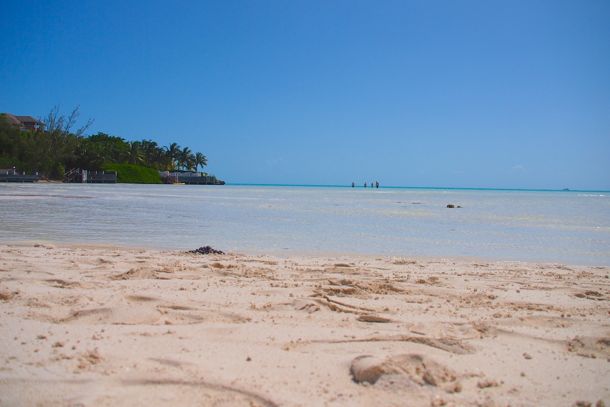 Being at Taylor Bay is like being in on a great secret. One that's 180-degrees from Grace Bay in ways that compliment Provo's most famous beach. Both are certainly worth experiencing in my book. Taylor Bay, though, gets the nod when you're feeling adventurous, or simply want a little seclusion away from the crowds.
Taylor Bay Tips
Aside from a few private homes, there is literally nothing on Taylor Bay. That means you'll have to watch out for yourself and any small children you may have in tow. (No lifeguards.)
It also means you'll have to pack a cooler (no bars, restaurants, or convenience stores) and an umbrella (no shade).
Related Posts