On-Site Old San Juan: Double Your Pleasure at Anam
I just got back from a quick trip to Old San Juan, Puerto Rico where I had the chance to revisit many old haunts from my days working on the island's public relations account some 15 or so years ago. Maria's, El Patio de Sam, and the Parrot Club, among others, were all still there and all still great, but the highlight of the trip was discovering one of the city's newest and most uncommon bars.
Anam has only been open for about eight months, but I have no doubt it will soon become a favorite spot for just about anyone who visits Old San Juan.
Why? Well, you see, Old San Juan is… well… it's REALLY OLD (est. 1521). Like most really old cities in the Caribbean, and elsewhere, the streets in Old San Juan are extremely narrow. This makes driving around the city kinda'… well… it's kinda' like this.
Naturally, the best way to get around is on foot. Naturally, this means just about any visit to Old San Juan will result in really, really tired feet.
After two straight days (and most of one night) exploring Old San Juan's many art galleries, historic attractions, fine shops, bars and restaurants, I was E-X-H-A-U-S-T-E-D. You know the kind of exhausted you get where you'd seriously consider cutting off your feet if you knew there was even the slightest chance they'd grow back? I was there… and then some.
It was at that point, while dragging myself back to my hotel, that I saw a sign that read: Foot Massage – 20 Minutes – $15 – First Drink Free.
NIRVANA!
I immediately ran inside Anam to check it out. The decor – Far East meets San Juan chic. The music – exotic lounge beats with hints of Brazilian jazz. The vibe – pure relaxation.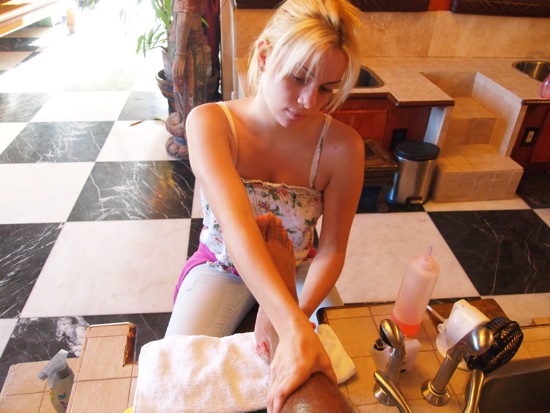 Cynthia, my Bartender/Foot Master, lead me to my cushiony-soft perch, instructing me to place my feet in the water while also taking my drink order. From there, my memory of the experience is a blissful blur of imbibing, rubbing and imbibing some more. I could even see the water of San Juan Bay framed by a few swaying palms from where I sat. A lone sailboat drifted by… Heaven.
Anam offers a nice menu of spa services, including various Thai massage techniques (guests remain fully clothed), foot reflexology, mani/pedi, etc. The first drink provided for free with all services, and the bar is fairly well stocked.
Anam is a MUST for any day spent exploring Old San Juan. I mean, where else can you double your pleasure with a cocktail and an invigorating foot rub? I left there feeling 100% refreshed and ready to face whatever new adventures the old city had in store for me that night!
Anam is located in the heart of Old San Juan, just at the end of Cristo Street right next to the famed Chapel of Christ the Savior. For more info, check them out on Facebook, or call Tel: 787-962-6479.
Related Posts