Ask Uncommon Caribbean: How Can I Visit St. Barts on a Budget?
Ages upon ages ago, I promised to share some tips on how you can visit St. Barts on a budget. The tiny Tony island has developed a well-earned rep as the region's most expensive destination over the years, a notion that we were keen on dispelling in our own uncommon way. I had some ideas for the story, of course, but wanted to actually visit the Caribbean's most exclusive little enclave first to put my ideas to the test.
Alas, nearly two years have passed and I've yet to set foot in this most fancy of French Caribbean isles. Luckily, though, my good friends Jane and Darrin just returned from St. Barts bearing the types of helpful tips and info I was hoping to research on my own! Here's how they kept their St. Barts adventure within budget…
Rent Your Car Through Your Hotel
In my experience, one of the least cost-effective ways to rent a car is through a hotel. Not so for Jane and Darrin in St. Barts. They worked directly through their hotel to secure a rental from Avis. The $40 per-day worked out to be a few bucks less than what they would've paid going direct.
Eat At The Wall House
A nice little restaurant located on the waterfront in Gustavia, The Wall House offers a daily lunch special that includes wine and dessert. Menu items feature an array of classic French cuisine infused with Asian and American influences. Wine options number in excess of 250. To help you save and plan your meals, the restaurant even posts its lunch specials on their Facebook page the night before they're available. Fixed price: 11 Euros, or about US$14.
Don't Sail, Hike to Colombier Beach Instead
Sail charter operators fetch a hefty fee approaching US$200 per-person to ferry folks to this secluded seaside playground said to be the best St. Barts has to offer. Jane and Darrin opted to hike out here instead. Considering the trek only takes about 30 minutes and runs past what appears to be an equally stunning stretch of sand in Flammands Beach, I can't imagine why more people don't hoof it to Colombier…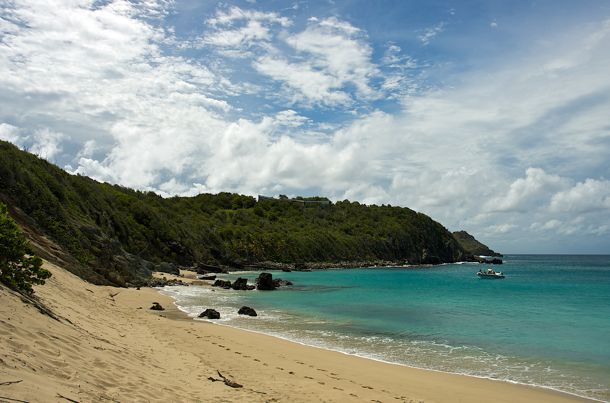 (More on St. Barts' marvelous beaches here.)
Stay At The Salines Garden Cottages
Okay, this tip is one of mine that I picked up in my research from ages ago. Salines Garden Cottages are located near the south shore of St. Barts, offering five stylish guest accommodations, each with a/c, telephone, private baths, terraces, beach towels – you know, the basics. Some cottages are equipped with kitchenettes, there's a pool, and all guests are afforded the luxury of free continental breakfast and airport or harbor transfers. Rates start at just 100 Euros per night (US$130) based on single or double occupancy. Book your affordable cottage escape here.
Got any affordable St. Barts tips of your own? Let us know in the comments section below…
*Lead image photo credit: pocketwiley via Flickr.com.
Related Posts