On-Site St. Croix: No More Nooky at Grassy Point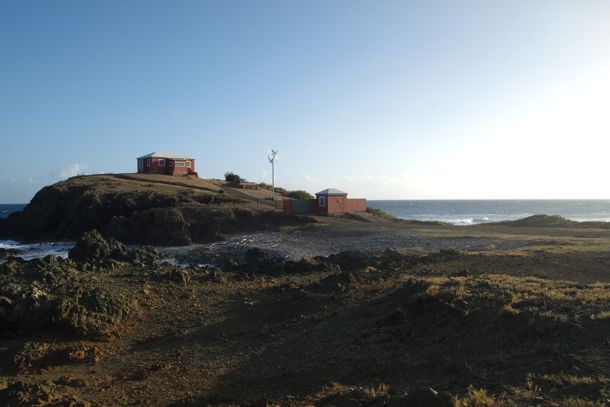 Every city, town, island or enclave has that one special, secluded spot where various teenage rites of passage are carried out, generally in the relative discomfort of your parents' car with just the moon, stars and dashboard instruments lighting your initial fumblings toward (*ahem*) adulthood. Lover's Lane, Make-out Point – we all had places like 'em. In St. Croix, during my youth, that place was called Grassy Point.
Now, this wasn't the only place where young Crucians would steal away in the dark of night for some fun, but it was definitely one of the most popular because of its remote location and unique surroundings. Grassy Point is a dramatic little peninsula located on the eastern half of St. Croix's South Shore. By day, its apex provided sweeping views of St. Croix's wonderfully underdeveloped South Shore. By night, the uniquely romantic perch was an aphrodisiac unto itself, its seclusion bolstered by an endless stream of waves crashing rhythmically at the base of the rocky mount above the sea.
Unlike mythical make-out spots popularized in modern cinema, you wouldn't see a long line of cars parked side-by-side here. In fact, you hardly ever saw anyone else out here at all! If you did, believe me, they'd be too busy to even give a cursory glance at what you might be up to.
Anyway, that was then. The Grassy Point of now, as you can see in the photo up top, is decidedly not open for nooky anymore.
That is, it's not open for anyone lacking the $2.3 million price-tag for Turner's Hole, the one-bedroom/one-bath home now sitting here.
Built in 2011, this sturdy gem sits on 1.65 truly one-of-a-kind acres, has a heated little dipping pool and comes fully-furnished with all the modern luxury accoutrements one might expect at such a premium price. It's also a green house, as evidenced by the Urban Green Energy wind turbine between the gate and the main house.
So, yeah, there's a fair amount to like about Turner's Hole, though I hope you'll forgive me if I just can't love it. Nope, not with the kind of memories I have here – Can. Not. Do. It.
Now, if I had an extra couple-million laying around…
If you're interested in learning more about Turner's Hole, contact my friend and fellow CDS grad, Chris Hanley, at Farchette & Hanley at Tel: 340-773-4665, or click here to visit them online.
Related Posts