Rub Taste Buds with Celebrity Chefs at The 2013 St. Croix Food & Wine Experience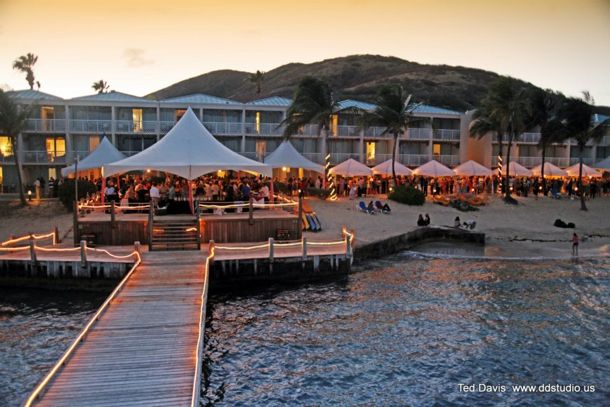 To those of us who grew up in St. Croix, it's no surprise that our humble home island has become quite celebrated for its gastronomy. People from all over the region, and indeed, many disparate parts of the world, have been drawn here to work in various refining and manufacturing industries over the years. They've brought with them their unique cooking traditions, many of which have been adapted to local favorites, creating a dynamic culinary destination any foodie would love.
The best time to experience the best of St. Croix's vibrant culinary scene: mid-April, during the annual St. Croix Food & Wine Experience.
You may already know of this festival from the cool cookbook that shares its name (BUY IT HERE!). While the book is very special and rewards you with page-after-page of inventive recipes to try, the event is even better, affording attendees with unique culinary experiences to last a lifetime.
Not only do you get to enjoy the best of my home island, and some of the finest cuisine on offer anywhere in the region, but you also get to rub elbows with some seriously high-profile celebrity chefs. Just check out the line-up of gastronomic glitterati on the docket for the 2013 event…
Josef DeSimone – Maybe you've seen him on Food Network, NBC, BBC, NBC, KRON4, or you've read about him in Forbes, New York Times, LA Times, or Wall Street Journal. If you've ever eaten at a Facebook Corporate Cafe, then you've certainly sampled his genius…
Paula DaSilva – Brazil-born and South Florida-trained, Paula has worked with Dean James Max at 3030 Ocean, appeared on Hell's Kitchen with Gordon Ramsay, and was named "Best Celebrity Chef" by New Times in 2009. Her current restaurant, a chic farm-to-table eatery on Miami Beach called 1500°, was selected as one of The Best New Restaurants of 2011 by John Mariani.
Todd Gray – A tireless champion of sustainable farming and fishing practices, Todd has earned five nominations for the prestigious Best Chef, Mid-Atlantic award from the James Beard Foundation. He was also tapped by the White House to help advance Michelle Obama's Healthy Kids Initiative.
Mike Lata – A former contestant on Food Network's Iron Chef America, you may have read about him in Food & Wine, Bon Appetit, Esquire, Garden & Gun, Southern Living, Travel + Leisure, USA Today, or The New York Times, to name a few. Outspoken in his commitment to support local farmers, fishermen and purveyors, Mike was nominated in 2007 and 2008 for "James Beard Best Chef: Southeast," and took home the award in 2009.
Simon Stojanovic – The current owner and Executive Chef at Tikl in Miami, Simon was named one of the "Best Chefs of 2010" by the Miami New Times, has earned a Slow Food Miami Snail of Approval Award and was nominated for Food & Wine magazine's People's Best New Chef award in 2012.
No matter what you like to cook at home, after gleaning a few tips and tricks from these master chefs, as well as the 50+ participating local restaurants, your home-cooking is bound to get kicked up a notch or two.
The 2013 St. Croix Food & Wine Experience will be held April 14-20. As usual, attendees will enjoy a series of gourmet dinners, wine seminars, wine auctions, and the annual culinary competition, A Taste of St. Croix. For the full event schedule, and details on event tickets and special hotel packages, visit The St. Croix Food & Wine Experience website.
Related Posts