At Home at Harvey's Restaurant, St. Croix: Taste of the Caribbean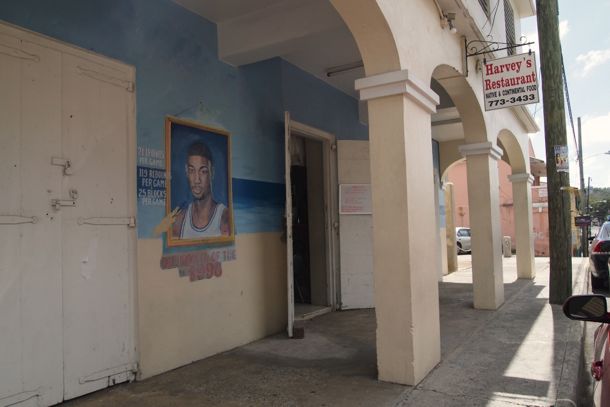 Update: Unfortunately, this establishment has closed permanently.
I grew up in a fairly typical West Indian household – the type where Dad is generally the grumpy guy who works his ass off and Mom is the loving, caring soul charged with managing the circus at home. My Dad's work consisted of eight-hour shifts in a massive oil refinery, a job with zero regard for holidays, special occasions, or wee hours. (See why he was grumpy?) Mom's three-rings (I have two brothers) alternated thrills and proud moments with trademark little boy foolishness. Her favorite sayings: Stop hambuggin' your mother! You too manish! I gon cut your tail!
Ahh, fond memories…
Mom passed away long ago, while Dad has mellowed with retirement in Tobago, a place virtually devoid of grumpiness. (How could you be grumpy here?) So these days, when I want a taste of our old family dynamic, I can head back to St. Croix and straight to Harvey's Restaurant.
It's impossible not to feel at home here, especially when they serve you a dish like this: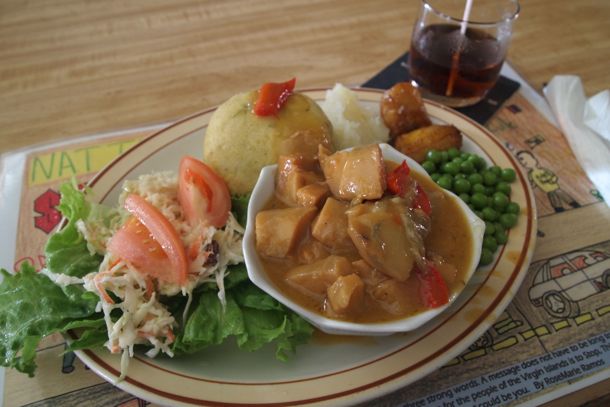 This is the amazing stew conch and fungi I enjoyed over lunch at Harvey's back in March. The famous old saying in St. Croix may be Fish and Fungi is CRUCIAN FOOD, but this stew conch is well-worthy of some props as well.
Like all the dishes they've been serving up in Harvey's since the place opened in the late 1980's, my lunch was 100% homemade and absolutely delicious. But, if you go to Harvey's, don't look for it on the menu. In fact, don't look for a menu. Instead, look for the chalkboard at the door when you walk in. That's where they scribble whatever's available on any given day, and yes, the selections change often.
The people doing the scribbling (and the cooking and the bartending and virtually everything else at Harvey's) are Sarah Harvey and her husband, known popularly as Mr. Harvey; two very special people who remind me more of parents than any other couple I've ever met.
Mr. Harvey is the lovably gruff guy behind the bar. He can be curt and dismissive at turns, but it's all part of the charm. Like my Dad, Mr. Harvey, worked at the now-closed Hess Oil Refinery on St. Croix. I hadn't seen him in years, but he recognized me from my days competing as a member of the St. Croix Dolphins Swim Team with the island's most famous former waiter: NBA superstar, Tim Duncan.
Paintings, murals, photos and press clippings tracing Duncan's meteoric career adorn both the interior and exterior walls at Harvey's, creating somewhat of a shrine to one of the Caribbean's most successful athletes. That's about the extent of the glitz here.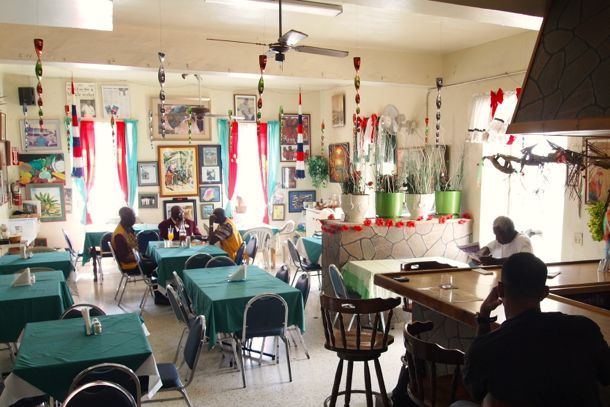 Harvey's is a truly local place in every way. You won't find fancy linens, tables, or chairs here. Fine China? Nope. They don't even have air conditioning. I visited in March, yet Christmas decorations still hung from the ceiling.
So yeah, it's perfect… A place where you can really feel the love. Just ask Sarah for the daily special. Her answer:
The special is love.
Just like my Mom, Sarah is real short, a fantastic cook, and someone who genuinely cares about everyone. After finishing up my lunch, I spent a good 30-40 minutes just chatting with her – about the restaurant, Timmy, the oil refinery, relationships, marriage, kids… you know, life.
It was emotional…the kind of conversation I always wished I could still have with my real Mom – my belly full, my heart open and ready for some gentle motherly guidance.
I was home.
Harvey's is located on Company Street in downtown Christiansted. They're closed on Sundays, but you can have lunch made with love there any other day you like.
Related Posts