Unpacking St. Croix – March 2018
Editor's note: After a 29-year break from one of the wildest annual fetes in the Virgin Islands, I returned home recently to brave the crazy that is the St. Croix St. Patrick's Day Parade two weekends ago. Of course, I also made a little time for a few other uncommon pursuits. So, how was it? Here's a preview of my upcoming posts stemming from my latest STX adventure…
Post-Trip Mood
Happily, thoroughly exhausted… and drunk. Trinidad Carnival it is not, but St. Croix's version of St. Patrick's Day strives really, really hard to pack just about as much fun, drinking, debauchery, and more drinking into one day as any annual fete held anywhere in the Caribbean. There was definitely lots of drinking, some great music, and drinking, and wurkin' up, and drinking, and sexy wining, and lots more drinking. Indeed, anyone under 18 who wasn't drinking was not to be trusted. Yeah, it just about wore me out.
The Good
The best thing about returning home to St. Croix for me is always catching up with old friends. This time was no exception, of course, as most of the island turned out for the Parade. The vibe among old friends and new was truly ebullient, with many saying that the celebration seemed heightened this year in the wake of the hardships brought on by Hurricane Maria.
The Great
Two words: Lyric Sails. So much more than your typical sunset sail, this floating party casts off from Frederiksted Pier aboard an intimate (and infamous) 63-foot catamaran stocked snacks, unlimited rum punch, live music, and the exact kind of laid back island vibe we love. LOTS more coming on this special experience soon.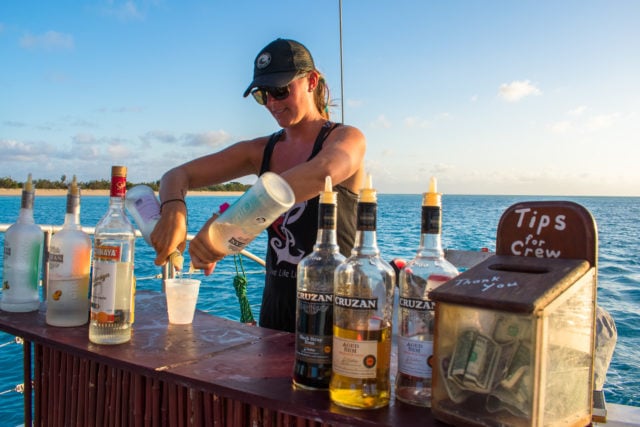 The Bad
Not. Enough. Time. I was only there for the weekend, Friday–Monday. I've stayed in St. Croix for weeks before and felt gypped. This visit was waaaaaayyyy-too-quick. Could a permanent move back to STX be very far off in my future. Hmmmm…
Related Posts