Uncommon Beauty: What's Old is Still Nude in St. Martin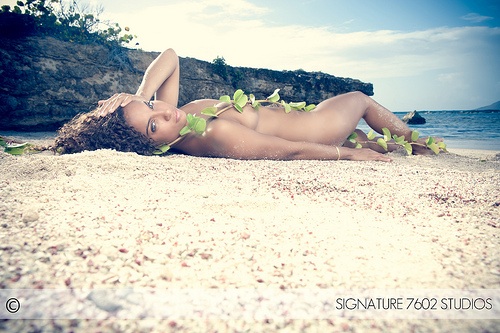 The swinging sex party at Hedonism III is about to come to a close. The legendary den of iniquity located in Runaway Bay, Jamaica announced recently that it's buttoning up… literally. In a few months, the wild toga parties, nude pool games and other assorted clothing-optional shenanigans will be gone, replaced instead by a more traditional resort experience and a new name – SuperFun Resort & Spa.
For anyone who was down for the old Hedo III party, this change is anything but super or fun.
Fear not, freaky traveler: the Caribbean still offers a great many places where you can bare all in search of a good time. Take, for instance, French St. Martin, where the alluring photo above was snapped.
Undoubtedly the #1 nude destination here is Club Orient, one of the oldest clothing-optional resorts in the Caribbean. Club O, as it's more commonly known among its fans, is comprised of 137 rooms spread over 1.5 miles of brilliant white-sand beach. No TV's, no phones and no clothes make Club O a favorite among free spirits who truly want to get away from it all.
Clothing is optional EVERYWHERE on-property at Club O, but this isn't a sanctum of sin on the level of that formerly espoused by Hedo III. It's not uncommon to see entire families enjoying the resort in the buff, as you can see in photos posted on the Club O website.
Clearly, all types are welcome here… so long as you're not shy.
Related Posts