On-Site Tobago: Sailing Away to Secluded Cotton Bay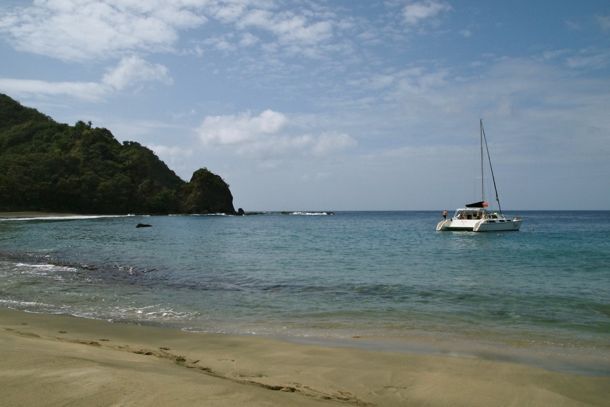 I tend to like some balance in my beaches. For me, secluded, pristine and peaceful shores are best, though they also need to offer tons of fun stuff to do and discover. Not the kind of stuff that requires signing out towels and water sports equipment from some faux Tiki hut either. I mean the kinda' fun my brothers and I used to invent as kids growing up on the beaches of St. Croix, when joy could be derived from simply climbing a set of rocks and seeing what was on the other side.
By these measures, the blissful scene you see here represents my ideal beach in Tobago. This, dear friends, is Cotton Bay.
Lending credence to my long held notion that the best places in the world are often the toughest ones to get to, Cotton Bay is accessible solely by boat. The semi-volcanic sand, a rare aspect of many of Tobago's beaches not named Pigeon Point or Store Bay (Tobago has no volcanoes), is soft and caressing, like a plush carpet that's barely ever been trod upon…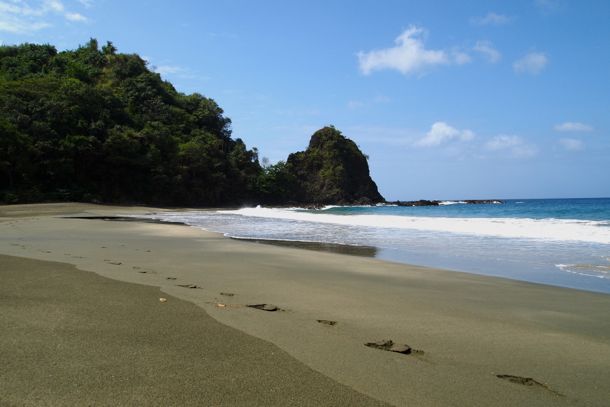 At its front, the calm, cool waters you see here. At its back, a steep wall of rock and thick rainforest, impenetrable least to the birds, lizards and other happily undisturbed wild residents of the area.
I found myself here this past January during a tour of the bays and beaches that line Tobago's north shore. There were lots of great highlights to that particular excursion (especially the climax here), but Cotton Bay definitely stands out to me.
Aside from our boat (not pictured), whose captain and crew seemed intent on converting the peaceful paradise into a palancin' soca playground, the only sounds here were of the surf, birds and breezes blowing through the trees. At the west end of the bay, a small stream emptied into the sea, cutting an artful series of winding paths through the sand. To the east, there was this…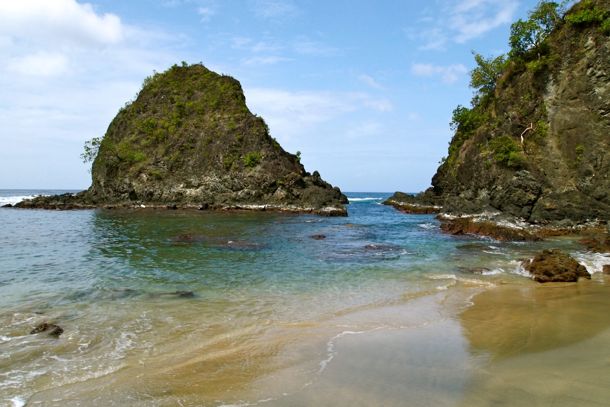 Through the little alley that separates the rock islet at the left from the mainland rocks at the right there lies some pretty cool snorkeling. Remember that simple joy I mentioned earlier? Oh yeah, you can find it right here, climbing rocks, traversing narrow undersea waterways, discovering and adventuring like a kid all over again!
I could've spent the entire day playing at Cotton Bay, but alas, there were more marvelous Tobago bays and beaches to discover. If you want to get in some play time here too, day trips can be arranged through a number of tour companies in Tobago. We spent the day with the young and fun party crew at Tobago Waterholics, who can customize the experience to meet the needs of your group. They run a smaller, twin-engine powerboat, which you'll definitely want to consider if you're prone to sea-sickness. Catamaran operators like Island Girl accommodate groups aboard a much larger sailing vessel, offering what appeared to be a more subdued experience, though with a lot more people.
No matter who you go with, this trip is certainly worth the trouble. Just be sure to bring your childlike imagination and sense of adventure…Cotton Bay will handle the rest.
Related Posts