On-Site Tobago: The Villas at Stonehaven, Ultimate Luxury at Affordable Rates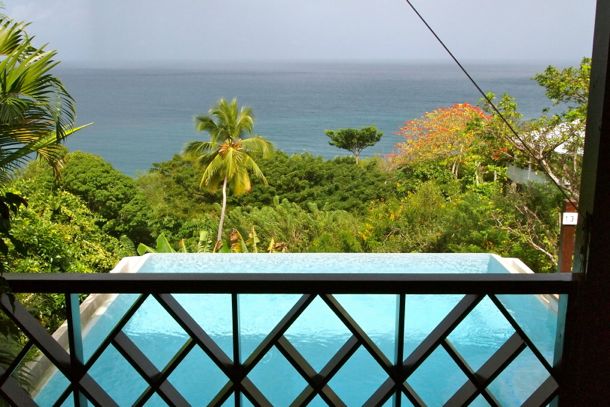 When you wake up in the morning in villa #4 at The Villas at Stonehaven, make your way to the outdoor dinning table on the verandah, sit down with your back to the kitchen and look straight ahead, you're rewarded with this spectacular view. That's your private plunge pool directly before you, the calm Caribbean waters off Stonehaven Bay on Tobago's north shore further out.
Then again, who could blame you for eschewing all this majesty in favor of sleeping in. After all, this could be your bed…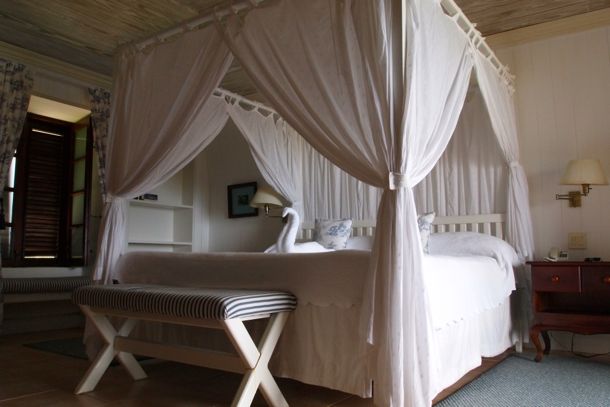 Or perhaps you'd opt for the even larger and more comfortable "Beige Room," with its seven-foot-wide master bed. Either way, it's impossible not to start your day in exquisite comfort and gorgeous surroundings at this truly exceptional property.
I had the pleasure of calling villa #4 at The Villas at Stonehaven home for two nights back in January, and I can honestly say these were among the most comfortably relaxing two nights I've spent anywhere in a long, long time. Being here, it's easy to see how the other half lives…and lives so well.
The property consists of 14 free-standing villas, all with two floors covering 3,700 square-feet, plus a main Clubhouse, where you'll find a well-stocked bar, an expansive infinity pool, small conference facilities and The Pavilion Restaurant, one of the finest dining spots on the island. Each villa has three guestrooms, each with en-suite baths, so six can sleep comfortably. Villa #4 has a fourth bedroom, also with a bath, where you can stash another guest. There's a full kitchen, stocked with all kinds of cooking supplies, cutlery, dishes, glassware, etc. Every day between 9am and 2pm you even get your very own housekeeper, who'll clean all those dishes and cook/serve you something nice, upon request.
You already know about the plunge pool and dining table. Outside you'll also find an ample collection of chaise lounges and other comfy seating, your own gas bar-b-cue grill, and those amazing views. Back inside and downstairs, there's a good-sized living room with more comfy seating and a flat-screen TV.
The property only opened in 2001, though it espouses a rich, pedigreed Old World feel thanks to the celebrated architectural mastery of Arne Hasselqvist. This is the same guy who designed the exclusive villas on Mustique, so you know luxury is absolutely included here.
Like most every other villa anywhere else, a big benefit at Stonehaven is privacy. Each villa is free-standing, and though some are set higher up the hill upon which the property sits than others, they're mostly positioned in such a way as to keep your villa fun hidden from prying eyes.
Unlike a lot of other villa accommodations across the Caribbean and elsewhere, Stonehaven also pampers guests with all the services of a five-star hotel – concierge, room service, massage, you name it!
You want to rent a car, it comes to you. You don't have to go to it. You want a chef at night to cook you a candlelit dinner for you and your significant other, so be it.
These are the words of Duane Kenny, the young and affable general manager over at Stonehaven. After giving me the low down on all the finer points about the property, Duane shared the real special news about this very special place: the rates.
The Villas at Stonehaven are arguably the best value in all of the Caribbean right now.
Per-night stays start at $275 per night for up to two people. That's not a per-person price either. It's $275 per night for the entire villa!
Even better, the more folks you bring along to Stonehaven, the better the deal gets. Nightly rates for four guests start at $475, or $118.75 per-person. Three couples can stay here for just $112.50 per-person, per-night! The Hampton Inn here in downtown Fort Lauderdale costs more than that!
Bear in mind, these are not special promotional rates. These are the published rates, so it's not like they're going to expire like some limited time offer.
Rates do vary according to the seasons, but considering all that you get here, the deal is pretty amazing any time you're thinking of going.
Visit The Villas at Stonehaven online for more details, and wake up (or sleep in) amid all this luxury soon…
Related Posts