Cowles Field on Pine Cay, Turks & Caicos: Uncommon Attraction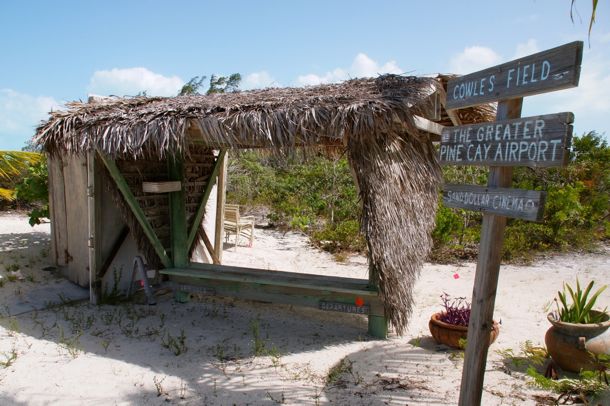 Even in the most uncommon of destinations, it's often a challenge to find truly uncommon attractions. Not so in Pine Cay, the sleepy slice of sand-swept heaven in the Turks & Caicos that I had the great pleasure of experiencing this past weekend. You actually won't find any real attractions here (well, not the "tour guide required" kind, anyway), which of course makes Cowles Field that much more perfect in my eyes…
Now, you may find this somewhat hard to believe based on the image above, but Cowles Field really is a real, live airport – one of only eight in the 300+ islands, cays and atolls that make up the Turks & Caicos. (See, it's even listed on World-Airport-Codes.com!) The rustic shelter in the photo is the actual airport terminal… all of it! Small, hand-carved signs on the bench indicate that departing passengers must sit on the right, while arrivals are invited to relax on the left.
Another hand-carved sign just outside the airport provides a humorous indication that you're near the terminal…
I did not arrive in Pine Cay via Cowles Field. Hardly anyone does these days, the formerly frequent air transfers from Providenciales International Airport (PLS) replaced by a quick and scenic private boat charter courtesy of The Meridian Club, Pine Cay's sole resort property. You're more apt to see Club guests and owners of the 36 private homes on the island taking in a movie from the comfort of their golf carts as part of the "Drive-In Theater" The Meridian Club puts on here during the winter season.
A handful of guests and homeowners with private planes continue to make good use of Cowles' 2,500-foot runway from time to time, but mostly it just sits empty…
Sitting here gazing at this long expanse of empty runway, I really wished that one of my brothers or friends could've been along with me on this particular uncommon adventure. Sure, it would be fun to take pictures and share the quirkiness of the place with a buddy, but I really had something more exciting in mind…
Drag racing!
Pine Cay is one of those special places without cars where everyone gets around by golf cart or bicycle. Racing in either would've made for a great afternoon of fun, but since I was flying solo again, I had to settle for the simple and unique thrill of riding up and down a real, live airport runway alone…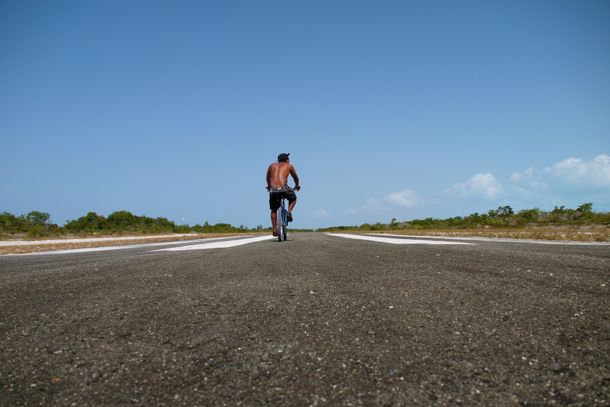 Now, as I've mentioned before, Cowles Field is a real, live airport. That said, you're technically not supposed to be on the runway at any time. The folks at The Meridian Club discourage it, so of course, you didn't hear about any of this from me…
Related Posts