Good Times Mingling With Pale Tourists in St. Thomas
Much maligned, they are the butt of a seemingly endless string of jokes. Mean-spirited memes deriding them appear regularly, spreading across the Internet as rapidly as they scurry for shade during the height of the day.
Their SPF, astronomical.
Their freckles, incalculable.
They brave our sun-kissed shores ofte with reckless abandon, determined, even if only just once, to get that perfect tan. More times than not, though, they go home red, pained, and peeling.
They are the pale tourist. This is their beer.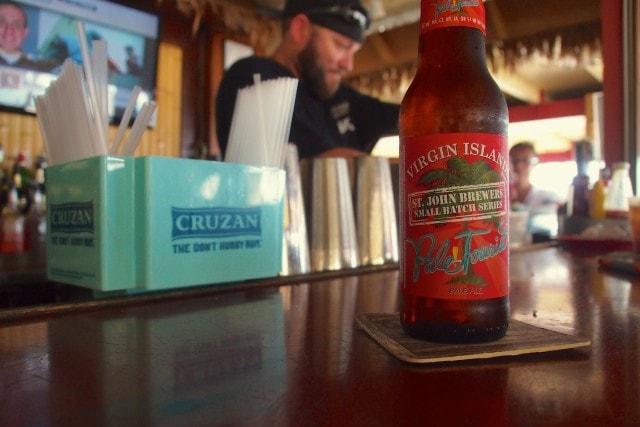 Well, the beer named for them, anyway. One of the newest small batch creations from our friends at St. John Brewers, Virgin Islands Pale Tourist is an American style pale ale available on a limited basis during select times of the year. Lucky for me, one of those times just happened to coincide with my last visit to St. Thomas this past October, where I happened upon the bottle pictured above during another great lunch at Iggie's.
A steady breeze was whipping in off Bolongo Bay, like always. A mix of well-dressed locals on lunch break and swimsuit-clad visitors filled the place. I, splitting the difference in terms of dress code following a long morning of meetings, needed something to put my mindset squarely on-par with the swimsuit-clad set.
Pale Tourist, it turns out, was perfect for the job.
Mild on the hops with balanced notes of tropical citrus, this might be the best of the St. John Brewers line of imaginative beers; perfect for the warm island climes, no matter the sensitivity of your skin…
Cheers!
Related Posts