Outer Brass Island, St. Thomas: Uncommon Attraction
Anyone who has ever been to Magens Bay, the sinfully sweet seaside playground on St. Thomas' north shore, has surely laid eyes on this islet, though you'd be forgiven if it may not have made much of an impression. There's so much to see and enjoy on the sand and in the shallows at Magens that it's easy to ignore everything else.
Not for me, though.
On my first visit here just a few weeks ago, I found myself transfixed by the islet. What was her name? Could I go there? If so, what would I find there?
From the shore, she appears to sit dead-center at the mouth of the bay; a glorious green mound rising from the sea tempting exploration.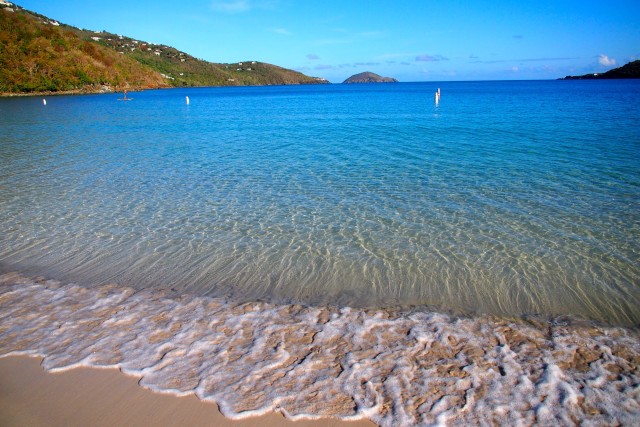 Even more mysterious, the handful of people I asked about her during my early-morning hours on Magens Bay didn't know anything about her either. Not even her name…and they live on St. Thomas!
Eventually, my childhood friend Roy Pemberton, who worked for several years as Director of the Division of Fish and Wildlife at the USVI Department of Planning and Natural Resources (DPNR), gave me some answers.
Turns out the islet object of my affection is called Outer Brass Island. It's owned by the Government of the U.S. Virgin Islands and is designated as a wildlife sanctuary mainly benefiting a wide variety of sea birds.
It's not totally off-limits to adventurous travelers, though…
You can camp, but you need to get a permit from DPNR. The Division of Fish and Wildlife also gives instructions on how to avoid disturbing the wildlife.
The wildlife here isn't the only thing you have to watch out for either…
You also have to watch the tides. You can run out of beach real quick in the middle of the night and wake up floating!
Definitely sounds like our type of adventure, especially since fishing, lobstering, and harvesting conch is also allowed around Outer Brass!
If you want to check out Outer Brass but don't want to rough it overnight, St. Thomas Scuba and Snorkel Adventures offers excursions to and through a number of underwater caves around the island. See what that experience is like here.
Ever been over to Outer Brass Island and have more tips for us? Please let us know!
Related Posts