2021 Anguilla Summer Escape – Should You Go, or No?
Oh for a 2021 Anguilla summer escape! Just imagine sitting here along Meads Bay. You're sipping on a rum punch from Blanchard's. Gentle sea breezes caress your very soul. It's so heavenly it must be a dream, right?
Sadly, any travel to Anguilla this summer may be just that. A dream.
April 2021 COVID Spike in Anguilla
The Government of Anguilla imposed a new 14-day lockdown beginning April 22 in order to contain a recent spike in coronavirus cases on the island. This was a bit surprising as no place in the Caribbean had done a better job of remaining COVID-free throughout the pandemic.
Tight, yet sensible border restrictions and protocols had kept infection rates near zero for months. Then, suddenly… well, this…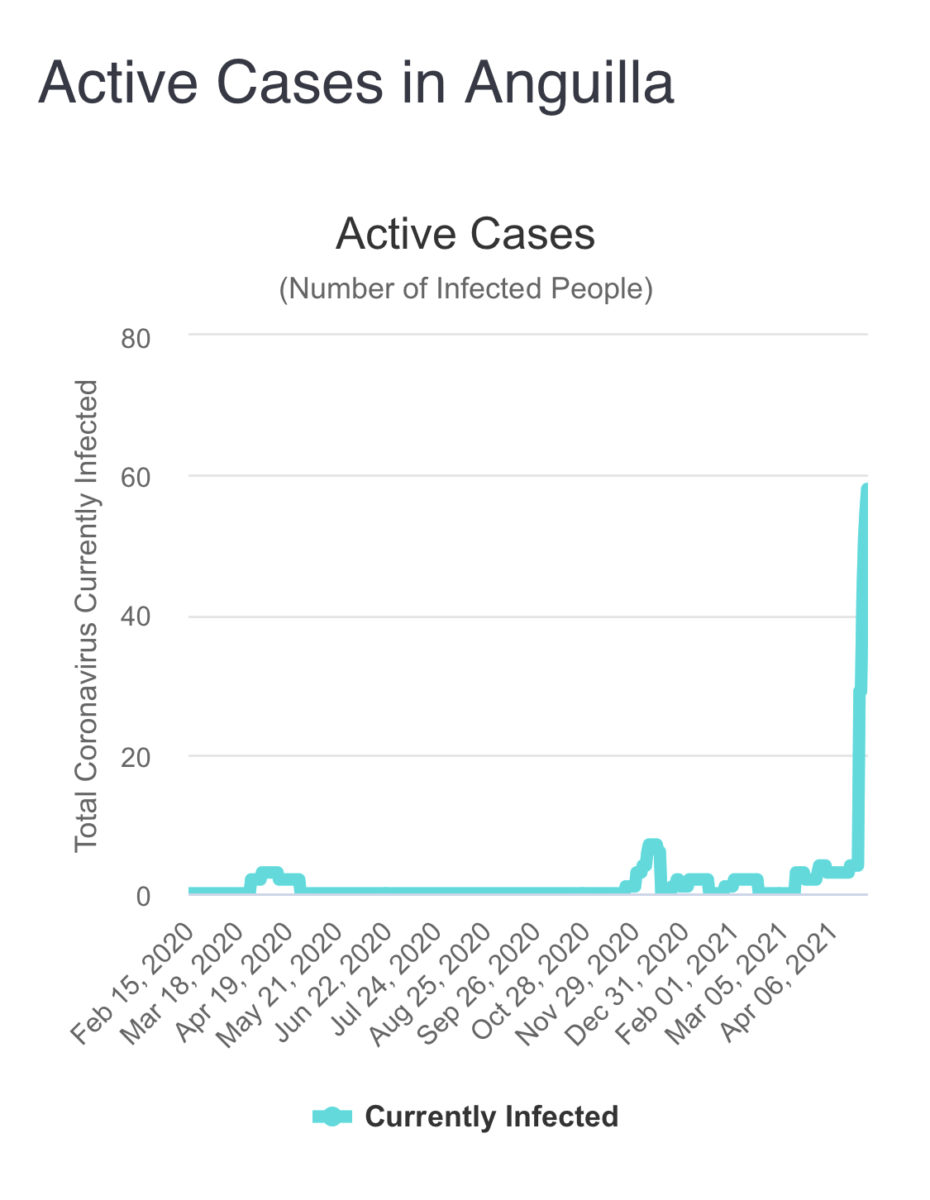 (Source: Worldometer.)
On the day the lockdown was announced, Anguilla only had four infected persons. The next day, the total stood at 29. By April 28th, infections had shot up to 58.
Lockdown Life in Anguilla
As before, the local government has moved quickly to stop the spread. Anguilla is now home to one of the strictest lockdowns in the world. Airport and ferry service operations have been shut down, with only departing stay over guests permitted to leave. Visitors with more time remaining on their trips are required to stay at their hotel, resort, or villa.
Similarly, the island's entire population of just over 15,000 people are all required to stay home. Exceptions apply to those providing essential services, of course. Individuals can leave home for medical reasons, or to purchase food, fuel, prescriptions, and other essentials. Outdoor exercise is permitted for 90 minutes maximum between the hours of 5am and 6pm.
Schools are closed, public gatherings are not allowed, and masks are mandatory in public spaces.
So yeah, Anguilla is back to square one in dealing with COVID right now, but does that mean that you should give up on your 2021 Anguilla summer escape?
My 2021 Anguilla Summer Escape Plans
Personally, I was in the throes of planning just such an adventure when the news hit of the latest lockdown last week. I'm fully vaccinated and hitting a MAJOR milestone birthday this summer. Anguilla is where I want to celebrate it!
So, what am I going to do?
Friends in Anguilla have told me that they're hoping to reopen July 1 with zero cases and herd immunity. This may require a few more than two weeks of strict lockdown to achieve, of course. If all goes well, and Anguilla has a tremendous track record in this regard, the late-July/early-August dates I was looking at should still work.
That doesn't mean that I'm ready to book and flights just yet, though. The next few weeks should tell us a lot about when and how we can make a 2021 Anguilla summer escape a reality.
To be continued…
May 2021 Update
So, as previously surmised, the past few weeks have provided a great deal of clarity on the viability of travel to Anguilla this summer. In short, the situation in Anguilla has changed… COMPLETELY.
The big news is that the island is once again virtually free of COVID. Active cases have PLUMMETED in the past month, thanks, no doubt, to aggressive lockdown measures imposed by the local government in late-April.
This incredible news, coupled with the increased proliferation of COVID vaccinations, has led the Government of Anguilla to significantly relax entry protocols…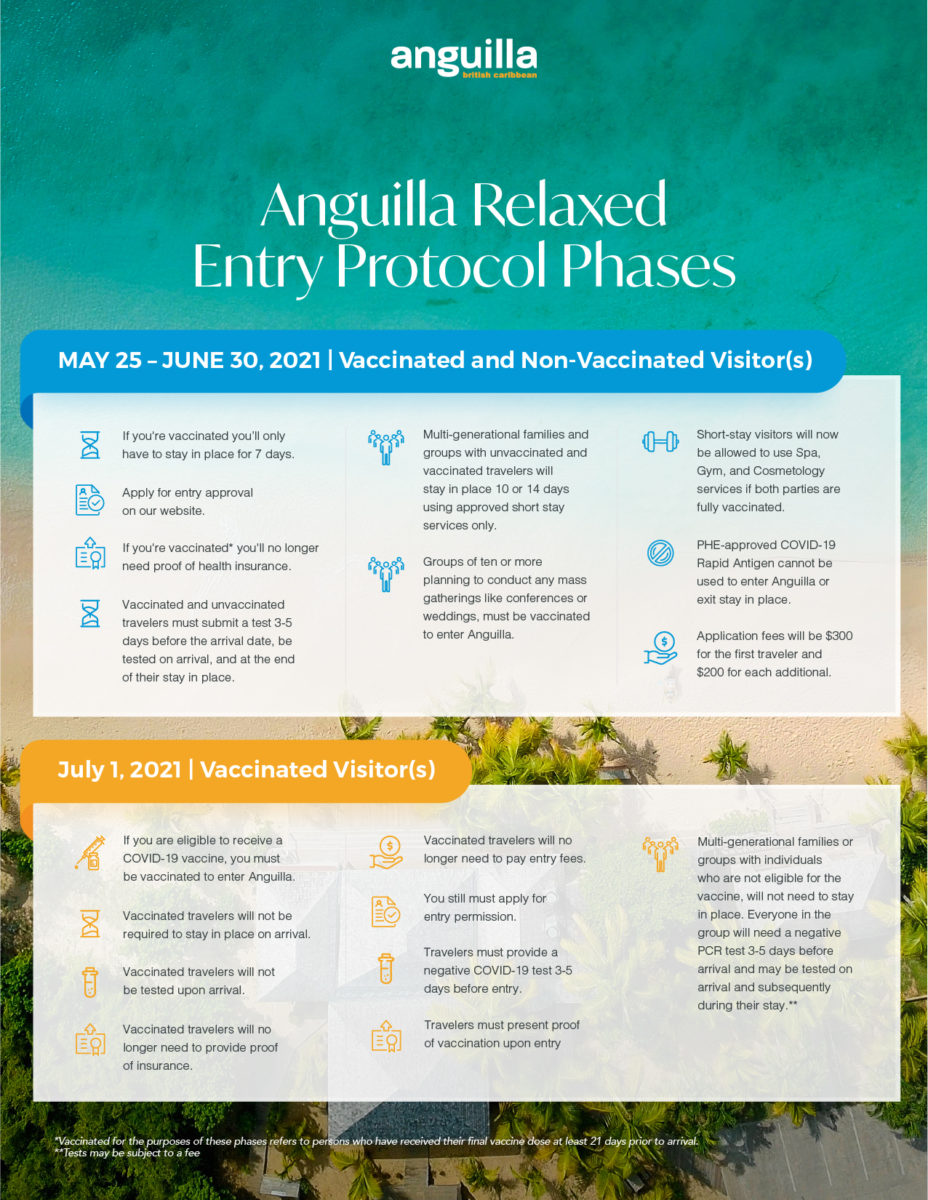 The developments are particularly good for those of us in the fully vaccinated camp that are keen on visiting AXA after July 1. From then on, vaccinated travelers need simply to provide proof of vaccination and a negative COVID test taken three–five days prior to arriving in Anguilla.
Note: From Anguilla's point of view, a vaccinated traveler is someone who has received their final dose of a COVID-19 vaccine at least 21 days prior to arrival in Anguilla.
Oh, you also still have to apply for entry, but other than that, you're good to go! No entry fees or quarantines. No proof of insurance or further COVID tests required once in Anguilla.
Essentially, all is just about as it was pre-pandemic as it relates to travel to Anguilla this summer. For me that means, time to book some tickets!
Related Posts