Running Into a Baby Turtle (Literally) on Eagle Beach, Aruba
Even if you, like me, are not a morning person, you'll feel compelled to rise with the sun and get in some exercise when you stay at Aruba's Bucuti & Tara Beach Resort.
Healthy menu options and the resort's obvious predilection toward wellness (see recent naughtiest chair in Aruba post) contribute to the overall fitness good feelings, but it's the wide expanse of Eagle Beach upon which the property sits that really inspired me to get up and at 'em early during my mid-summer escape here with the wife a few months ago.
The sight of that bleach-white sand first thing in the morning invites a rigorous bit of running. So, run I did.
From Bucuti heading north along the beach I ran two miles, then turned around determined to get in my usual four miles.
About halfway back, though, I just had to stop.
It wasn't a cramp, a sprain, or pulled muscle that got me off-track, but rather a tiny bump on the beach that was drawing a large crowd…
The bump, a single solitary baby Leatherback sea turtle making his initial journey to the sea.
Something had caused him to lag behind his brothers and sisters, who had hatched the night before. Now, in the early hours of the morning, he had the spotlight all to himself.
More and more people showed as the wayward little guy kept dragging himself mostly forward, slowing down a bit as we slogged around in circles at varying stages, then righting himself and advancing forward a bit before making more circles again.
We all stayed back trying not to disorient him any further, but he was clearly having trouble.
Eventually, though, with a little hands-off guidance (the crowd stood in a "U" shape around the little guy, the opening facing the sea so he'd stop with the circles), he made it…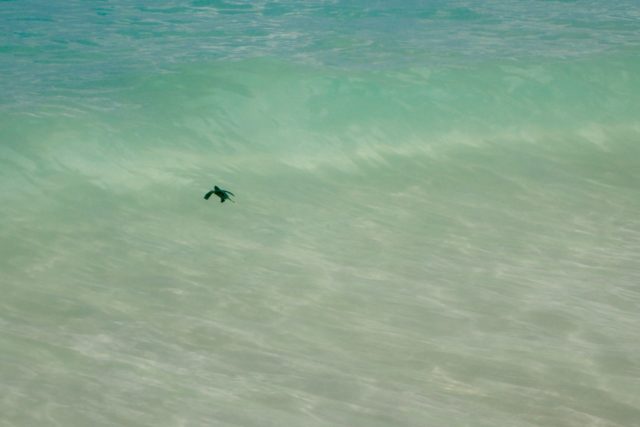 I got short-changed on my run, though the experience proved priceless.
Save
Save
Save
Save
Related Posts