Marie Sharps Hot Sauce: Best Farm-to-Bottle Belize Hot Sauce
Marie Sharp's Hot Sauce is so ubiquitous in Belize, it's hard not to run across this habanero pepper sauce during your travels through this uncommon Central American destination. She's lingering at every beach bar, restaurant, and roadside food shack. But don't let her easy in-country availability fool you. One taste and you're likely to fall in love with the "Fiery Lady."
That's just what happened to me on my first trip to Belize. Sitting at a bar in Placencia with my chair slowly sinking into the sand just as the sun sank behind the palm trees—I can remember it clearly. Before me were a bitta, three rustic chicken tacos, and three bottles of Marie Sharp's Belize hot sauce of varying intensity.
I tried one. Then another. And finally the last. Then washed them all down with the shot.
That was all it took.
So utterly divine was this collection of local flavors, I decided then and there that I needed to do more, let's just call it, "research" by trying as many of Marie Sharp's concoctions as I could. And what better place to do that than at the Marie Sharp's factory!
Long-story-short, I ran out of time. [Sad trombone here.] I had to settle for tucking a few bottles in my bag on the way home. Still, it was a bearable consolation knowing I'd have to return to Belize at some point for the Fiery Lady.
Marie Sharp's Local ingredients
On a recent trip to Placencia, I was determined not to repeat the mistakes of my first trip and made sure I had time to visit the Marie Sharp's factory in Stann Creek Valley near Dangriga. Over an hour's drive away, it wasn't exactly close. I had driven past the factory on my previous trip, though, and was not going to let another trip end without swinging by and stocking up!
Even before you turn off the highway, you see it: rows and rows and rows of farming. It's a pretty idyllic scene.
Quiet, green, but polka-dotted with colorful fruit accents. And the smell! Crisp. Clean. Natural.
As you turn off the highway onto a dirt road, the farm rows continue, but now you see tall mango trees towering over low habanero pepper plants. Clutches of cactus hug the roadside. A few farm hands pick through all the green stooping here and there to collect the fruits of their labors.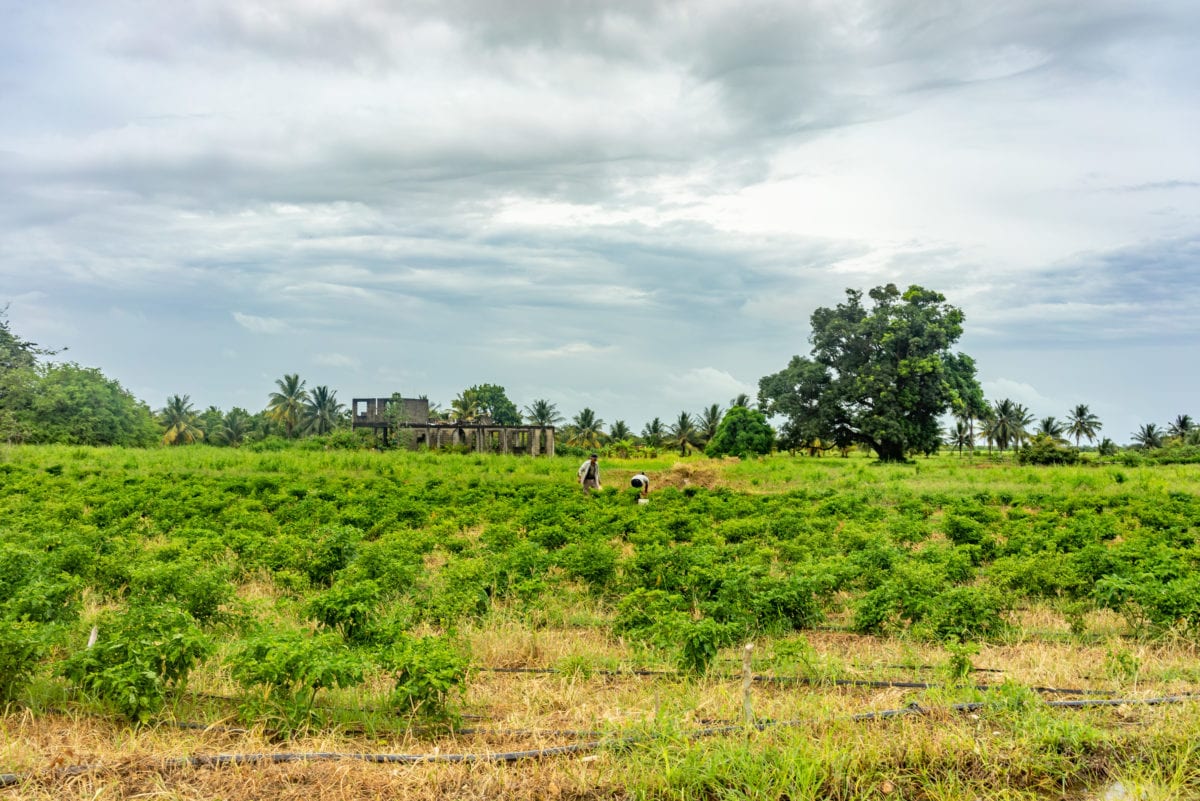 Marie Sharp has spent many years cultivating all the natural ingredients that are grown here in the fertile paradise of Belize–specifically the foothills of the Mayan Mountains. To ensure freshness, different recipes are produced at different times of the year depending on what's in season.
Handmade with love
A visit to the relatively small and unassuming factory yields a few more surprises beyond its single-estate production methods.
The first surprise: I look a little ridiculous with a beard net!
The second is that there is almost no automation to be found! You're not allowed to take photos inside the factory proper, so as not to reveal the secret sauce of the pepper sauce, but there is a shocking lack of autonomous machines in the building.
All those fresh, homegrown ingredients are cleaned, cut and prepared by hand on their way to the bottle. Since 1981, the "Fiery Lady" has employed locals from right there in Stann Creek, Belize to help make her magic. Whether they're processing the red habanero worthy of her recipe, fresh carrots, orange pulp, grapefruit pulp, key lime juice, or even the hottest pepper known to man—it's almost always done by local labor.
Of course, at the beginning, it was just her in her kitchen. Over time, though, she's grown her team, while still retaining that family-owned business feel.
That tight-knit community aspect results in the sense of pride you can taste in every bottle. So, it's no wonder that Marie Sharp's slogan is "Proud Products of Belize."
Unassuming bottle
Knowing that all of the ingredients are grown on the surrounding farms, that they're employed seasonally to maximize their natural freshness, that the company supports the encircling community by providing jobs, and that the sauces are mostly handmade—you'd be forgiven for expecting them to embrace trendy uncoated papers, hipster logos, and "look at me" proclamations. But you'd be wrong.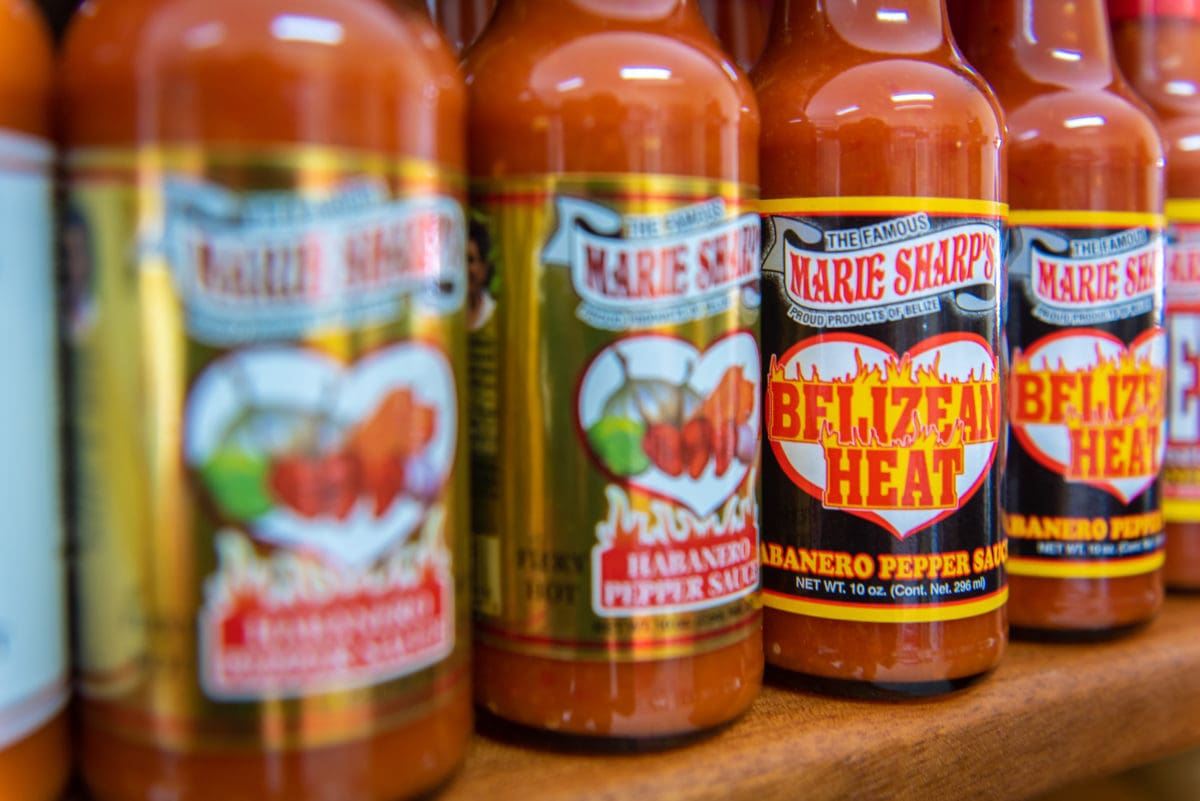 Marie Sharp's bottles are just right in that authentic Uncommon Caribbean kind of way. Simple representations of the ingredients meet fiery type treatments that basically let you know what you're in for.
I kinda love them. They're not trying so hard. They just inform, while allowing what's inside to really communicate what makes Marie Sharp's one of my favorite pepper sauces.
Marie Sharp's Pepper Sauces
So, what does Marie Sharp's have on the menu?
Well, you absolutely have to start with the central, most famous, sauces: the hot habanero hot sauce. They ascend from hot, to very hot, to "must be strong to handle this sauce" levels. Even beyond that, there's a sauce with the ominous name "BEWARE" that promises "comatose heat levels!"
All the sauces, from Marie Sharp Hot Habanero to Belizean Heat to even the BEWARE blend achieves the perfect balance of flavor and heat. We're not talking about runny, thin sauces that stuff in the hottest variety of pepper only deliver on heat with no flavor. These are rich, thick, chunky delights that also happen to be capable of lighting your mouth on fire.
After the standard sauces, my favorite is the Green Habanero Pepper Sauce. This one introduces nopal cactus with lime juice. The result is a sauce tailor-made for light fish.
From there, a must is the Pure Mango Habanero Pepper Sauce. If you're anything like me, then you were sold on this at the mere sight of the words "pure mango." A little sugar with your yellow habanero spice gives this bottle an indulgent quality that also begs to accent your seafood.
My next favorite bottle is the real surprise winner: Marie Sharp's Smoked Spicy Exotic Steak Sauce! I know what you're thinking:
How in the world did you wait so long to tell me about this?!
Yes, it's true, I was holding out on you. This steak sauce is unreal. Spice and smoke mix into a mouth-igniting, tangy, rich, almost decadent experience that puts A-1 to shame.
I mean, the first ingredient listed is green mangoes! There's also tamarind, raisins, ginger, and smoked habanero peppers. Seriously, if you eat steak and have a pulse, you must give this sauce a try. Your life will change forever.
Where to buy Marie Sharp's Belize Hot Sauce
While I'll always recommend visiting the factory in Stann Creek, Belize as the best way to pick up a bottle (or 20) of Marie Sharp's many sauces, jams, seasonings, and drinks—it's actually almost too easy to get yourself a bottle.
They're almost all on Amazon! Take a look:
There's even a 6-pack pepper sauce sampler for your one-stop shopping needs.
It's just that easy. (Maybe too easy… I couldn't help but order another Green Habanero Pepper Sauce since my bottle at home is almost finished.)
Yes, you'd be hard-pressed to find a more single-estate, artisanal pepper sauce anywhere. But, rather than be trendy and grow a hipster beard, the "Fiery Lady" Marie Sharp simply does what she's been doing since 1981: proudly producing "farm-to-bottle" pepper sauce that's the quintessential taste of Belize.
Enjoy!
Related Posts