The Jamaican Reason Why This Church in Costa Rica is So Small
In Costa Rica, as all across the Caribbean and Latin American, Catholicism is the dominant religion. More than 70% of the population identify themselves as Catholics here, with evidence of the religion's overwhelming influence reflected everywhere.
There's a Catholic Church in every city, the names of nearly every one of those cities start with "San" or "Santa," and a priest or nun is never hard to find.
About the only place in Costa Rica where Catholicism isn't the undisputed king of beliefs is the tiny, remote jungle town of Tortuguero. That's where I found the teeny-tiny church above.
Located in the center of town, right along the only "road" in Tortugero and directly across from the area Info Center, the church stands in somewhat stately contrast to her surrounding mishmash of bars, cafes, restaurants, shops, and private homes, all of them seemingly struggling to keep nature from enveloping the town.
Editor's note: I say "road" in quotes as Tortuguero is only accessible by boat or airplane and has no cars, making a Main Street out of this dirt path…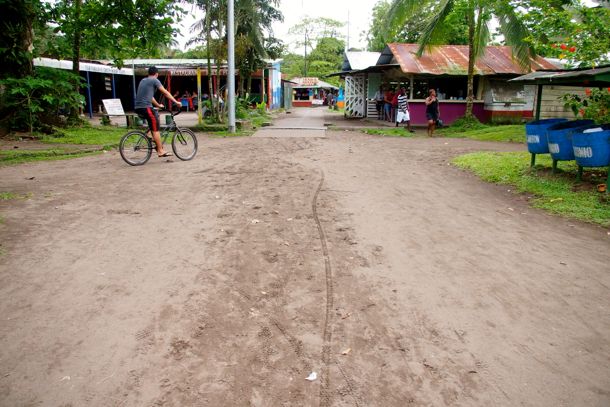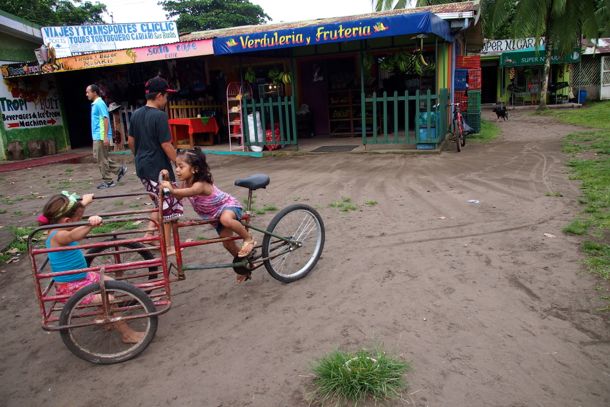 Part of the reason the church is so small, of course, is that not a whole lot of people live here. (Population is estimated in the neighborhood of 1,500 or less.) Other reasons can be found in the town's history.
Back in the 1870's, hundreds of Jamaicans settled in Tortuguero, attracted by the opportunity to work in constructing a new railroad better linking the Caribbean coast with San Jose. They brought with them their own language, culture, traditions, and religions, specifically Anglican, Methodist, and Baptist. Many of these same Jamaicans stayed permanently in Tortuguero, their descendants tipping the religious scale away from Catholicism to this day.
The legacy of Tortuguero's Jamaican forefathers is reflected amid the pews inside the peacefully petite Catholic church, the lot of them offering seating for a congregation of no more than 50 or so by my estimation.
Size isn't everything when it comes to religion, of course. Location can count for a lot too, especially if you're keen on celebrating your faith in unique places.
If you're Catholic and love nature, there could hardly be a more ideal spot.
Related Posts