Cerveza La Tropical, Cuba's Original King of Beers
The stories of Cuban corporations and business leaders fleeing the island once Castro seized power and nationalized the economy are legendary. Some homegrown Cuban brands, like Bacardi and Cohiba, have thrived in exile, while others were seemingly lost to the sands of time.
Cerveza La Tropical definitely fits the latter category. Originally founded way back in 1888, La Tropical was not only the first beer ever produced in Cuba, it was also the #1 brew during the pre-Castro Golden Years. In 1958, La Tropical accounted for nearly 60% of all beer production in Cuba, making it one of the island's chief corporate icons.
Everything changed in 1960, of course, and unlike Bacardi and Cohiba, La Tropical never re-surfaced outside of Communist Cuba.
That is until 1998 when a young Cuban-American marketing exec named Manuel Portuondo, who cut his chops in the brewing industry with such notable beer-makers as Anheuser-Busch and Brahma, teamed up with Ramón Blanco Herrera, great-grandson of La Tropical's founder, to reintroduce La Tropical to the world.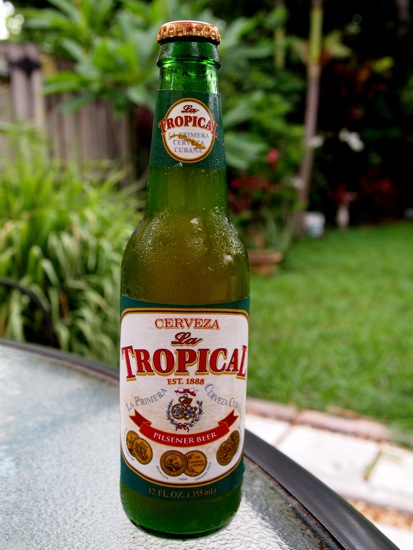 Cerveza La Tropical taste
How authentic is the taste of today's La Tropical compared to the original? Well, considering the Brewmaster from the company's heyday (1939 to 1960) oversees current production, I'd say it's a good bet that it's pretty darn close.
La Tropical is a light pilsener beer with a unique flavor that offers a true taste of old Cuba. And unlike Cuba herself, La Tropical is easily accessible, especially if you live in South Florida. I bought my six-pack at Total Wine & More on 17th street in Fort Lauderdale.
Salud!
Related Posts