Williwood, the Most Whimsical Corner of Curacao
No, your eyes do not deceive you. There, perched along the side of a nondescript mound in an otherwise barren landscape of mud and varying degrees of underbrush are nine whitewashed letters. They're purposely arrayed to mimic the nine whitewashed letters in the famed Hollywood sign out in Tinsel Town. This, however, is Curacao. Sint Willibrordus, Curacao to be exact. The nine letters here spell "Williwood."
What gives?
Well, to hear our friends at 1,000 Awesome Things About Curacao tell it, the sign speaks to the aspirations, creativity and whimsical nature of one of the island's more colorfully diverse communities.
Much More Than Some Old Church
Sint Willibrordus is located in Curacao's western region, about 15 miles outside of the capital, Willemstad. Its primary claim to fame over the years: a stunning church that dates back to 1888.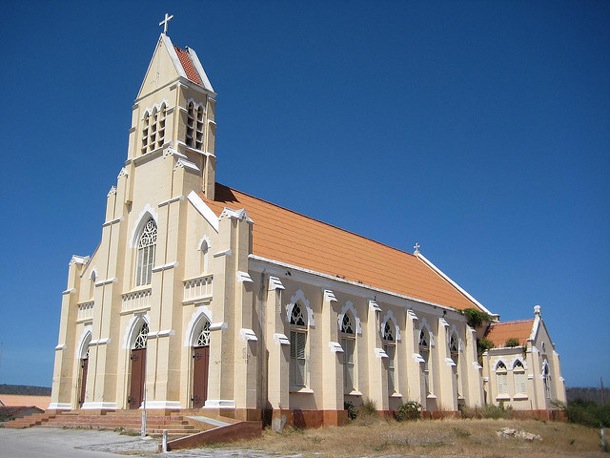 More recently, though, a sprightly spirit of civic pride has seemingly caught on here. This has given rise to the Williwood designation.
It's no joke either. The name was officially adopted by the town in November 2011. Local merchants do brisk sales of Williwood-branded t-shirts, hats, and other merchandise.
Oh yeah, Williwood is a thing. A thing that's put this otherwise sleepy neighborhood on the map. Visitors now flock to her roadside bars and BBQ spots to drink in the local scene.
Williwood Origins
How did it all begin? From 1,000 Awesome Things About Curacao:
A nickname spray-painted on a wall 3.5 years ago meant to poke fun at the hysterical "Hollywood" antics of neighbors — especially those who congregate bo'i palu (under the tree) — has gone viral… putting their name on the map quite literally!
I passed through this area a few times during my trip to Curacao last spring, but never saw the sign. Nor did I have a chance to stop in at the church. On my next visit, though, you can be sure that I'll be spending a good bit of time here. I just gotta hang with the locals under that one special tree to get a sense of what this Williwood phenomenon is really all about.
To learn more about Williwood, check out the full 1,000 Awesome Things About Curacao article here.
Related Posts