A Short Stingray Encounter in The Bahamas
Due to the destruction brought on by Hurricane Dorian in September 2019, Deep Water Cay has ceased operations. As the property recovers in hopes of reopening, a fundraising drive has been launched to aid resort staff in rebuilding their lives. Should you wish to contribute,
please visit the Deep Water Cay website
.
You never know what you'll find snorkeling through the grassy shallows that surround the various Islands of The Bahamas. These areas teem with all manner of undersea life, most of it quite keen to stay hidden from predators and interlopers like us.
Sometimes, though, they don't hide quite as well as they'd probably like…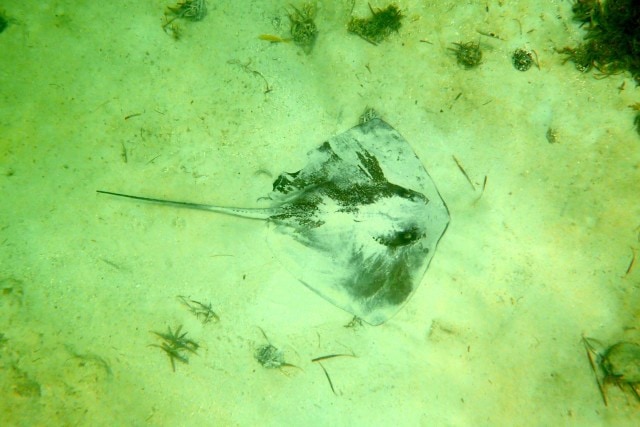 I stumbled across this guy resting along the sandy bottom just outside a Blue Hole near Deep Water Cay. I had just snapped the lead photo above and would've missed him entirely if I hadn't looked down at just the right moment.
Mostly exposed, as he was, I got the sense that he wouldn't sit still for long.
Two short minutes later, I found that I was right…
This was just the beginning of a fun and 100% non-taxing drift snorkel excursion available through the fine folks at Deep Water Cay. (Here's the full story.)
For more on Deep Water Cay and its great array of watersports activities, visit them online.
Related Posts