Deal of the Week: Live the Dream at Highclere House, Great Exuma
Just imagine… A cool breeze gently wakes you, the sun already high in the sky. You stretch, ease your way onto your veranda, and as the morning comes into focus you see this! Pure paradise. Sun-kissed, crisp and utterly intoxicating.
Now imagine that it's all yours. That's right, you live here!
Well, you could live here now that my friends, Don and Gail Amesbury, are selling Highclere House, their marvelous oceanfront hideaway in Great Exuma.
I first met Don and Gail when I moved into the house right next to one they formerly owned here in Fort Lauderdale. As we share a love of travel, hanging out and enjoying the odd cocktail or two (not necessarily in that order), we soon became fast friends. In those days, the couple talked wistfully about past travel and sailing adventures, as well as future plans to build an amazing house in the Exumas. You know, big things! And not just things they had done, but also big things they were still planning to do, age be damned!
I just love Don and Gail's spirit. In fact, I'd say they probably embody the "uncommon" travel lifestyle better than any two people I know. They certainly don't wait for vacation time to set off on an adventure, they live one just about every day.
How adventurous are they? Adventurous enough to buy a sailboat, learn how to use it, then sail away from their original home in England in 1986, destination unknown. Oh yeah, and they put their teenage son and daughter in boarding school to do it. Can you imagine being one of their kids and waiting to see which exotic port of call you'd be flying off to at the end of each semester to meet up with Mum and Dad?
Every day an adventure. Every day something new.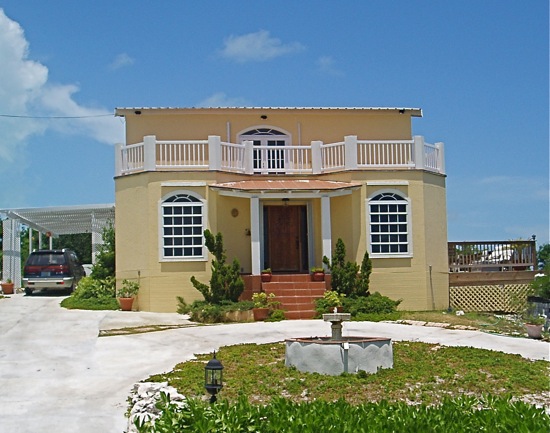 For two such ardent adventurers, I must say that Don and Gail have got on quite well in sleepy Grand Exuma. Views like the one above can help anyone adapt to a slower lifestyle, but for this wanderlust couple, it's time to move on to the next big thing.
So, what do you get for Don and Gail's $875,000 asking price? First of all, it's new, construction having been completed in 2006. Secondly, it's spacious, with four bedrooms and three baths spread over two floors and 2,400 square feet. Thirdly, have you seen the view?
There's also air-conditioning, though the combination of vaulted ceiling, tiled floors, ceiling fans in every room, and that gentle sea breeze I mentioned earlier mean that you'll probably never use it. Gourmet types will like the large kitchen equipped with everything you might need to feed your family, as well as the steady stream of guests you'll no doubt attract by moving to paradise. Walk-in closets, a wood deck overlooking the sea, peace, tranquility… you definitely live the dream here.
For more information, or to make Don and Gail an offer, visit the Highclere House website.
Related Posts