Pig Beach – The Swimming Pigs of The Exumas
On the tiny island of Big Major Cay, adjacent to Staniel Cay and almost smack in the middle of The Bahamas, you'll find Pig Beach—a pristine white sand beach with a rather portly bunch of regulars: famous swimming pigs.
This is what happens when someone else plays with your food!
The story starts on nearby Staniel Cay, where a local entrepreneur kept pigs at his home in the tiny island's one small settlement. Sure, locals ate high on the hog, but there was one problem: that sty stunk. The solution was a simple one. With plenty of uninhabited islands nearby, our entrepreneur simply transported his pigs to Big Major's and left them there. Essentially creating Pig Island.
On some Saturdays, he'd return, and there'd be a slaughter so locals from Staniel Cay to Black Point island and beyond would be able to buy their pork for Sunday supper.
It was a win-win for everyone.
There was no more stink in town, plus free-range pigs! (And we all know that happy pigs make happy bacon!)
Everything was great… until tourists came along.
They began feeding the pigs as a novelty when boating through the Exuma Cays. As pigs aren't called pigs for nothing, they soon began swimming out to the boats in an effort to get as many eats as they could the moment any vessels out for a day trip appeared on the horizon. Of course, this only increased the novelty of these rumored-to-be-shipwrecked beasts. Soon their fame began to spread and Pig Beach was born.
Heading to the Exumas? You gotta see these crazy swimming pigs!
With all this attention, the powers that be stepped in to somewhat protect the pigs, and an uncommon Caribbean attraction was born.
Heading to Pig Beach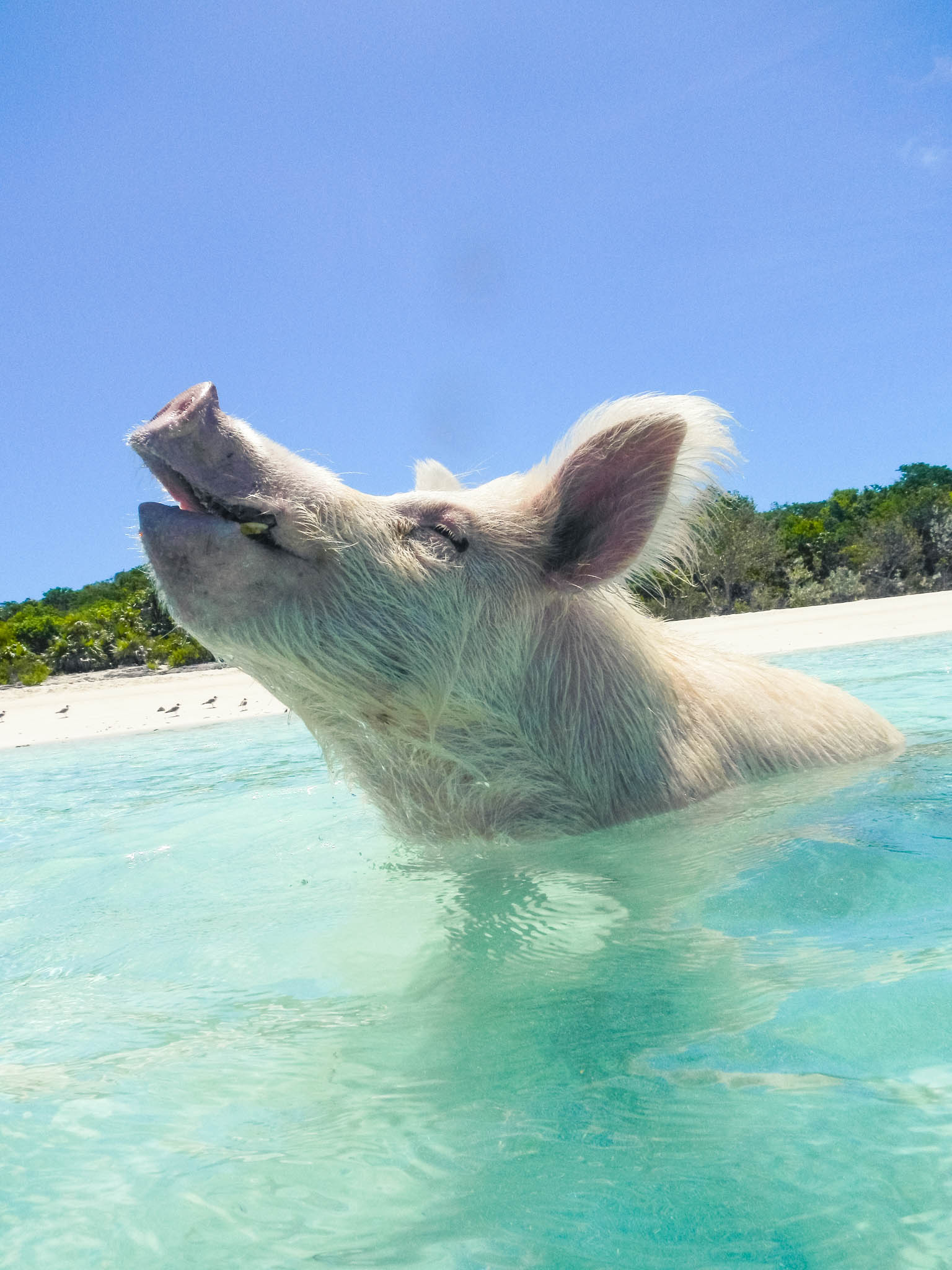 On a recent stay at the Embrace Exuma Resort, I hopped a boat to check out these pigs for myself. With me were Angie Orth of AngieAway fame, plus the teams behind Green Global Travel and The Planet D travel blogs.
True to form, upon sliding into The Bahamas' more laid-back version of The Bay of Pigs, one big white porker began making its way out toward our boat… But then it abruptly stopped. Maybe 10 feet into the water and still standing, not swimming, it waited. Looking around, the bay was dotted with about 10 boats—from small dinghies to twin motor fishing boats, on up to three-story yachts with water slides tacked onto their sides.
It seemed like our pig friends did not want for food.
As we got closer to Pig Beach, I remember someone lamenting:
Wait, that's a just regular pig. I told my friends back home about swimming sea pigs and we imagined they'd be more more like sea cows, you know, manatees.
Nope, these are just feral pigs. Big, hairy, pushy, and somewhat entitled wild pigs.
Tip: Because they are wild, you don't want to get too close. Swimming swine have been known to pig out on humans who taunt them with food or otherwise harass them. So be careful, all it takes is one bite, and you'll be the one squealing like a pig!
Related Posts