Rebecca Batisto Shows Why it's Better in The Bahamas for Babies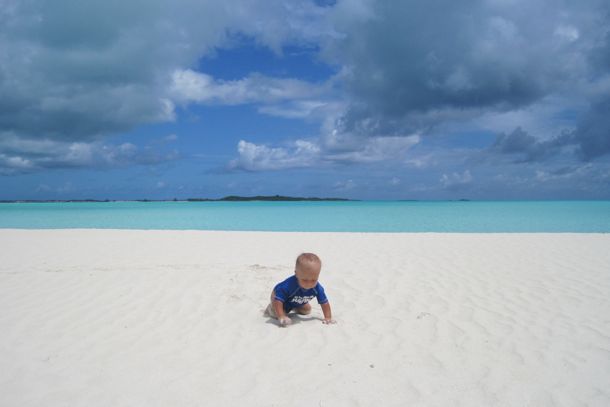 We've been lacking a lady's touch lately, so I asked my friend and former Bahamas resident, Rebecca Batisto, to share some family travel tips with us stemming from a recent jaunt to her island home with her handsome baby boy (see photo). This is Rebecca's first guest post for Uncommon Caribbean, so make her feel welcome…
Babies eat sand. FACT!
I recently spent the first three days of a trip back home to Great Exuma in The Bahamas telling my nine month old to stop, but eventually gave up. For two "solid" weeks he ate sand and I gave thanks for the fact that Bahamian sand is powder-soft and clean, unlike the cigarette-laden shores of Fort Lauderdale, where I live now.
Tasty terrestrial benefits aside, Bahamas Out Islands like the Exumas are ideal for those seeking quality family bonding time far from touristy crowds and glitzy highrise resorts. Yeah, those bigger resorts might have day care, big fancy pools with slides and other such prefab family fun, but the empty beaches of the southern Bahamas allow your baby the freedom to crawl unencumbered for miles and really enjoy the wonder of nature.
That being said, the southern Bahamas is a take it as it comes type of place. Turquoise blue waters, deserted islands, turtles, rays and dolphins abound… Starbucks does not. There are few restaurants and the best ones have no menu, simply the catch of the day. To truly enjoy your time in a remote place like this, you need to go with the flow. For me, that means being prepared.
You'll want to prepare for absolute relaxation by leaving your laptop at home. You'll want to prepare to show off your body since you won't need high heels or much of anything else besides bathing suits. Most of all, you'll want to prepare to provide for your baby in a place offering precious few amenities toward doing so. Here are a few things to consider when packing your bag…
Bring life vests for smaller children, and don't forget 'em whenever you're heading out on a boat. We made this rookie error and I will never make it again. After a week of carrying the lifejacket everywhere, much to my son's discomfort, we left it at home on the one day we got caught in a rain storm. A zero visibility, white caps on the ocean, sudden squall. Not having that stupid life vest scared the living daylights out of me and made me feel like the world's worst parent. Luckily we all lived happily ever after and I learned a very important lesson.
Don't bring all the diapers and formula you can carry. Diapers and formula are subsidized in The Bahamas making them considerably cheaper than in the States. Even better, the exact same brands available stateside are also sold here. HOWEVER, stores aren't open on Saturday afternoons and Sundays, so when you do buy, make sure you pick up enough to tide you over.
Bring your own wipes. Any paper products are very pricey in The Bahamas as they have to be shipped in.
Bring your own shade, hats and UV rash guards. We brought a sun shade, but our little crawler wouldn't stay under it, so he lived in a hat (and nothing else but sunscreen).
Don't expect high chairs at restaurants. Instead, expect your little one to be crawling around on the sandy floor while you enjoy the band and sip your rum punch. Everybody wins!
Take loads of pictures. Who knows if places this untouched will still exist when our kids grow up. Take your opportunity to see it while you can, and take pictures, but leave the shells where they belong: on the beach.
Great Exuma, in the southern Bahamas has a variety of places to stay. From the ultra-luxurious, six-bedroom Bougainvillea House at $28,000 a week, to the adorable two-bedroom Harbor View (see reviews here), which comes with your own private beach thrown in for free!
No matter what your budget, with a little preparedness, plus some leniency over your baby's diet, your whole family can enjoy the best of the off-the-beaten-path Bahamas.
Related Posts