On-Site Grand Bahama: Wednesday Night Fish Fry at Smith's Point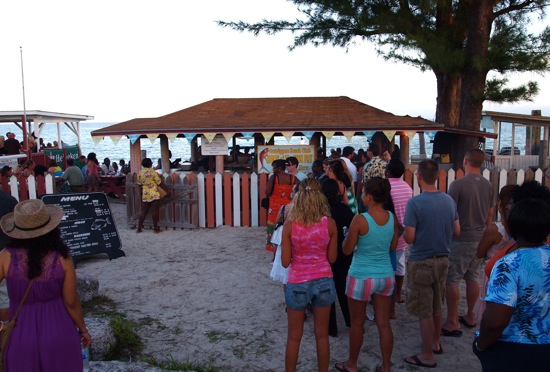 We here at Uncommon Caribbean are all about dispelling the popular "tourist trap" myth that too often and too broadly characterizes travel to our home region. Sure some islands are more "touristy" than others, but I can honestly say that in all my travels to some 30 or so Caribbean destinations, I've never failed to find an authentic West Indian experience.
The latest touristy destination to surprise me: Grand Bahama Island.
I made my first trip to Grand Bahama last month soon after my PR agency won the Our Lucaya Beach & Golf Resort account. I knew a lot about the resort, a sprawling destination unto itself with 1,200 rooms spread over two separate hotels, but nothing about the island.
Okay, I shouldn't say nothing. After all, at just 55 miles from Palm Beach, Grand Bahama is so easily accessible from South Florida (where I live) that it's impossible not to know a little bit about it. The main part of the island, Freeport, was developed in the 1950's as a private corporation by an American entrepreneur named Wallace Groves. His plan was to take advantage of the island's primary resources – trees (Caribbean pines still cover about 50% of the island) and Grand Bahama's awesome weather, great beaches and undersea attractions – to make a killing in the lumber and tourism industries. By all accounts he was wildly successful, as evidenced by the island's many modern buildings, clean roads, and resort palaces like Our Lucaya.
With all the modernization and American influence, it might be easy to assume that Grand Bahama is devoid of any authentic West Indian culture. WRONG! Within a few short hours of arriving in Grand Bahama, I found myself in the middle of a weekly Wednesday night fete that is as good as any I've ever enjoyed anywhere in the Caribbean!
Known simply as The Wednesday Night Fish Fry, the party is held every Wednesday at Smith's Point Beach, just a few minutes by taxi from Our Lucaya. I learned from a guy drinking a Hennessy and Coke concoction he called Marathon – "So I can go all night!" – that the event was started by a local church as a means of bringing the community together. Clearly, it's done more than that as the entire island, locals and tourists alike, seemed to be there during my visit, enjoying dinner, drinking and dancing well into the night.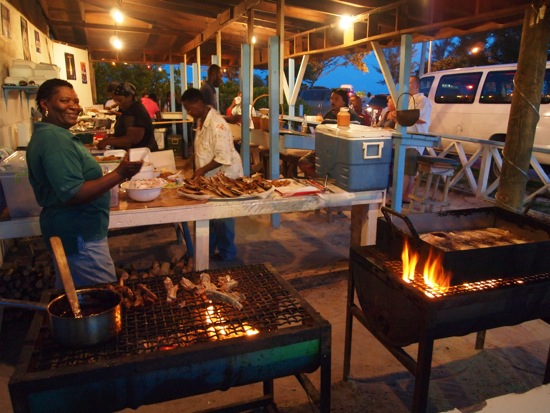 When I first got there, the line for food at Outrigger's Beach Club extended well over 50 yards. Thankfully, Outriggers is but one of several fish fry establishments at Smith's Point. It's the most popular, probably owing to its location directly on the beach, but every eatery carries essentially the same menu, so you really can't go wrong wherever you go.
I was starving (plus I hate lines), so I sauntered a few yards back from the beach to a place called Da' Bus Stop. A bus actually stopped there and couldn't go anymore, so they built the restaurant in front of it. So the place had a cute story, cold beer and no line; what about the food? Check out the steaming plate of flavorful fried fish, macaroni pie (or as they say in The Bahamas, baked mac and cheese) and peas & rice I enjoyed… Mmmmm….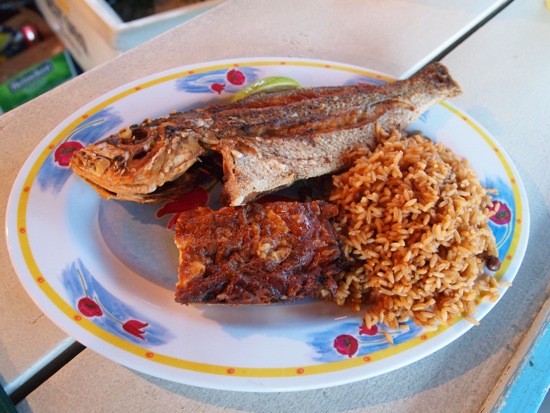 By the time I finished dinner and a few beers, the party was in full swing back up at the beach. The music was mostly soca and calypso, with some reggae, and old school R+B mixed in. Didn't really matter what was playing, though, as the dance floor remained crowded for hours.
Some time just before midnight, as some classic Beres Hammond had the place really bumpin', I took stock of the crowd – people of all ages (toddlers to seniors), colors and backgrounds were still there, dancing under the stars as the waves gently crashed ashore nearby. There were even a few people who had arrived by boat groovin' in the water, a great idea as the party was HOT!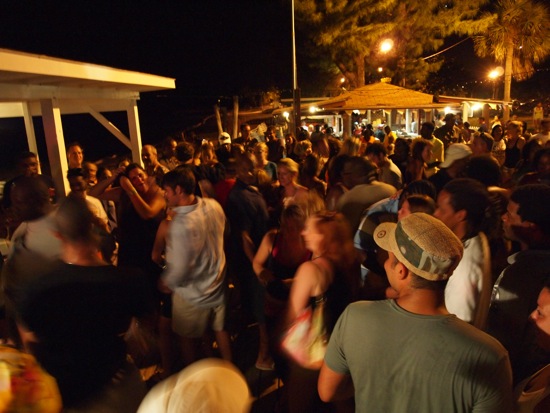 Sadly, I had to leave before things wound down to rest-up for some client meetings scheduled the next morning. I learned later that had I stayed, it's possible I would've greeted the new day right there at Smith's Point! Apparently, the Wednesday Fish Fry at that section of the beach extends till about 2am. Then the party moves down the beach to a whole other collection of beach shacks and keeps going!
Hmmm… I guess I'll just have to go back again soon so I can report on the after-party for a future post!
Related Posts