Clarke's Court Distillery, Grenada: Touring this Uncommon Attraction
Like so many legendary rum distilleries across the Caribbean, the Clarke's Court Distillery, Grenada is well worth a visit, though sadly not as much for what goes on here now as what once was.
I was lucky enough to get a special tour of the place during my extended weekend serving as a judge at last year's Caribbean Rum & Beer Festival. I was a small V.I.p. (Virgin Islands person) among a group of actual Very Important Persons in the rum world – Robert Burr, Dave Russell, Bob Davies, Luis and Margaret Ayala, Nick Ferris, Mike Streeter… Even Carl Kanto, one of the geniuses behind the amazing line-up of El Dorado Rums from Guyana was there!
So yeah, you could say they rolled out the red carpet for us.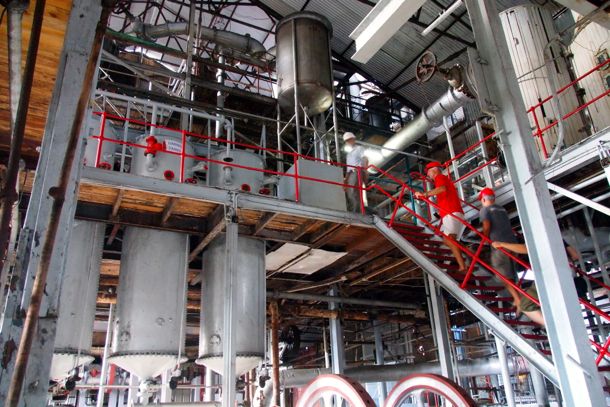 Now by red carpet I don't mean that there was a band playing, or rose petals scattered about our path as we walked. I mean that they actually turned on and had running some of the distillery's ancient machinery, like the old steam engine wheel pictured above.
Clarke's Court, you see, doesn't make its own rum 100% here anymore. Sugar cane was last ground here in 2003, closing one chapter on a storied legacy of rum production on the site that dates back to the 18th century. The current chapter sees the Grenada rum giant import its molasses from Guyana for distillation, fermentation and aging in accordance with the old beloved Clarke's Court traditions.
It's an issue of growing concern across much of the region as the declining economics of sugar production in the islands force rum producers to look elsewhere for their molasses, leaving a lot of distilleries more quiet than most of us would like.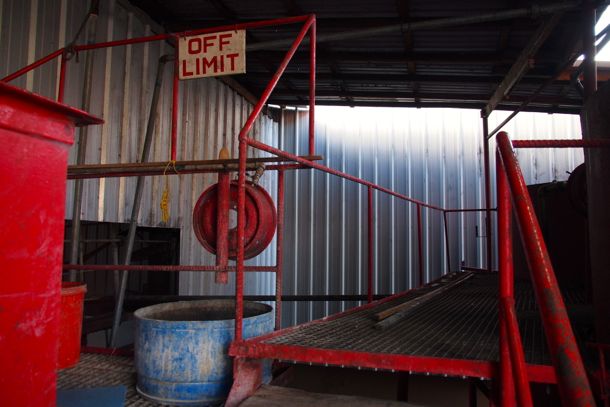 Now, that's not to say it's all bad news here. Hardly. After all, those amazing El Dorado Rums are, of course, born of Guyanese molasses as well. At the same time, the expert distillers at Clarke's Court have found ways to retain the old flavors, crafting a true taste of Grenada despite outside influences.
It's a bit eerie seeing all the idle machinery just sitting there collecting dust, but it also gives you a sense for the pride and passion that went into making Clarke's Court into Grenada largest distillery. (I should also point out that my visit took place in early-November, well outside the January-September period when the distillery is busy with the fermentation and distillation process.) Along the way you might also learn a little history – how colorful brand names like Red Neck and Tradewinds preceded Clarke's Court, how rum produced here played a role in subduing British troops during the famed Fédon's Rebellion in 1795-96, and more.
Finally, you'll also get to sample the fantastic Clarke's Court line-up of rums, a joy worth the trip all by itself!
The Clarke's Court Distillery is located in the southern part of Grenada in an area known as the Woodlands Valley. That's in the Parish of St. George's not too far from the capital city of the same name. The distillery is open to the public between 8am and 4pm Monday to Friday. Guided tours last about 15 minutes, though you'll want to reserve some extra added time for tastings…
Related Posts