That Time I Went To a Cockfight in Haiti…
Barbaric. Inhumane. Grotesque.
There are a few somewhat surprising entries on PETA's list of "Cruel Sports," including rodeos, hunting, and fishing (yes, fishing!!), all of them much-celebrated to varying degrees in popular American culture.
That cockfighting should grace the list, though, is no surprise.
The top taboo "sport" of the Caribbean, cockfighting is ingrained in many island cultures. So much so, in fact, that I remember being surprised to see people getting arrested for it here in South Florida when I first moved here more than 10 years ago.
It's legal in the U.S. Virgin Islands, where I was born and raised, and I had long seen cockpits (arenas in which cockfights are contested) on my many trips to neighboring Puerto Rico (also American soil), so I never gave much thought to what the laws were like elsewhere across the U.S.
This general fogginess on the legality of cockfighting underscored a more broad-based naiveté. Despite growing up in a place and within a culture in which the "sport" was rather common, I never truly knew much of anything about it.
Oh, I had a vague idea that cockfighting was bad; that it embodied every one of the three big, bold words at the head of this post (or worse!). Still, I'd never actually witnessed a cockfight, so what did I really know?
It was under this context that I accepted an invitation to my first cockfight experience while adventuring around southern Haiti a little more than a year ago. Like rodeos to Americans in the southwest, cockfighting was part of my Caribbean cultural heritage. Whether I liked it or not, I just had to see what it was really all about.
Doing so would take me well off the beaten path… to a destitute and dusty mishmash of mostly residential dwellings somewhere in the vicinity of Jacmel.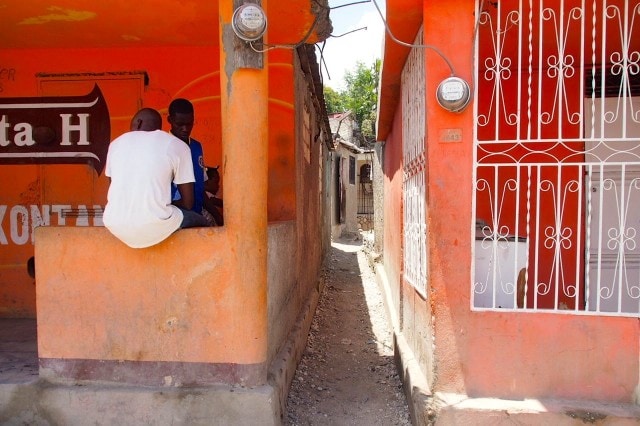 Down this alley…
…then a left toward this guy…
…then a right, the telltale ruckus of sport and wagering, unmistakable in any language, growing louder with every step.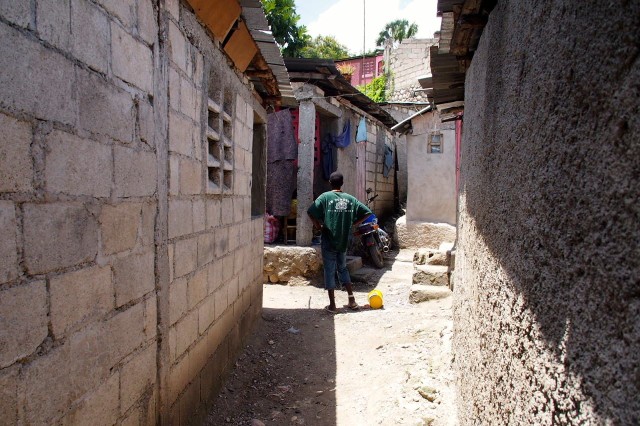 Suddenly, we were at the pit, this hooded combatant one of many being stroked and coddled by their handlers virtually everywhere the eye could see.
Also everywhere: men.
Women, I was told, are strictly forbidden from attending cockfights in Haiti. Probably best, I remembered thinking, what with all the blood and gore to come. (More on that in a minute).
Pressing our way through the crowd, we settled in what would count as nosebleed seats at the upper reaches of the pit. Below us, the rhythmic chaos of the pre-fight period played out. Loud, boisterous, stiflingly hot – a rat's nest of utter pandemonium.
In every corner, cocks were made to square off face-to-face, the better to agitate toward a fight. A referee, of sorts, looked on with a bullhorn, seemingly adjudicating the conundrum. This went on for several minutes, the whole scene ebbing and flowing with each boast, each argument, each dare and proposed wager.
Finally two birds were selected, the ref clearing the ring and starting the match by setting a heart-shaped clock timer that hung from the ceiling.
At the start, complete silence; the birds tentatively, sizing each other up carefully like any pair of boxers.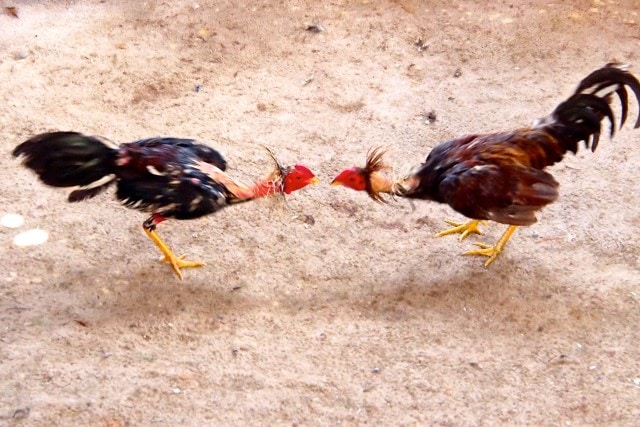 A few calculated steps to the left…
Then a few more to the right…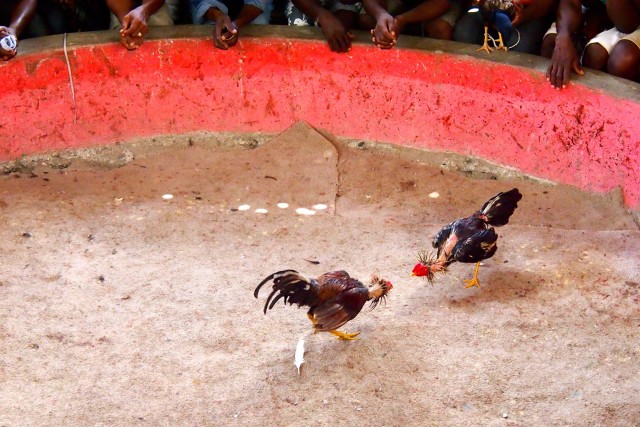 And then…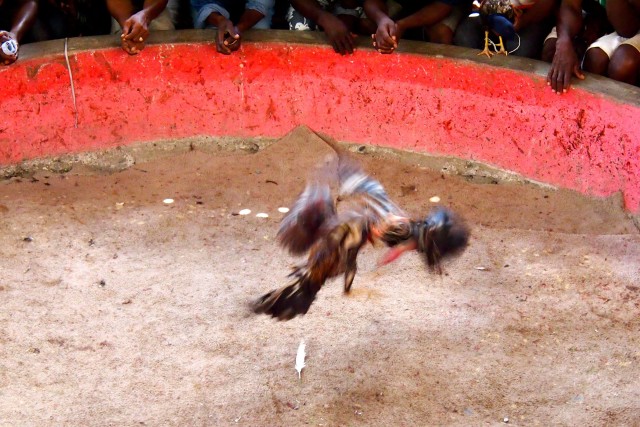 The initial strike brought a roar from the crowd, both birds blending into a blur of feathers; darting beaks and talons too quick to track with my lens or naked eyes.
Each attack passed quickly, the birds composing themselves for a second or two before striking at each other again and again. The crowd let loose with a rhythmic "RAH!" with every dust-up, the anxious raw emotion palpable amid the searing heat.
Soon it became clear who was the better bird that day. Much to my surprise, though, there was no blood; no fight to the death. The ref actually stepped in, stopping the fight before either bird could be hurt.
A little mercy for the benefit us interlopers? Probably. No one in the crowd seemed to mind, though.
Monies were exchanged, hands were shook. Smiles among the winners, stern faces among the rest as the pre-fight ritual began anew.
I left with mixed emotions. Having gained unique access to an intrinsic part of my beloved Caribbean culture, as celebrated within the region as it's vilified most everywhere else, I really didn't know what to think.
In the end I guess I felt lucky to have been welcomed into the pit, allowed to record what I saw, and been given another unique opportunity to share more of the real Caribbean with all of you…even if I could live without venturing back for another bout anytime soon.
Related Posts