Half-Way-Tree Clock Tower, A Totem of Togetherness Uniting All REAL Kingstonians
We West Indians get really caught up (sometimes overly so) in notions of native origin; i.e.: what makes someone a bonafide local. This particular chicken comes home to roost for me on a personal level back home in St. Croix, where despite the fact that I was born and raised on Crucian soil, many locals do not consider me to be one of them.
The reason: My parents are both from Trinidad, the pair having emigrated to the Virgin Islands in the late-1960's. To be a true Crucian, as has been argued in Territorial Constitutional Conventions over the years, my family lineage in the USVI must trace back to the time before the U.S. took possession of the islands that would become "America's Paradise" from the Danish in 1917.
As you might imagine, divisive designations like this can cause hurt feelings and confusion in some corners of the Caribbean.
Kingston, Jamaica, I recently learned, is not one of them.
The Half-Way-Tree Clock Tower is why.
Constructed in 1913, the 33-foot Victorian-style clock tower was originally meant to honor King Edward VII. Its location, though, ensured that it would take on extra added meaning to all Kingstonians.
You can find the Half-Way-Tree Clock Tower at the junction of four of Kingston's primary thoroughfares – Constant Spring Road, Hagley Park Road, Half Way Tree Road, and Hope Road. Since the earliest days of commerce and trade in Jamaica's capital, this crossroads has served as an important meeting spot, effectively marking the main arrival and departure point for visiting Kingston.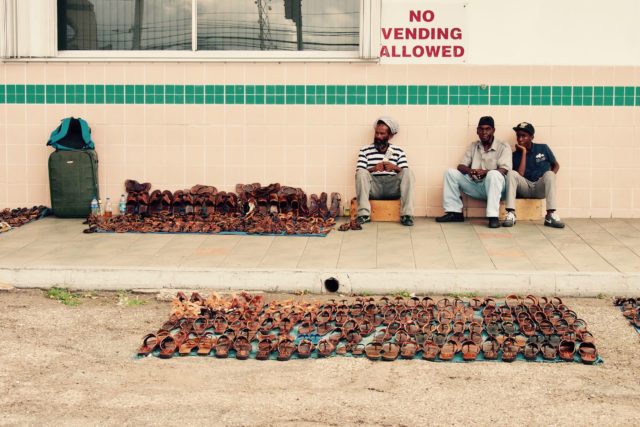 In the days before the Clock Tower, there really stood a tree in this spot; an ancient silk cotton tree. (Remember how important those are in West Indian lore?) Farmers and craftsmen bringing goods to sell in Kingston's flourishing markets would often stop to rest under the tree, or take a drink at the many bars that sprung up under her branches.
The tree is said to have died in 1866 and was removed, but the junction has remained integral to the social context of life in Kingston, especially in the years since the Clock Tower arrived.
Just ask anyone from Jamaica if they were born in Kingston. The answer you'll likely get from most Kingstonians…
Mi born under di clock!
…speaks to the importance of the Clock Tower.
Now, I have read that "di clock" can also refer to the stately timekeeper atop the Kingston Parish Church. (What would a West Indian legend or old saying be without a little dissension, right?)
Still, my new friends at The Courtleigh insist that the clock that rings true to their Kingston roots is the one that towers over the storied intersection.
All Kingstonians claim it, no matter where their parents were born…
Save
Save
Save
Save
Related Posts