On-Site Jamaica: Experience the Magic of the Blue Mountains at Whitfield Hall
Editor's Note: Getting in tune with the real soul of Jamaica is easy up in the majestic Blue Mountains, as UC guest contributor Laura Albritton shares in her latest post…
Maybe you grew up like me, an unabashed beach baby – as much at home in the sea (in my case, on Florida's Gulf Coast) as in your playpen. It's probably no coincidence that I wound up marrying fellow beach baby Zickie, whose childhood vacations were spent on Negril's gorgeous Seven Mile Beach. It's surprising, however, that one of our best-loved retreats in his beautiful homeland of Jamaica lies nowhere near the ocean.
In fact, you definitely don't want to be wearing your swimsuit in this location! Instead, pack up a pair of old jeans, a warm hoodie, and hiking boots because you're going to need them if you head up to Jamaica's fabled (and far-flung) Blue Mountains.
This magnificent mountain range rises like a central ridge within the island, spanning four parishes – St. Andrew (just outside the island's capital, Kingston), St. Thomas, Portland, and St. Mary. On a clear day, looking out from the island's highest point – Blue Mountain Peak (7,402 feet) – you can spot the coast of Cuba.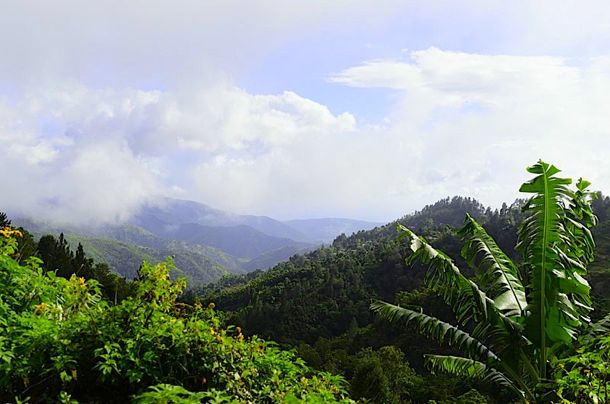 So how did two confirmed beach babies fall in love with mountains where the yearly rainfall averages a whopping 200 to 300 inches? The simple answer: that's where Zickie's parents own a centuries-old coffee farm. Yes, I'm talking about that coffee, the legendary Blue Mountain stuff stringently regulated by the Jamaica Coffee Board, which goes for $40 a pound and up. Still, it's not a caffeine addiction that makes me long to make the steep, treacherous drive from Kingston up to an area with no electricity and (brrrrr-rrr) no hot water.
My deep, abiding love for this place has to do with three simple things: the scenery, the people, and the tasty eats. Sweeping views of golden-tinged hills at sunset sear themselves into your memory. Here you can hike through a myriad of tropical flowers and trees, like the Blue Mahoe, Juniper Cedar, and delicate orchids. In fact, in the Blue and John Crow Mountain National Parks over 500 kinds of spectacular flowering plants thrive, while 200 species of birds make this off-the-beaten-path sanctuary a birders' paradise.
Beyond scenery, what makes any Caribbean destination uncommonly good to me is the people you meet. Up at my in-laws' farm, Whitfield Hall, I've been fortunate enough to get to know some lovely Jamaicans over the past 10 years. From my first visit, Lynette Harriott was kind enough to welcome this initially shy American into her kitchen. That modest space serves as command central for Miss Lynette, who manages the house and cooks great meals for guests.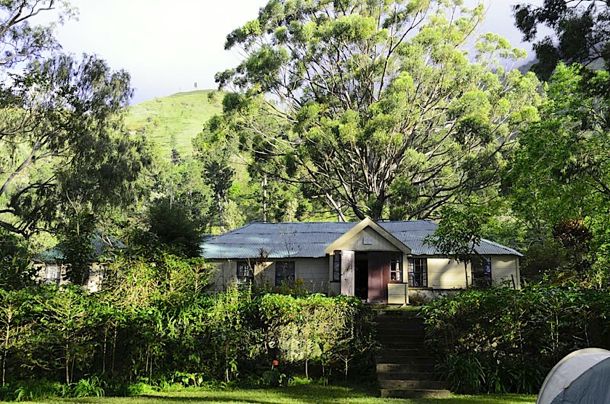 Her son Loxly, a childhood friend of Zickie's, always takes time to catch us up on the important stuff like life and kids. Miss Lynette's brother Roydel runs the coffee farm, a tough job, but the twinkle in his eye betrays his especially dry sense of humor.
There are others I've come to know, too, like Wilbert, who has a talent for repairing Land Rovers, and the ever-kindly Everton, another of Miss Lynette's children.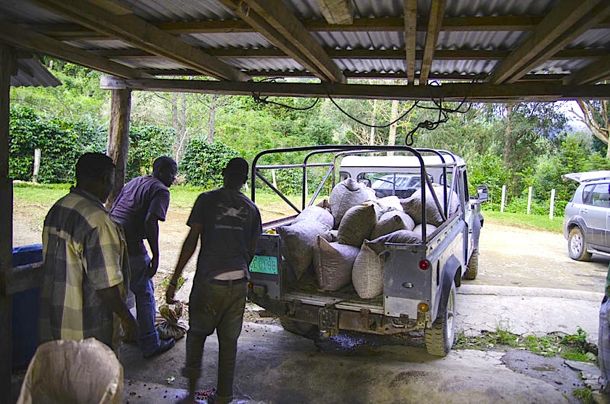 As for meal times, the farm's modest kitchen produces the most delicious chicken fricassee you'll ever taste, while Miss Lynette's rice and peas, hinting faintly of coconut milk, will make you crave them months later. (Her son Loxly's rice and gungo peas run a close second.) Meanwhile, the chewy, flavorful Johnny Cakes prompt even grown-ups to get greedy at breakfast. And that's when you're already groaning from a spread that includes pan-fried bacon, fried eggs, lavishly buttered Hardo toast, and strong Blue Mountain coffee.
You can try some of these delicacies if you're a guest at Whitfield Hall's hostel, or one of the other two hostels close by, Wildflower Lodge and Jah B.'s, both of which offer similarly rustic lodging. You'll find some very tasty Jamaican meals at those properties as well.
Night-time entertainment at this altitude consists of nothing more than sitting by the fire, listening to the wind whistle through the trees, and chatting with fellow travelers over Red Stripes and rum.
Despite the lack of creature comforts, and the bumpy, steep ride up unpaved roads, the mountains lure me back time after time. Even on a stretch of spectacular West Indian beach, I've found myself sighing for the crisp breezes, uncommonly good home cooking, genuine Jamaican welcomes, and the simply unforgettable Blue Mountain magic.
Thanks for sharing, Laura! If you're keen on following in Laura's footsteps and experiencing all the wonder of Whitfield Hall Blue Mountain Hostel and Coffee Farm, visit the property online for reservations and more information.
Related Posts