On-Site Jamaica: Making a Pilgrimage Up Mystical Mt. Zion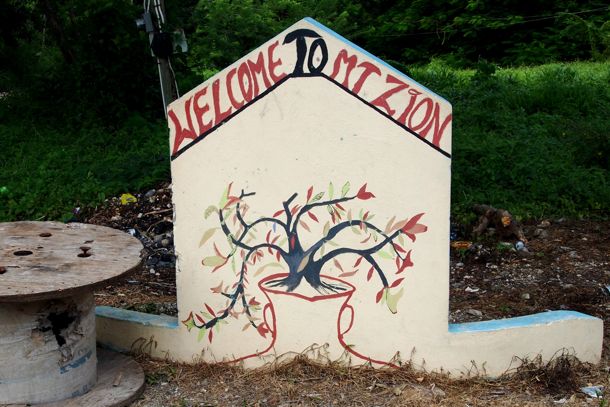 Throughout the lyrical annals of reggae music, few places are as revered and celebrated as Mt. Zion. In the music, and in Rastafari culture in general, Mt. Zion is a mystical, holy place representative of the ultimate paradise – the ying to Babylon's yang. But, what about the real Mt. Zion? Did it really exist? If so, how does it live up to the lyrics?
On my last trip to Jamaica a couple weeks ago, I set out to answer these questions. What I discovered still warms my soul today…
The real Mt. Zion is located in the hills above Montego Bay, just a few minutes drive from my beachfront home away from home in Jamaica. Getting there is pretty easy. From my hotel, we headed east along coastal highway A1 til we got to the Cinnamon Hill Golf Course. A quick turn right, a few minutes up a bumpy road (where the road makes a "Y", go right) and you'll soon see the sign above… and not much else.
Mt. Zion is the very definition of a humble West Indian village. Just a few simple dwellings fan out from an ancient Church and school nestled side-by-side atop a hill at the very center of town. Rudderless dogs sleep in the road. Roosters crow as they please.
In a place like this, the sight of strangers is rare. Or, at least so it seemed when we arrived as immediately upon exiting our vehicle, a booming voice rang out from this place…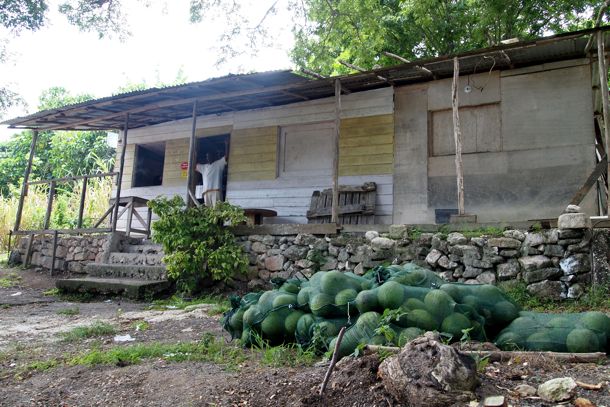 Welcome! Welcome! Come over! We got anything you need!
A ramshackle place like this, clouded in smoke and set amid a remote location like Mt. Zion might give your normal traveler pause. We paused too… to make sure he had cold Red Stripe. Once assured, we went right in.
Inside, we met Willy, the proprietor of the bar and in many ways, the de facto Mayor of Mt. Zion. During our few minutes in his bar, Willy must've re-affirmed that we were welcome in Mt. Zion more than a dozen times.
You can tour de village. It's a historical village. Make you get some good sightseeing.
The main sightseeing attraction Willy was referring is this old Church…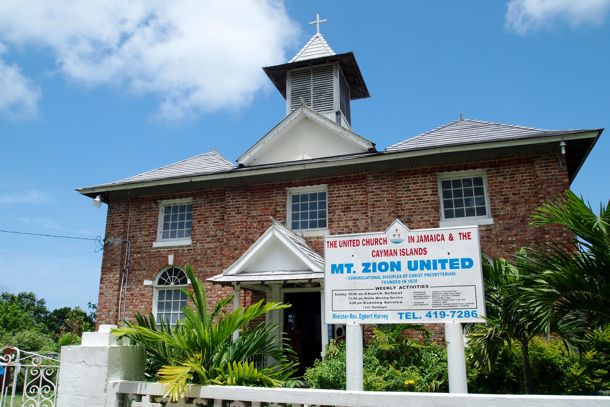 Founded in 1838, the Mt. Zion United Presbyterian Church packs as much history and mysticism in it to fuel a whole boxed set of reggae songs, or hymns as the case may be. When we arrived, two elderly ladies were primping the pews and cleaning the wood floors with rag mops and brooms in a manner that seemed born of a centuries-old tradition. It was a Saturday, so preparations were being made for the next day's service, no doubt as they'd always been done for the past 170+ years.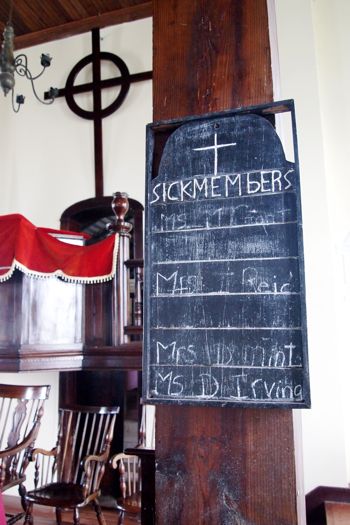 The Church just oozes with rich history. Some say the White Witch herself, Annie Palmer, used to attend Mass here. I don't know about that, but the real history of the place is clearly visible in the decor, remembrances of former Church elders, and old school touches like a prayer board near the alter where names of sick member of the congregation were scribbled in chalk so that all could make petitions on their behalf no matter when they happened by. It's a small touch, but one that to me really underscores the strong sense of community here.
It's clear within a few moments of entering the village that everyone in Mt. Zion knows each other. Not just in a cursory way either, but rather in a traditional West Indian sense of togetherness. There's a lot of pride in that togetherness too, as everyone we met seemed genuinely happy to welcome us to their special corner of Jamaica. As a sign of that warm welcome, the folks at Mt. Zion United even rang the ancient Church Bell in our honor. We didn't ask them to do it, they just did.
Back outside in front of the Church, a small group of local kids had gathered, anxious to see us strangers. They talked about their school, the history of the Church, the natural surroundings and all that made their village a special place. To the right, off in the distance, a few guys were hanging out at another rum shop. A cool breeze rustled through the trees. Another cock crowed.
Ultimate paradise?
Yeah, I could see that…
Related Posts