Rhum Agricole La Favorite Cuvée Spéciale de la Flibuste
What's your favorite rum?
As you might imagine, I get this question all the time. As you might also imagine, I can never answer it. There are simply too many beloved brands and blends in my book to choose just one.
When the favorite rum question is asked specific to the many fine rhums of Martinique, though, at least I can skirt around the question by touting the magnificent Cuvée Spéciale de la Flibuste, or just la Flibuste for short. It's manufacturer: Habitation La Favorite.
On one of my many previous trips to Martinique I had been told that La Favorite did not gain its name by accident. Some say the rhum was so adored by the people of Martinique when it debuted that the original name was changed to reflect the fact that it was their "favorite."
I don't know that there's any truth to the tale, though I can confirm that the sugar plantation upon which the La Favorite distillery sprang was originally known as La Jambette in honor of the nearby Jambette River. The La Favorite name came into use in 1842 with the establishment of the rhum distillery and has stuck ever since.
The La Jambette name may have faded in prominence relative to the rhum, but the river itself remains critical to its production. That's because La Favorite is the only distillery in Martinique still operating on steam power. The water used to create the steam? It's derived from La Jambette, a portion of her waters collected in a dyke built in concert with the distillery back in 1842.
(La Favorite uses the sugarcane fiber waste, or bagasse as a natural and sustainable form of combustion to create the heat necessary to produce the steam.)
In this way, La Favorite adheres to the oldest traditional methods of rhum agricole production more so than any other Martinican rhum, still requiring the extra time, precision, and added hands that other brands replaced with modern machinery long ago.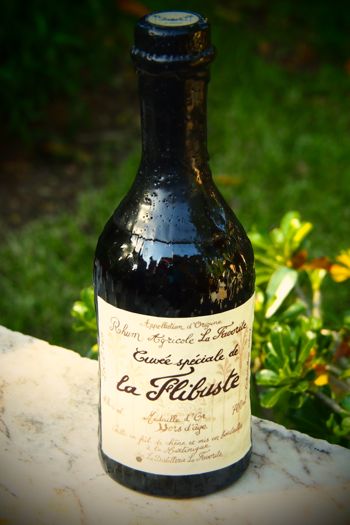 No rhum better embodies the quality and excellence that comes from this Old School style of rhum production better than La Flibuste.
Dark, smoky, seductively aromatic and complex, La Flibuste is the very embodiment of both the brand and the word "Favorite" to me.
You can tell she's special with one quick glance at her bottle – the heavy dark wax draping down her neck, a real cork stopper, and antique parchment label with stylized script espousing a heightened sophistication more in line with a stately Beaujolais or vintage champagne than any old rhum.
La Flibuste is even more stunning in your glass, on your nose, and in your mouth. Each drop is aged 30+ years in oak barrels that formerly worked their magic perfecting Bourbon. This yields an exceptionally attractive dark color that I find mesmerizing.
You might think that such a dark rum aged for such an extended period would be harsh, strong, and somewhat overbearing. La Flibuste is none of these things. The aroma is a surprising mix of sweetness, spice, and smoke, all of which carries over onto the tongue, the incredible flavor delivered with a remarkable smoothness that truly belies La Flibuste's advanced age.
Best of the best? I'm not quite ready to go that far just yet.
Even though I've been fortunate enough to travel to Martinique multiple times in each of the past few years, I still have many new discoveries to make along this magical island's Route des Rhums.
For sure, though, La Flibuste is a big favorite of mine and the one rhum you definitely should not miss when next you're in Martinique…
À votre santé!
Related Posts