Uncommon Photo-Op: Street Art in Fort-de-France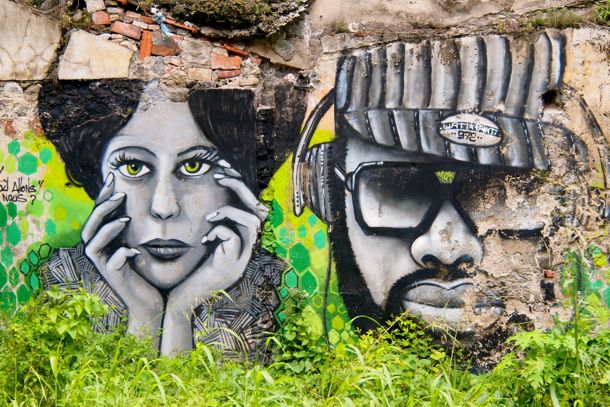 As capital cities go, Fort-de-France is as bustling and densely-packed a pepper pot of a sea port as any in the Caribbean. It bursts on all sides with vibrant colors, history, and the type of marvelously infectious chaos you don't so much see as you feel. Stately and pristine in spots, beautifully begrimed in others, Fort-de-France lives, breathes and isn't shy about expressing itself, especially through art.
The street art here runs the gamut, from murals like the one above, which I encountered in a vacant lot caddy-corner to La Cour Perrinon, the city's newest indoor shopping complex.
Inside, a small grocery, food court, banks, bookstore, electronics shop and a wide range of other retail outlets sprawl over two floors. Visitors shop in air-conditioned comfort. Escalators and elevators save you the exertion of taking the stairs. It's a scene right out of any major American city.
Outside, the two faces stare out over a fenced-in lot, slowly overgrowing with weeds. Nearby, another figure catches my eye…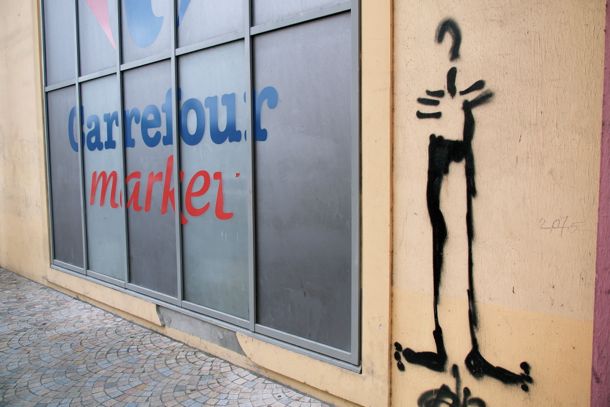 I don't know who he is, or what he's supposed to represent, but I was strangely drawn to him. Maybe it's the toes, or the simple "Stick Man" style. After all, Bill Traylor, a former slave and self-taught artist, has long been a favorite of mine. His simple sketches of country life in the deep south during the early-1900's are certainly more expressive than this guy, but I like him anyway.
Interestingly, you can find variations of the Stick Man all over the city. You can also find lots of scribbled notes like these…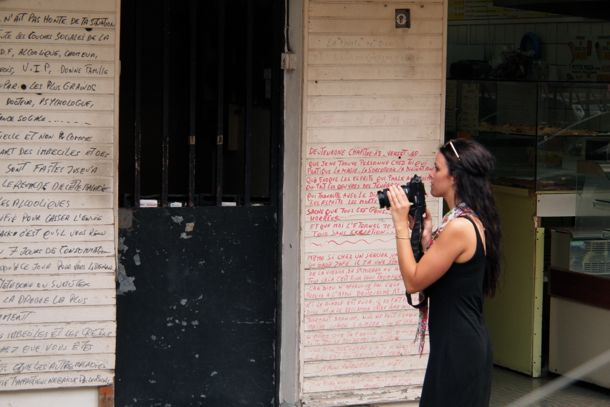 You'll find writings like these along the walls of many rundown buildings throughout Fort-de-France. Some of them were spiritual. Others, appeared to be political. All added a bit of flavor to the city. You don't have to read French or Creole, as I don't, to pick up on the emotion of the artfully scribbled words.
This wall sits just outside the back of the Covered Market, where obviously I wasn't the only one taking advantage of this particular photo op…
Related Posts