Tuesday 2 Cents: Kathryn Bertine Tells us Why Nevis is a Cyclist's Paradise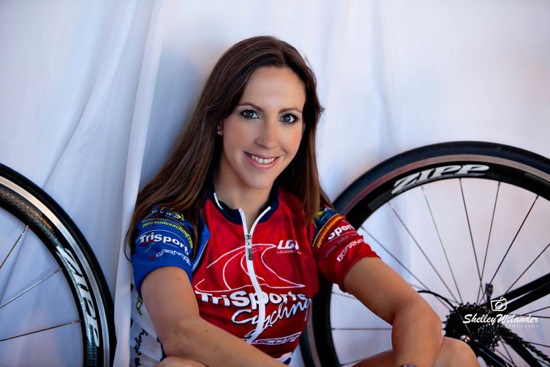 Nevis has always been known as an exclusive destination for luxury pampering, rest and relaxation, but we found during our visit there last month that it's also a great choice for active travelers. After all, you've got Mt. Nevis with its lush rainforest and unique trails, so it's no surprise that hiking is big here. What is surprising, though, is the strong popularity of another sport that on the surface may seem ill-suited to such a small island – cycling.
Why is cycling an odd fit for Nevis? Well, Nevis is tiny – 36 square miles – and basically has only one main road that encircles the island.
So what's the deal? We caught up with professional cyclist Kathryn Bertine over dinner at Nisbet Plantation to find out. You may not know Kathryn from her racing on behalf of the St. Kitts & Nevis Cycling Federation, but if you're a fan of ESPN, books or triathlons, then her name may be familiar to you.
Kathryn is a former pro triathlete who penned the So You Wanna Be An Olympian series of articles for ESPN.com a couple years back. She's also the author of As Good As Gold, a new book released in May 2010 that chronicles her two-year assignment from ESPN to qualify for the Olympics in any sport she could. After a few misses with other sports, Kathryn eventually settled on cycling and Nevis.
Why Nevis?
While doing some research for my ESPN project in 2007, I learned that St. Kitts & Nevis had a pretty strong Cycling Federation based in Nevis. At the time, though, they had no women riders. I was looking for a country that could appreciate the mutual benefits of the project; giving me a good chance to make the Olympics, while also helping to raise the profile of cycling in the destination. It's been a great fit.
What makes the cycling so good in Nevis?
Off the main road, there's a small yet intricate network of off the beaten path roads that offer great workouts. Many of these hidden roads are short and steep, some with a 20% gradient, which makes them fantastic for hill training. At first glance you wouldn't even know some of them are there, so it's good to have a local guide show you around to start out.  There also isn't a lot of traffic in Nevis, and people are always very aware of cyclists here. Combine that with the amazing weather and friendly people, and Nevis is a wonderful cycling paradise.
Is it easy to travel with a bike to Nevis?
Traveling anywhere with a bike is difficult mainly because you have to pay such high added baggage fees for the flights. I keep a bike here in Nevis to offset that, but whether you're a serious pro or recreational cyclist you can rent great bikes through Winston Crooke, who heads the Cycling Federation and is based in Nevis. It's a lot easier than lugging your own bike all the way down here, and Winston and his crew can guide you along the best hidden routes to match your fitness level.
Winston's "crew" includes our friend Reggie Douglas, who we've already shown to be a great athlete and hiking guide, so I highly concur with Kathryn's advice. To get in touch with Winston and Reggie, click here.
Also, if you want a more in-depth look at cycling in Nevis, pick up a copy of Kathryn's book via Amazon.com by clicking here. There's a lot of detail in the book on her cycling adventures along those "hidden roads", so it can definitely prove handy if you're planning a future two-wheeled conquest of Nevis. This is must-reading for anyone who likes to combine athletic pursuits with travel, just as Nevis is a must-visit for cyclists looking for a hidden treasure among Caribbean cycling destinations.
Related Posts