Hit the Links at the Caribbean's Most Uncommon Golf Course
Could this be the most uncommon golf course in all of the Caribbean?
Certainly the region has its fair share of celebrated championship level courses, particularly in Puerto Rico, The Bahamas, Jamaica, the DomRep, Anguilla, Barbados, etc. This, however, is tiny Pine Cay, where you won't find any cars, real roads, or even sprawling green lawns, for that matter. The entire visitor experience here is uncommon, with these links obviously being no exception.
One Big Sand Trap
You're looking at The Meridian Club Golf Course, as challenging a collection of nine holes as any duffer would dare take on. The major test here doesn't come in the form of water hazards, some wicked dogleg, fast greens, or an unwieldy rough. Clearly, this most uncommon golf course is all about the sand. After all, the links stretches right along the beach just outside the resort's main house.
I didn't actually play the course when I visited The Meridian Club in July 2012. It appeared so randomly haphazard that I didn't really know what to make of it. I wondered…
Do people really play golf here?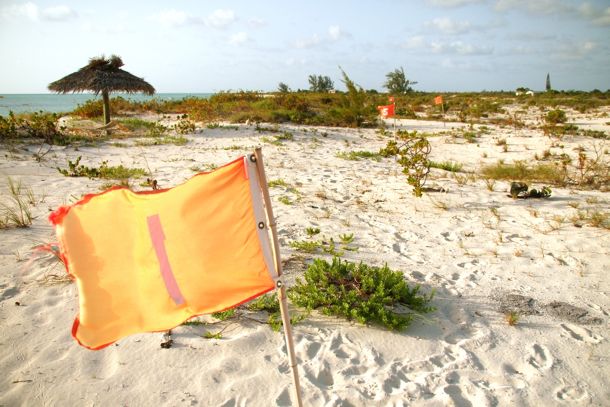 The answer, I learned later, was a resounding yes! In fact, guests of The Meridian Club have played golf on the beach here for more than 25 years!
Jack McWilliams, Course Designer
I got this info from Jack McWilliams. Jack is a long time frequent visitor to Pine Cay who built the most recent course during winter 2011. He describes the course thusly:
It is a nine-hole course, holes marked with flags. Since we are dealing with sand greens, each pole has a string with stake attached so to draw a circle around the pole to mark the boundaries where the ball must land to score.
Jack installed a couple "real" greens made of astroturf, as you can see below. For the most part, though, the Caribbean's most uncommon golf course is all sand.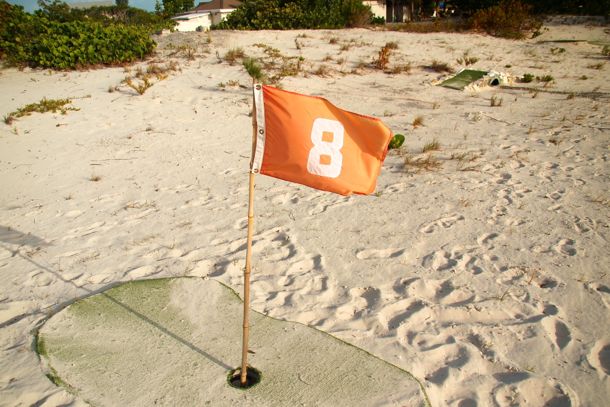 Jack also says that there is a water hazard somewhere on the course that I must've missed. A replica of the Swilcan Bridge at St. Andrews is also part of the course.
Each tee is marked with a bird or sea creature made from driftwood, providing added island cachet.
Who Plays The Caribbean's Most Uncommon Golf Course
Guests are welcome to play at any time. (As there are no greens, there are no greens fees.) Teams are often formed among visitors and owners of the 36 private homes on Pine Cay. Drinks at the Club are usually on the line, so I'm guessing the competition can be fierce.
Well, as fierce as any competition could be in such a serenely beautiful place.
People love it! I know one guest of a homeowner who is an avid golfer and was out there everyday.
Hmm… Considering my sand game is by far the worst part of my overall poor golfing skills, I could definitely do well to spend more time here…
Visit The Meridian Club online for more on all the fun that awaits you here.
Related Posts