Laughing & Limin' at La Reine Chicken Shack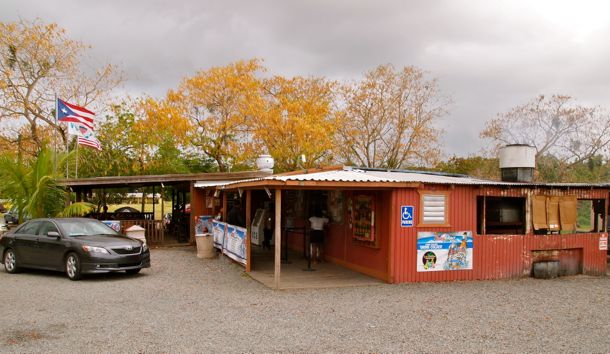 Where do the locals hang out?
It's a simple question that guides my initial explorations into just about every new place I visit. Sometimes the answers lead to wonderful finds, like Vivine's Kitchen in Grand Cayman. Other times, the responses spur me to find my own way, as was the case on this particularly rainy day in Aruba.
When I'm back home in St. Croix, though, I don't ask around. It's not because I was born and raised there either. I mean, I haven't lived full time in St. Croix since 1989, so I'm hardly a local anymore.
Nope, instead of asking questions, I just look for Fico.
Frederico "Fico" Garcia is one of my surrogate uncles in St. Croix, the father of a few of my best friends, and a really, really great guy. He's well-known on the island, especially in Frederiksted where he's lived for most of his life (and all of mine). You can be sure that his prime hangout is always the place to get in tune with the local vibe.
These days, his favorite spot is La Reine Chicken Shack. I know this because I found him there while driving around during my last trip to St. Croix in March. I pulled up for a quick bite to eat and found him there playing dominoes with a few other older Crucians, all of them quiet and sporting the type of stern expressions typical of a serious test of wills. Not wanting to draw the ire of the group, I gave a quick hail-up and retreated to the bar. That's when the Chicken Shack revealed her true character…and characters!
There were the local businessmen each with their own little gripes… the Senator mixing with the people, while enjoying a potent mix of rum and coke… the stereotypical drunk who had clearly stayed too long… the bodacious and sassy fashion model keen on showing all of us her latest pics on her smartphone… the former cop and current bodyguard for the Governor…
Yeah, you could say that the Chicken Shack attracted all kinds that afternoon. A little early evening rain ensured they all stayed for a while too, creating a fairly lively bar scene for a Tuesday night. All the latest local frustrations, hopes, and melee (gossip) were all being presented, argued over, and eventually laughed about, often in raucous fashion by any and all who cared to participate.
Fico eventually came over and introduced me to the owner, Millin Diaz, who also happened to be his cousin.
Now, if you've ever met Millin, believe me, you wouldn't forget it. He's got the eyes and sly smile of a scoundrel: you know, the charming kind the ladies love and most of us guys wish we could be. He's also always real quick with a good joke, and as you might guess, they're all pretty dirty. It wasn't long before he had the beauty queen blushing, and the rest of the bar rolling with laughter.
Millin carries himself like someone who has seen it all or at least all that he cares to see. He's carefree in a way that goes beyond the typical laid-back island lifestyle most people associate with our islands. Some of this stems from a close brush with death a few years back, the lasting remnants of which you can see in his hands, though I get the sense he's always been one of those guys who see life a bit differently than the rest of us.
He runs La Reine Chicken Shack with similar zest, employing family and close friends to create a very home (and often hilarious) atmosphere, welcoming all, and serving the best damn chicken and johnny cake on the island.
The proof is in the production. Upwards of 20 cases of chicken are cooked here each and every day! At 15 whole chickens per-case, that's a whole lot of good eating!
Millin is there every morning at 6 am. This is when the bar opens. At 7 am, they start cooking on this marvelously makeshift contraption: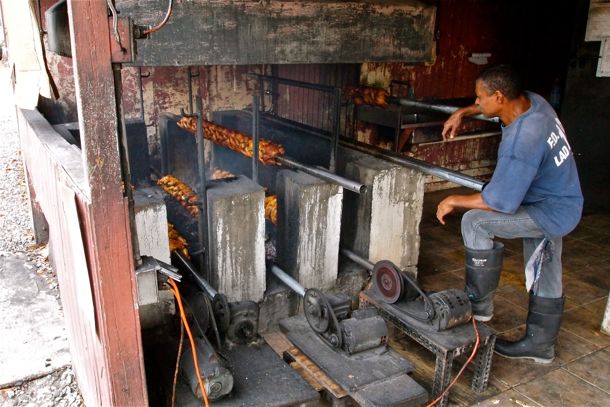 As is the case with like the pig roaster we use every Christmas Eve in Florida, these chickens are turned by three motors re-purposed from old dryers. The higher racks are used to crisp the skin and keep the chickens warm before they're served. The first food orders are fulfilled around 10:30 am. If you get there right around noon, expect to wait. The lines are long here for a very good and yummy reason…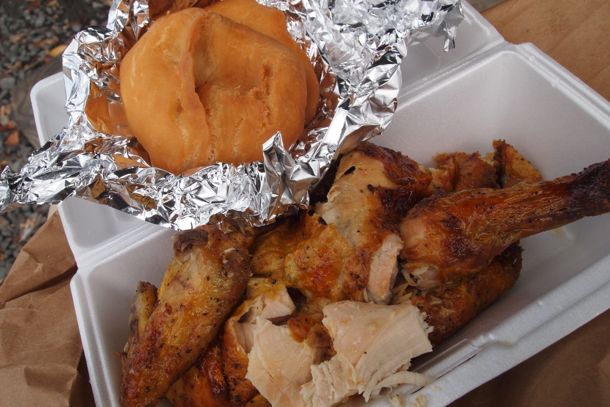 The two, medium-sized johnny cakes are filling by themselves, but you'll want to save room for this chicken. Perfectly seasoned, moist and nice, it will have you sucking the bone clean! This standard portion, consisting of a half-chicken and two johnny cakes, is only $5.00 – talk about a value meal!
The menu at La Reine Chicken Shack also consists of conch and fish, steak, pork chops, meatloaf, macaroni pie, rice, and beans, etc., but most everyone comes here for the chicken, the laughs and the nice lime.
La Reine Chicken Shack is located right on Centerline Road just across from the old La Reine Shopping Plaza in the center of the island. They're open every day till about 5:30 pm (4 pm on Sundays), though Millin is known to stay open later as warranted by the crowd. Check them out on Facebook or call them at 340-778-5717.
Related Posts