On-Site Pine Cay: Why This Painting Makes Me Hungry
It's funny how little things often trigger big memories of our favorite places and travel experiences. Fresh fruit on Corn Flakes still takes me back to a childhood trip to Haiti… The smell of incense always rekindles the special feeling of entering the open-air lobby at the posh Cap Est Resort in Martinique…
And every time I see this painting I get really, really hungry.
This vibrant, amazing piece of art hangs in the main dining room at The Meridian Club on Pine Cay, Turks & Caicos. It's big, bright and centrally positioned in the room, making it virtually impossible to miss, especially if you're here to enjoy breakfast or lunch. Both meals are served buffet style, with dishes spread out along long tables right beneath this painting.
As hungry as I was each time I stood at the buffet during my few days here last summer, I always found my eyes cheating away from the food to the fine art above. This is no small feat, considering the excellent quality of the cuisine served up here.
Breakfast always offered a choice of fresh fruit and fresh-baked muffins and pastries, and the usual eggs, bacon, sausage, and cereals, as well as inventive omelets. The spinach, mushroom, and goat cheese omelet is a particular guest fave, though this breakfast wrap with mango sauce is what got me going each of the mornings I awoke here…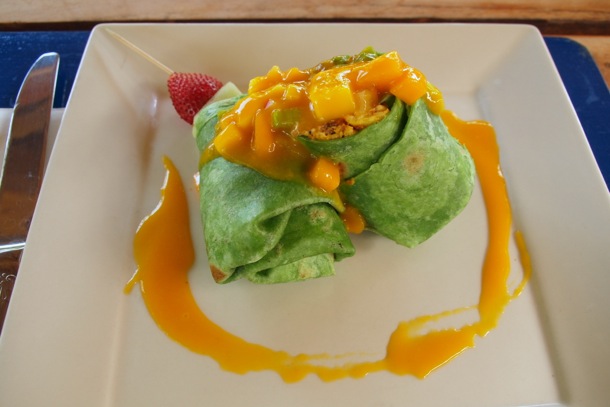 Lunch brings more fresh fruit and delicious salads, plus fresh-caught seafood, wraps and more!
Back to the painting, though: I couldn't tell you the name of the artist (neither could anyone else at the property), but all agreed that the piece has its origins in Haiti. The year, clearly inscribed in the lower right, is 1989.
I'm no art expert either, but I do know that different regions of Haiti produce distinctive types of art based on each area's unique topography and daily life. To me, the boat, hills and less-urban setting suggest the Jacmel region, though there's no way to be sure.
What I am sure of, though, is that every time I see it, I crave more of the good eats at The Meridian Club. If you've stayed here and fallen under the spell of this magical work of art, I'm sure you feel the same way too…
For more on The Meridian Club on Pine Cay, visit the resort website.
Related Posts