On-Site Anguilla: CuisinArt's Surprising Rum Infusions
You expect certain extravagances when you check into a pleasure palace as posh as the CuisinArt Golf Resort & Spa in Anguilla. I mean, that "A" isn't capitalized for nothing…
From the day it opened in December 1999, this 93-room luxury property purposely designed to fit seamlessly among Greek Mediterranean surrounds has had one mission: to be the #1 resort in the Caribbean. Judging by its online reviews, extensive awards, and generally sterling reputation, I'd say it's certainly near the top, though none of this is what impressed me most when I visited a few weeks ago.
I was there as part of a quick travel industry group tour hosted by the Anguilla Tourist Board. Several of my travel companions raved over the property's expansive guest rooms and suites, the largest sprawling over 7,500 square feet!
I never saw 'em.
Others gushed over CuisinArt's elegant Venus Spa, its dynamic landscape design, and iconic "pool to the sea."
I barely noticed.
In fact, I barely made it out of the lobby! That's where I met Diana, the Dominican-born bartender who turned me on to the resort's surprising array of rum infusions.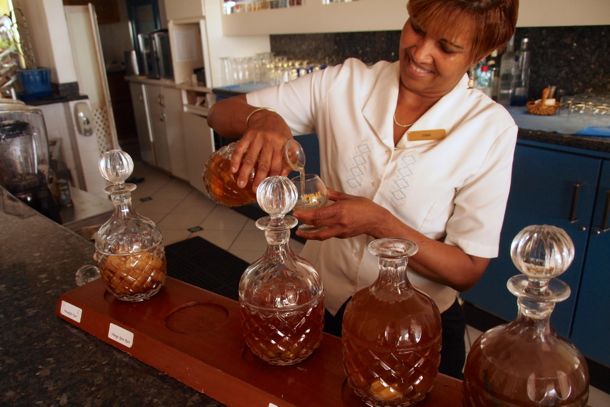 Now, if I had been at a local bar like Elvis' in Sandy Ground or a beach stand like Kali's in St. Martin, such a find would not be any big deal.
But this was CuisinArt, as legendarily upscale and exclusive a resort as any I've ever known in the Caribbean, so yeah, I was pretty surprised. Diana, whose nephew Domingo Alberto Santana plays minor league baseball for the Philadelphia Phillies and shares a birthday with yours truly, told me that the bar manager infuses each of the special rums at home. You'll find them sitting right on the bar in fancy glass decanters displayed atop a polished wooden pedestal, an elegant statement of style befitting the vaunted CuisinArt aesthetic.
While the presentation is all up-town, the taste is pure, down-home West Indian niceness!
I tried each one, of course – pineapple, orange spice, passion fruit, ginger, and banana. The ginger and passion fruit were my favorites, though all were very fantastic enjoyed neat. If I had been staying at CuisinArt, I could easily see myself wiling the days away in the "pool to the sea" sipping Diana's marvelous homemade rum infusions in high style – an uncommon luxury indeed!
For more on CuisinArt, visit the property online, or look 'em up on Facebook.
Related Posts