Friday Happy Hour: Islander Rum Cocktail at Viceroy Anguilla
Note: In October 2016, the Viceroy Anguilla resort became the Four Seasons Resort and Private Residences Anguilla.
What goes better with amazing beachfront vistas like the one seen here on Meads Bay, Anguilla than a fantastically refreshing rum cocktail? Ahh, you know the kind we like: not too sweet, not too fruity, quick and easy to make, and cool enough to give you goosebumps, even under the warm Caribbean sun…
Thirsty now? Well, let me tell you about The Islander…
I found this great little cocktail while wandering around the incredible Viceroy Anguilla this past June. It was just before lunch, so yeah, it was HOT – the perfect time to head down the Bamboo Bar & Grill.
By day, it's a relaxed, laid-back beach bar. By night, it's a sophisticated beachfront steakhouse and BBQ restaurant. Any time you check it out, though, Bamboo is fun. Not your wild and crazy write graffiti on the walls beach bar fun, but rather a cool and smooth more elegant beach bar kind of fun.
Best of all, it's where you'll find Ruth.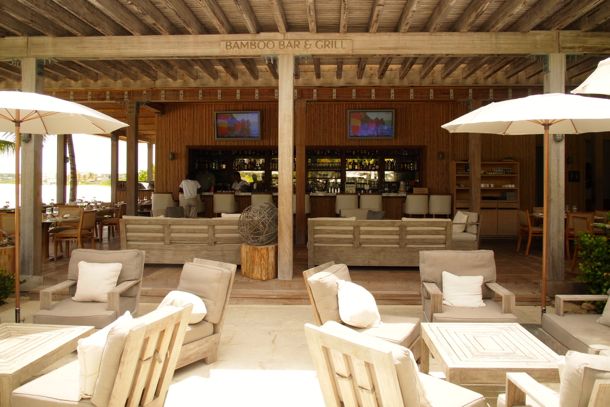 Ruth was my bartender during my visit to Bamboo. If you've ever ordered a drink there during the day, she was probably your bartender too.
Originally from St. Kitts, Ruth is short and sweet with one of those beautiful smiles that always makes you want to order at least one more. Among the five different restaurants and bars at The Viceroy, Ruth says Bamboo is always where she's at. Good thing too, if you want to try an Islander, since she's the one who created it.
The signature drink at the Bamboo Bar & Grill, The Islander is also the most popular because, as Ruth put it: "It's the most refreshing." Made perfect sense to me as I found myself vastly over-dressed in the veritable steam bath that was Meads Bay during my visit. Halfway through the glass and the goosebumps started up – exactly what I needed!
Ingredients:
2oz White Rum
1/2oz Triple Sec
1oz Cranberry Juice
10z Club Soda
1/4oz Fresh Squeezed Lemon Juice
To make an Islander cocktail of your own, simply combine all the ingredients in your shaker with some ice. Shake vigorously then pour over ice and prop a lime on the side for style.
Easy, right?
Well, at Bamboo such ease will set you back $15 + tax. It's pretty steep, but the setting and time with Ruth are worth it.
The Bamboo Bar & Grill is open daily starting at 9:00 am. Feel free to stop in off the beach even if you're not staying at Viceroy Anguilla as they're quite happy to welcome visitors from other properties.
Oh yeah, Ruth also told me that each of those five bars/restaurants at The Viceroy Anguilla each serves their own separate signature drinks, so you may want to pace yourself and make a whole day of exploring this amazing property…
Cheers!
Related Posts