The Sweet Sting of Bankie Banx's Vicious Venom Bush Rum
On Anguilla, there's a vicious bush rum cocktail that's so dark and sinister that drinkers need beware. To find it, you must venture to the warm, sunny shores of  The Dune Preserve, as beautifully mish-mashed a menagerie of seaside detritus turned beach bar, grill, boutique, and concert hall as any imagination could ever dare conceive.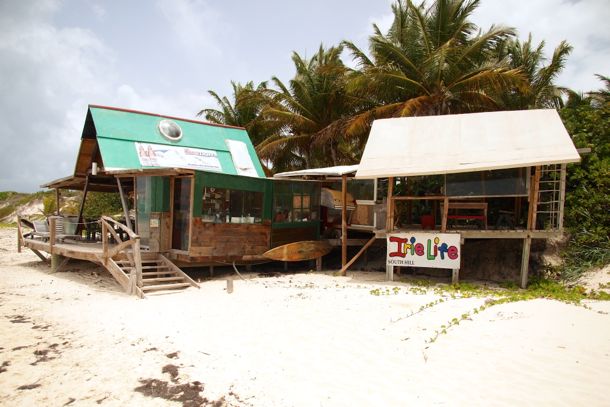 This is the home of international reggae superstar Bankie Banx; a home he keeps open to all in search of a good time. When that "all" was comprised solely of me during a late-am visit in June 2012, Bankie's warm welcome included a shot of his vicious concoction.
Now, as we've cautioned before, most any bush rum that you might encounter most anywhere around the Caribbean carries the potential for ruin. (Evidence here.) Venom, however, out-wicked's them all in my experience.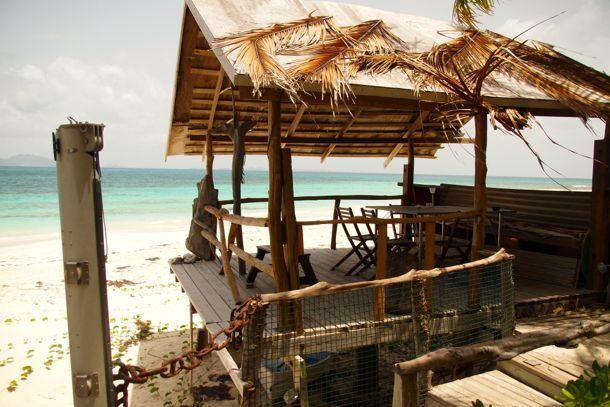 You'll find the same secret mix of carefully selected twigs, tree bark, leaves, shrubbery, and rum in Bankie's Venom bottle, ironically-adorned with playful dolphins leaping through and playing with life-preservers.
(Actually, come to think of it, those life-preservers are quite apropos for this killer shot!)
The difference here is the inclusion of the threatening beast pictured way up top: Nasty old Mr. Centipede.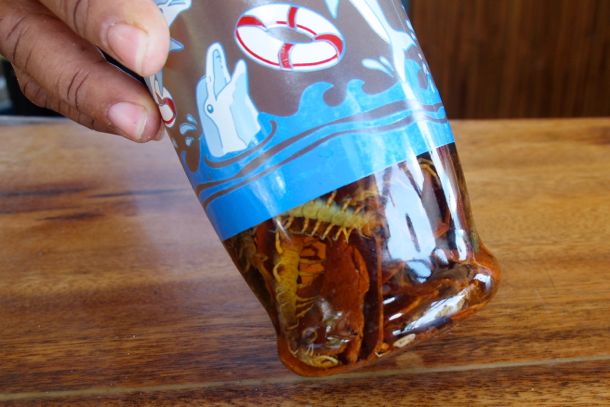 Indeed, Bankie and crew catch and kill centipedes expressly to infuse 'em into the Venom Bush Rum mix!
Now, like any good West Indian, I know enough to steer clear of centipedes when they're scurrying about the house. When they're dead and floating around in your rum, however… well… I just could not resist!
Two shots were poured. Two shots were raised.
Someone said cheers.
Bankie laughed, no doubt noting the fear in my eyes.
Two shots went down.
A cool breeze blew in off the sea. Venom's sting sunk. A fresh wave of sweat swept across my face. Bankie laughed again. I spoke:
Another round?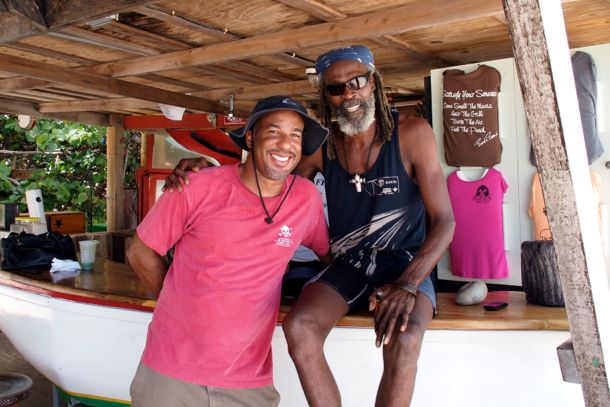 Once bitten, twice shy? Hardly. Try it for yourself next time you're in Anguilla and see how Venom's sting suits you.
Cheers + Happy Halloween!
Lead photo credit: Eran Finkle via Flickr.
Related Posts