Friday Happy Hour: Kilo Kai, the Super-Spiced Rum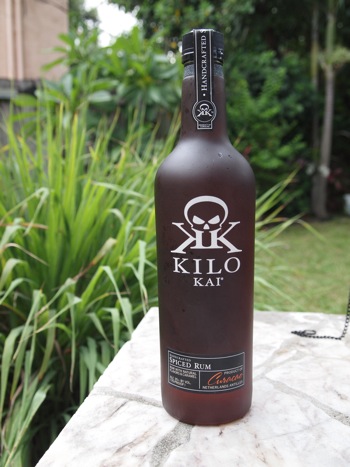 When you think of great rum, you don't usually think of Curacao. The most popular Happy Hour libation from this Dutch Caribbean paradise bears the island's name and is as blue as the welcoming waters that surround it. Clearly Kilo Kai is something altogether different, and not just because of its bad ass bottle and logo.
One of the few things you might enjoy drinking that bears a skull and crossbones on the label, Kilo Kai is a spiced rum with a HEAVY emphasis on spices. The Kilo Kai website says that vanilla, nutmeg and cinnamon are in the mix. The bottle says there's caramel too, while other reviewers have detected banana, cherry and the same citrus peel that goes into making Curacao liqueur.
Suffice it to say, there's a ton of flavorful stuff in Kilo Kai besides rum, which as longtime UC readers know, is not such a good thing for me.
Still, Kilo Kai kinda' grows on you. It's only 70-proof, so it doesn't hurt you too bad. The rum itself is a blend of one year old and five year old rums, too short for creating a rum of any truly exceptional quality. In this way, the many different spices probably do more good than harm.
Bottom line: Kilo Kai is not one of my personal favorites, but if you like a broad abundance of flavor in your spiced rum, it's a good choice.
Cheers!
Related Posts