The Sexy Sailors' August Monday Experience: Uncommon Envy
Throughout the year, island festivals and carnivals erupt throughout the Caribbean. They're so many, it's hard to catch them all, but to be honest, we haven't been doing such a good job of jumping up in any!
So, today I can only look on with envy at the festive photo gallery from our friends, the Sexy Sailors Alex and Taru, who caught August Monday this past week in Anguilla.
The carnival calendar in the Caribbean is a year-long affair. It begins with rumblings in The Bahamas at Junkanoo January 1st. Then feting flares up down south in Curacao with Fudeka around the 8th. Aruba comes next. Then, in comes Trinidad around mid-February to blow the doors off with unmatched color, music, jumping up and carrying on.
But that's not the end. Carnivals, festivals, and island-wide fetes of all shapes and sizes continue to make the rounds — jumping from island to island. Some (like in TnT, Martinique, Dominica, and Haiti) align around the more traditionally religious Ash Wednesday celebrations.
Others fall around the beginning of August to align with Emancipation Day in the British West Indies — as is the case with "August Week" aka Summer Festival aka Carnival in Anguilla. Since 1833, subjects of the British Empire have marked the signing of the Slavery Abolition Act with parties, but few of them look as sexy and fun as Taru made August Monday appear through her lens.
The first August Monday celebration on Anguilla was held back in 1940 and began as a boat racing celebration. Over the years, it's evolved to become one of the biggest beach and boat parties of all of the Caribbean carnival celebrations.
Boats, beach, beautiful people, music, dancing, and, of course, rum?
Sign me up!
Sure, if I went, I'd want to catch the opening ceremonies of the Summer Festival, see the Prince and Princess Show, the Junior Calypso Show, and more… But Taru sure makes a good case for spending most of my time partying on the beach.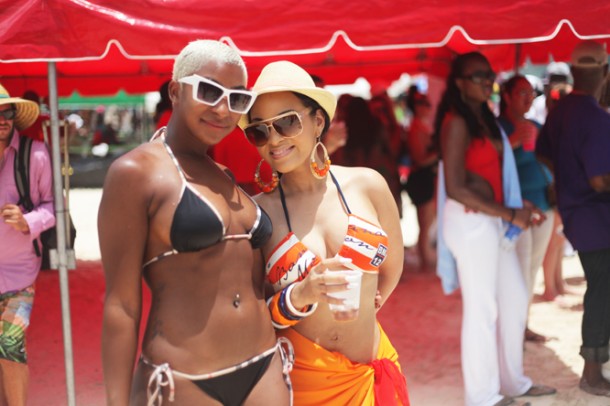 You should definitely check out more photos from the Sexy Sailors' August Monday antics over at their blog: World Tour Stories.
And if you've been, let me know what I'm missing in the comments below.
See you next year!
Related Posts