On-Site Antigua: Catching My First-Ever Live Cricket Match
Everything I know about cricket I learned from Paul Keens-Douglas. The legendary West Indian storyteller's seminal and ridiculously hilarious account of taking his "Tanti Merle" to a Trinidad v. Combined Islands match at the Oval in Port-of-Spain paints a robust picture of raucous sporting fun so wild that anyone with even the slightest inclination toward having a good time will want to take in a match somewhere in the Caribbean upon hearing it.
I certainly felt that way when I first heard the tale as a small child growing up in St. Croix. Somehow, though, it took me a good 30+ years before I ever set foot in a real cricket stadium.
You're looking at Sir Vivian Richards Stadium, a magnificent, modern facility established in 2007 and named in honor of the celebrated former West Indies Cricket Team Captain (and very cool guy) born and raised in Antigua. It was a warm August night when I arrived here courtesy of the convenient shuttle service provided by the sublime Sugar Ridge hotel.
As noted previously, Sugar Ridge is that rare breed of luxury hotel that encourages guests to get out and enjoy the local scene. So much so for cricket matches, that everyone from the front desk attendant at check-in, to the restaurant servers, and even the general manager encouraged me to go. Tickets were available for sale on-property and transportation provided, so it couldn't have been easier.
Understanding the game, though, was another matter.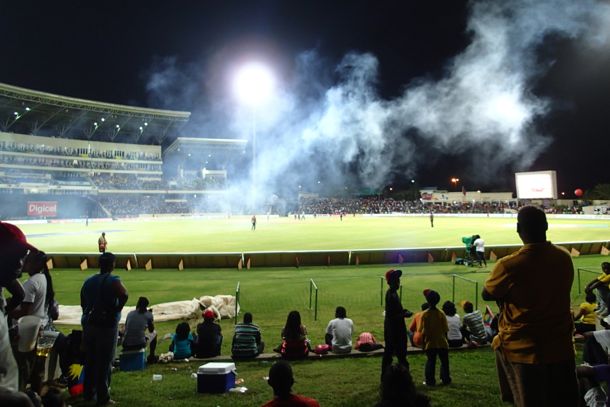 You see, while Paul Keens did a great job of turning me on to the revelry of a West Indian cricket match, he didn't do much to detail the actual rules of the game. It didn't matter after awhile, though, as I quickly became swept up in the energy and emotion of the uniquely Civil War-like crowd.
The match pitted the national team from Antigua (the Hawksbills) versus their arch rivals from Guyana (the Amazon Warriors).

So, how is it that a small island in the heart of the Caribbean would maintain such a heated rivalry with Guyana, a larger land-locked country located along the northern coast of South America? The answer lies in the current make up of the local population in Antigua.

Many Antiguans who I happened upon during my visit to the island had something or other to say about the large number of Guyanese immigrants in their country. Some even postulated that native Antiguans were now outnumbered in their own country!

I don't know about that, but if the attendance inside the cricket stadium that night is any indication, then it might be true. The crowd was easily 50/50 in support of both sides, though the Guyanese side certainly became more prevalent as the match wore on.

Antigua held what appeared to be a fairly comfortable lead heading into Guyana's last chance at bat, but the Amazon Warriors prevailed with a furious comeback eventually taking the match by a few wickets…

Highlights Match 20 - Antigua Hawksbills v Guyana Amazon Warriors


No, I don't know what wickets are, but it was easy for me to tell when Guyana won.

For one thing, the hometown PA announcer who had been shamelessly rooting for Antigua the entire match, while deriding the Guyanese side fell silent.

For another, all the Guyanese people around me were going crazy – waving flags, screaming, dancing, setting off fireworks – while the Antiguans sat dejected, cursed quietly, or simply headed to the exits.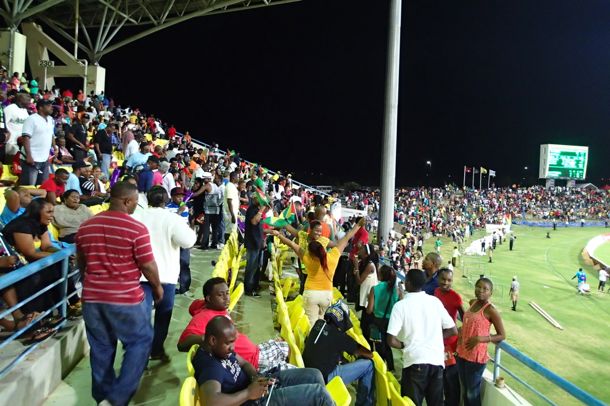 Even so, things remained peaceful, some good-natured chiding and trash talk ending in laughter the only signs of contention. It was a scene right out Paul Keens' imagination… just without Tanti Merle.
As the smoke cleared, the remaining crowd of mostly Guyanese fans headed to the parking lot behind the main grandstand. There, a stage had been erected where a series of soca artists performed well into the wee hours.
All around the air filled with the fragrant and sumptuous smells of West Indian delights – callaloo, macaroni pie, rice and peas, fried fish, BBQ chicken, and some serious lobster on the grill…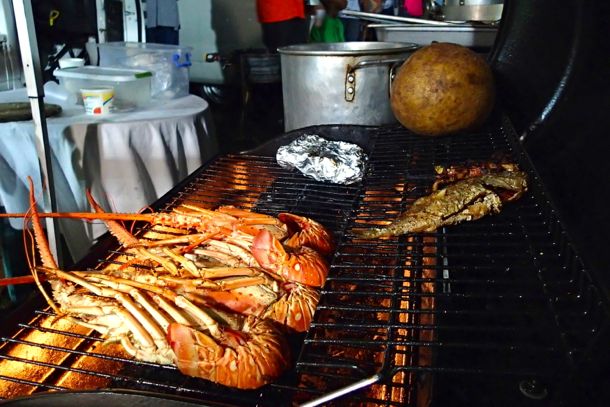 We danced, ate, and drank with the Guyanese fans under the stars, intermittent rain showers doing very little to dampen the late-night party mood.
At 42 years old, it was my first real taste of the sport that is in many ways my home region's quintessential athletic contest. I didn't understand the action in the least bit, but I couldn't have felt more at home. Go with an open mind and a willingness to have fun, and I'm sure you'll come away feeling the same way too…
The Antigua v. Guyana cricket match I attended was part of the annual Caribbean Premier League (CPL) tournament, which follows a Twenty20, or T20 format that is much shorter than traditional forms of cricket that can literally last for days. Most T20 matches wrap up in about three hours, so you'll want to bear that in mind when attending to ensure you don't miss any of the action.
CPL tournament matches are contested among six teams – Antigua, Guyana, Jamaica, Trinidad & Tobago, St. Lucia, and Barbados. Matches take place in all six destinations, with the semifinals and finals for the 2013 event held at the very same Queens Park Oval in Port-of-Spain where Paul Keens had all the trouble with Tanti Merle.
For upcoming match schedules and more information on the CPL tournament, visit the event website.
Related Posts