Charlie's Bar Aruba: Where One Man's Trash is Always a Treasure
Established way back in 1941, Charlie's Bar Aruba ranks among the most legendary watering holes anywhere in the world; its fame carried across the seas over the years by the many oilmen and sailors who've been stationed in Aruba at one point or another.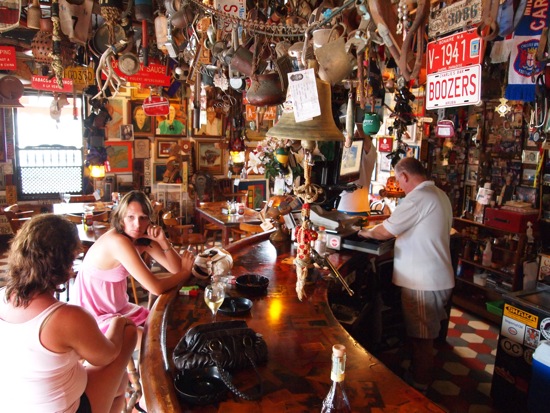 Caribbean Oil Men
When you think oil and the Caribbean, you mostly envision glistening beach bodies slathered in the sweet-smelling tanning potions purveyed by the likes of Banana Boat, Hawaiian Tropic, and others. Less known, however, is the region's long association with the other, darker and infinitely more valuable oil – Texas T, Black Gold – so essential to our modern daily lives.
Some of the largest oil refineries in the world can be found on a collection of small islands throughout the Caribbean, most dating back to the 1940s and '50s. The advent of these refineries has, over the years, spawned a unique sub-culture of oilmen and women (mostly men), attracted to the region from such disparate lands as the Middle East, Russia, South America, the U.S., and elsewhere. Patrick and I know this Caribbean oil sub-culture all too well as our Dad put us through school and supported our family while working as a Shift Superintendent at the massive Hess Oil Refinery in St. Croix.
There's a transient, fun-loving, and decidedly male nature to this sub-culture. Home-grown West Indian oil workers like my Dad were in it to make a good living, put down roots, and raise a family. Those from outside the region were, in large part, here today/gone tomorrow, leaving a string of long nights spent partying and breaking hearts in their wake.
For oil men in Aruba, the place for all those long nights of partying and breaking hearts is Charlie's Bar & Restaurant.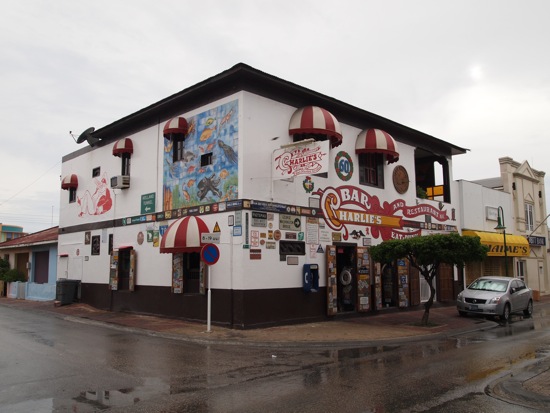 Charlie's Bar And Oil
The bar is located in San Nicholas, a town so tied to the oil business that it's safe to say that it wouldn't exist if not for the large, decaying refinery that dominates the area. In the boom times, the town was alive with bars, banks, brothels (more on that later), and other businesses catering to the steady stream of refinery workers. Today, San Nicholas is as sleepy as its refinery, which has cut back production drastically over the years as its equipment became outdated.
Metaphorically, geographically and just about any other "ically" you might imagine, San Nicholas is the complete opposite of the pristine resort area along Aruba's Palm Beach.
Now, as in the boom times, however, Charlie's is the town's central attraction; a warm and welcoming place to stop in for a few drinks and make new friends.
Where trash is a treasure
When you first walk in, prepare to be overwhelmed (I was) at the massive and infinitely eclectic collection of artifacts displayed all over the bar. Here, it seems, any man's trash is a treasure, and virtually every man or woman that ever set foot in the place left something behind.
An expired West Virginia driver's license, old baseballs, classic cameras, cell phones, trumpets, cowboy hats, stuffed animals, license plates from all over the world, a Ross Perot bumper sticker, pennants, and flags for almost every MLB and NFL team; the list goes on and on. There's even a portrait photo of the Old West outlaw Jesse James donated, according to the bartender that served me on my visit in September, by the descendants of one of the guys who caught him.
Charlie's Cornelius
Speaking of the bartender, he, like everything else in Charlie's, is quite a story himself. His name is Cornelius, and he's been behind the bar at Charlie's for decades. During his time as a member of the Dutch Marines, Cornelius was stationed in Aruba in the early 1970s and fell in love with the island. After his tour of duty, he returned. "I stumbled back into Charlie's in 1974, replaced a guy who was here for 42 years named Gambling Gus, and never left."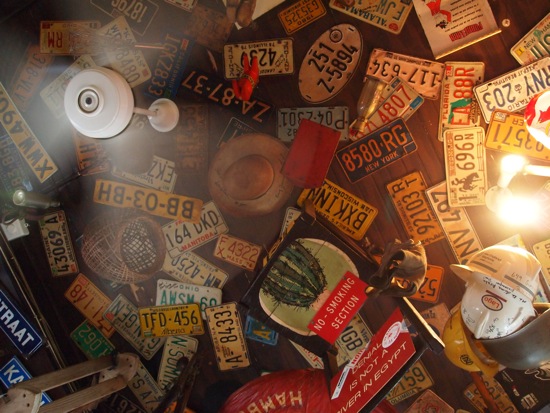 How friendly is the vibe at Charlie's? Well, after noting that I'm from St. Croix, Cornelius dusted off an old bottle of Cruzan Single Barrel Estate Rum (#85215) that had sat in the bar, unopened for more than ten years. He happily peeled off the plastic protecting the cork without a second thought. Instantly, I felt like a regular, and we were soon laughing and sharing stories with a local woman whose mother was visiting from Denmark, and three retired friends traveling together from Philadelphia.
Aruba's Red Light District
Somewhere between drink #2 and #3, I learned about the brothels. I can't remember who brought it up, but I do remember that everyone agreed: just about every establishment in San Nicholas not named Charlie's Bar makes their money by way of the world's oldest profession. Apparently, prostitution is legal in San Nicholas, making it Aruba's Red Light District or the De Wallen of the Caribbean, albeit a grittier and less glamorous version.
Whether you're looking for a good time, or a little bit more, no visit to San Nicholas would be complete without a stop at Charlie's.
If you happen to be there on September 18, the usual good times are even better. That's because Charlie's hosts a blow-out party every five years on the exact date it opened – September 18 – to commemorate the bar's long and colorful history.
The party spills into the streets as fans of the bar return from all over the world to reminisce, see familiar faces, and, no doubt, leave more stuff behind. The 2011 party marks the bar's 70th anniversary, so you can bet it will be the biggest, best party yet.
See you there!
Related Posts