Checking Into The New Hilton at Resorts World Bimini
Editor's Note: Large-scale resorts don't generally fit with our uncommon travel proclivities, though we've been surprised a time or two. Recently, we sent our good friend Laura Albritton to Bimini to see how the new Hilton there stacks up…
Fans of the Bahamian wonder known as Bimini, famous for its excellent fishing and lack of hustle-and-bustle, may not be prepared to find a Hilton here. In fact, some folks may think that the words "chain hotel" and Bimini go together about as well as peanut butter and…sardines.
One thing I prize as a traveler, though, is open-mindedness. Could a modern new Hilton hotel fit within this small tropical archipelago? I set out last weekend to find out.
Once upon a time the majority of visitors to Bimini either arrived on a private boat (like Ernest Hemingway used to do) or by seaplane. These days, hundreds of passengers can board the Resorts World Bimini Superfast ferry in Miami and take an easy three-hour journey.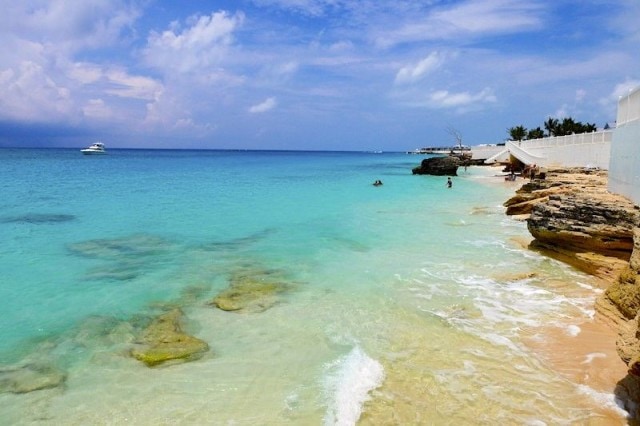 I had read reports of the environmental controversy surrounding the Bimini Superfast and the construction of its attendant pier prior to my trip, issues that I hoped to explore in greater detail during my stay. Upholding my pledge of open mindedness while coming ashore, though, I remember thinking that the convenience factor of the Superfast setup was undeniable.
Another reason to approach this visit with an open mind? The property is still partially under construction. As a travel blogger, I was curious to see how the resort was evolving, and what its aspirations were as a Caribbean destination.
The very first thing I noticed upon entering the Hilton lobby was a fresh, inviting scent, like you might expect in a spa, and sleek, contemporary décor. The modern aesthetic continues throughout the building, from corridors to the guest rooms, and makes reference to Bahamian nature in subtle ways.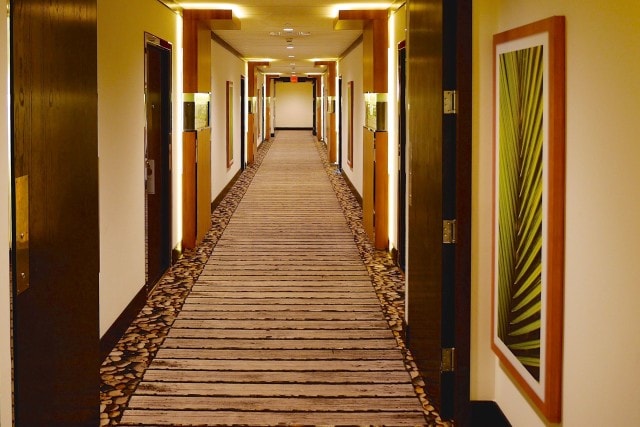 Outside the lobby covered walkways provide a buffer from construction areas. Other areas look impeccable, such as the large pool by the Sabor restaurant, where chaises recline invitingly and an attendant distributes neatly stacked towels. It's a work in progress, but I appreciated the fresh, thoughtful angle on design.
After my first morning's breakfast, I headed over to the Undersea office to rent a bicycle. Sure, you can cruise around the island by golf cart, but I liked the idea of peddling around under my "horsepower." The guys there fixed me up with a bright orange bike, and oriented me so I set off in the right direction toward Alice Town.
Once you leave the manicured resort compound, the soul of Bimini really comes across. Conch stands, bakeries, and tiny grocery stores line the road; vistas of impossibly turquoise-tinted ocean appear around almost every bend. At the very tip of North Bimini you can see South Bimini; the boat ride across the channel takes mere minutes. Only a few other travelers appeared in the distance as I strolled the shore and admired the spectacular ocean – Bahamas blue, of course.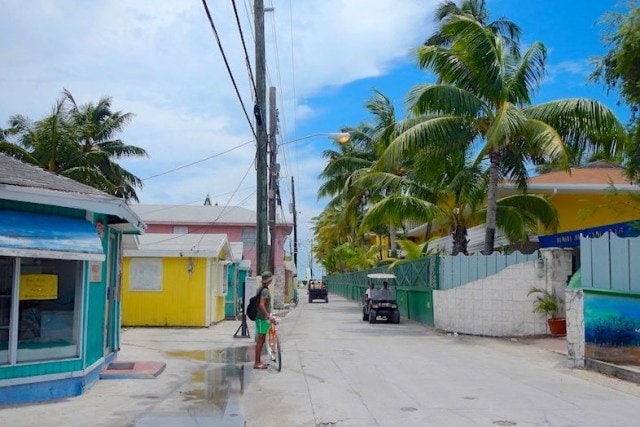 But before I go overboard romanticizing Bimini's rustic side, it was also clear that making a living here isn't easy. Signs of economic struggle were hard to ignore. One gentleman I met in Alice Town told me that the resort company had paved certain roads and provided residents with free paint to spruce up their homes, including his own.
This company beneficence was on my mind as I peddled back through the resort's impressive gateway to "Fisherman's Village," a small collection of shops and casual restaurants. While these buildings pay homage to traditional Bahamian architecture, complete with zinc roofs and pastel colors, the coffee that Amicci's café serves? That would be Starbucks. It's sort of surreal to enjoy a perfectly frothed American-brand cappuccino in Bimini, but that wasn't bothering my Bahamian barista one bit.
A stroll over to the Bimini Bay infinity pool and beach put me in a contemplative frame of mind, as I watched guests bobbing contentedly in the clear, cerulean blue sea. The whole process of witnessing an elaborate entity like a resort come together and work out the kinks was intriguing. It also made me question some of my own assumptions about the Caribbean, and what it means to be "authentic."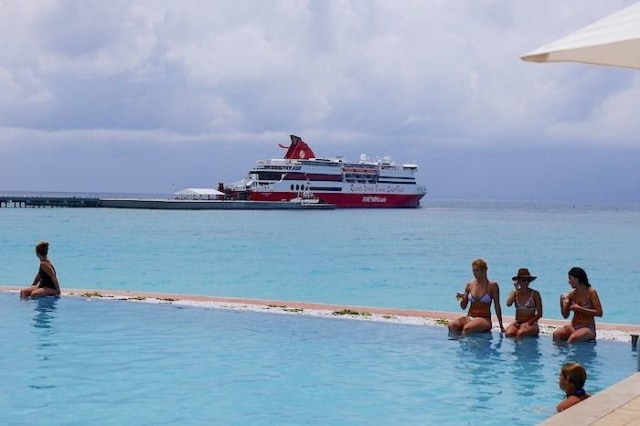 On one hand, it's essential that West Indian culture survives and flourishes. On the other hand, does that mean roads remain unchanged? Or no Starbucks coffee? It's definitely an interesting conundrum, not only in Bimini, but throughout the region.
My final evening's meal at the on-site restaurant, Hemingway, encapsulated the balancing act that the property is attempting. First, the server brought a basket of "Bimini bread," a slightly sweet baked bread typical of the archipelago. (It was irresistible, by the way.) Second, my starter of conch fritters came, accompanied by a dipping sauce. I've tasted plenty of bland conch fritters in my time, but these were well seasoned, crunchy, and 100% tasty.
Now, at this juncture, I could have ordered fish for a Bahamian trifecta, but I'd been told the Steak Chimichurri was good. Does this foreign cuisine belong on Bimini? That's a question I might ask if I were a purist, but instead, I simply ordered the dish and enjoyed a perfectly cooked, absolutely superb steak.
As the concierge wished me good-night on my way back to my room, I silently repeated the words "Bimini" and "Hilton" together in my mind. It didn't sound quite so startling anymore.
Yes, the Hilton's executive lounge, rooftop pool, and certain of the restaurants are not completed yet, and a massive hotel brand such as this can leave quite a big footprint in a place like Bimini. That being said, it appears that this attractive Caribbean hotel is sailing in the right direction.
For more on Resorts World Bimini and their new Hilton hotel, visit the property online.
Thanks again, Laura, for another great and thoughtful post! Look out for more on Laura's adventures in Bimini (and elsewhere) in the coming weeks, both here on Uncommon Caribbean and on her very own Island Runaways blog.
Related Posts