Banks Beer: The Beer of Barbados… By Way of Guyana
Uncommon Caribbean will be on-location next week in Barbados! To help us prep for our trip, we're spending this Friday Happy Hour enjoying a few ice-cold Banks Beers. The unquestioned Beer of Barbados, Banks is as ingrained in the local Bajan culture as a source of national pride as Budweiser is here in the U.S. As an added bonus, though, Banks actually tastes good too (Bud is crud, just saying). With all the flag-waving that it engenders, it's interesting to note that Banks is actually the brainchild of a Guyanese entrepreneur named Peter D'Aguiar.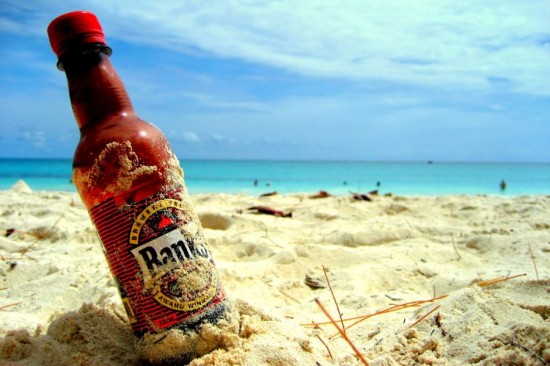 In 1955, the then 43 year-old D'Aguiar founded Banks Breweries Ltd. in what was then known as British Guiana. The company took its name from the brewery's location on the East Bank of the Demerara River. Four years later, the enterprising Mr. D'Aguiar unveiled plans for a new Barbados plant to be called Banks (Barbados) Breweries Ltd. The brewery opened in Barbados in 1961 and the legend was born.
But enough about history; let's get back to the taste. Here's what the experts at GreatBrewers.com have to say about Banks:
The premium pilsner style lager is brewed from a pure classic blend of 2-Row British and Australian malted barleys deliciously flavored by Yakima Clusters and the noble Styrian Goldings aroma hops. However it is Barbados' water, naturally filtered through limestone rock, along with our own special strain of yeast, which give Banks Beer its unique Bajan character and distinctive quality…. An excellent choice with fresh seafood, particularly grilled fish or shrimp.
Mmmm, it tastes great here in the States, but we're sure it'll be even better at one of the great bars in St. Lawrence Gap, or on our balcony at the Colony Club.
Cheers!
Related Posts