Friday Happy Hour: 10 Saints, Beer Made Better with Rum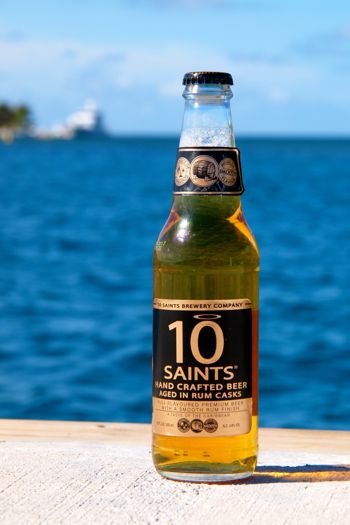 Liquor then beer, you're in the clear. Beer then liquor, never sicker.
This helpful little diddy has kept party people from puking since round about the time booze was born. But, what if you can't choose? What if you like beer and rum equally and insist on enjoying both at the same time?
Well, lucky for you, there's a brand new brew in Barbados that allows you to do just that!
It's called 10 Saints. It's only been around since May 2012. And yes, true its name, it's heavenly.
I got my first taste of 10 Saints at the 2012 Caribbean Rum & Beer Festival, an event obviously tailor-made for this stuff, and found it to be quite tasty. The rum adds an element of smoothness, rounding out the overall flavor nicely. For me, the rum spice really came to the fore at the finish, the tell-tale oak notes telling you right away that this is a beer apart.
At its heart, 10 Saints is a premium microbrew sporting the same pretty blonde looks you'll find in most any Caribbean lager. The difference here is in the aging process.
10 Saints allows its beer to mature in oak casks formerly used by Mount Gay to age its Special Reserve rum, a nice mixer that was replaced several years ago by the Eclipse line. The combination yields a unique taste and sophistication that beer connoisseurs are sure to love.
Judges at the Caribbean Rum & Beer Festival loved 10 Saints enough to award it a bronze medal in the Lager/Pilsner (up to 6.9% alcohol by volume) category, placing it right behind 345 and Stag Lager, which took home the gold. Personally, I can't really argue with that ranking, though 10 Saints is so different it almost doesn't seem fair to judge it against other beers.
Dually distinctive in a way I most certainly love, 10 Saints is worthy of a trip to Barbados to check out. It's produced in small batches, so you may have to look a bit harder to find it, but isn't that what the best uncommon travel experiences are all about?
Cheers!
Related Posts