Stag Beer from Trinidad and Tobago: It's a Man Thing
More so than any other beer brewed, bottled and sold in the Caribbean, Stag Beer is a Man Thing… You have to drink it to understand.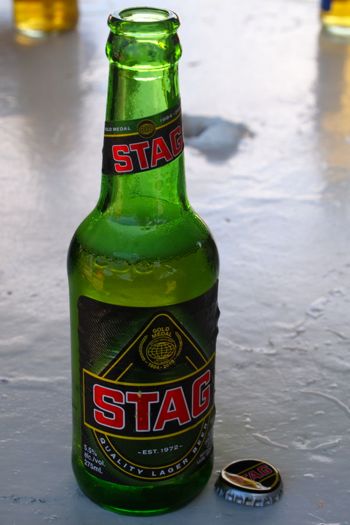 Compensating?
At least that's what the makers and marketers of Stag will have you believe. Look at their tagline: A Man's Beer. Look at their sexy Stag Girls. Look at their sponsorships of thrill-a-minute sporting events like the Stag Rally. Just look at the name "Stag" for chrissakes! You know: antlers, horns, hard, horny…
Everything about this particular beer reeks and oozes of super-charged testosterone. Stag's schtick is so thick you might think it masks some sort of, *ahem*, deficiency. I mean if it was really that good, they wouldn't have to strive so hard for attention, right?
How does Stag Beer taste?
Well, in my opinion, they don't. Stag is a damn good beer. Period. Perhaps the best in the entire Caribbean, and to me, definitely the best in its homeland, Trinidad & Tobago.
Sacrilege, you say? No Trini beer can top mighty Carib?
Indeed, for some, Carib will always be king. I tend to like it too most of the time. But for me, Carib tends to be inconsistent. I don't just mean the Carib brewed in Trinidad versus the Carib made in St. Kitts versus the Carib we can get here in the States, either. I could be at one session. In one bar. Anywhere. And order three or four straight Caribs and more times than not, they won't taste the same.
Stag Delivers
Maybe it's just me, or the fact that I enjoy Stag less often (it's not available in the U.S.), but these greenies always seem to deliver a better, more consistent flavor than their pale-gold bredren beer.
Why? The makers of Stag (who also make Carib) say that the lager's special shade of green bottle was specifically chosen to help maintain the beer's brewery-fresh taste for long periods by protecting it from sunlight. If they figured this out for Stag, though, then why wouldn't they do it for Carib too?
Yeah, not sure if there's any truth in that whole magic green bottle thing, but Stag is definitely richer and bolder than Carib. It has a bit more of a bite too, like a European lager, though not too heavy for a warm day in the sun.
If you like any really good beer, definitely give Stag a try next time you're in Trinidad or Tobago. See how it stacks up versus Carib as well. Either way, I hope you'll understand why this Triniman's World ain't nothing without a woman, or a girl… and an ice-cold Stag.
Cheers!
Related Posts