On-Site Barbados: Where to Go to Enjoy Fine Rum
As the birthplace of rum, Barbados is without question one of the best places in the world to enjoy the sweet stuff. Rumshops here are legendary, offering more than just a place to drink, but rather a warm, open introduction to authentic Bajan lifestyle. Sit at a Rumshop for a while with an open mind and an open wallet to keep the drinks coming, and you're sure to get a crash-course in local culture, politics, sports, sexuality, and other assorted and extremely funny old talk. It's an experience not to be missed on any trip to Barbados.
Sometimes, though, your taste for rum, and where you might want to enjoy it, may skew toward a more upscale experience. Something a little more refined, elegant… exclusive. When that happens, as it did for Patrick and I on our trip to Barbados last week, then I highly recommend you head to The House.
If you were with us last year around this time, then you already know of Patrick's extreme love for this swanky boutique hotel. It was all new to me when we stopped in last week, though, and all I can say is wow!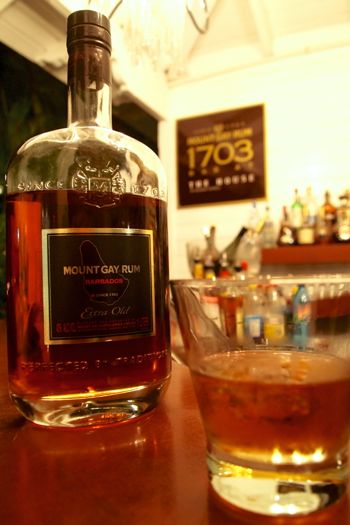 The House is as classy and stylish as hotels come, be they in the Caribbean, the French Riviera, South Beach… you name it. The place espouses a refined flavor that's as sexy as it is sophisticated; somewhat surprising considering its location astride a very busy road in the heart of St. James. The bar pictured here is probably less than 100 yards from that busy road, but you'd never know it. We sat at those bar stools for a couple hours last Friday night as the Holetown Festival raged just a ways down the road, causing a rash of traffic tie-ups. I never heard any of it, the cool vibe at The House making me feel like I was floating on a private yacht just off the coast, immune to any annoyance.
The rum selection we encountered here was modest, though you get the sense that the waitstaff would move mountains to meet your needs. Mount Gay's fine blends were the top choices. We each enjoyed glasses of Extra Old and 1703 while listening to a mix of new wave samba and electronica, accompanied nicely by waves crashing along the shore just a few paces away. It's hard to imagine it could be any better…
At The House, fine rum just complements equally fine surroundings perfectly.
For more information on The House, click here to visit them online.
Related Posts