Cow Heel and Chicken Soup, With Pigtail: Taste of the Caribbean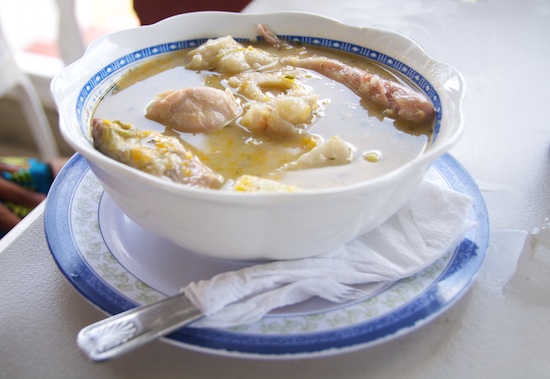 While in Barbados last week, we had the pleasure of swinging by The Village Bar for lunch. Of course, you would never find the place if you asked a local for directions using its official name because everyone knows the establishment simply by its neighborhood: Lemon Arbor.
Lemon Arbor began as just another one of the many rum shops that can be found all over Barbados, but as its reputation for spectacular local dishes grew, so did the actual shop. Now, Lemon Arbor has become the place to go on Saturdays for an extended lunch of souse, fried pork, and other pork dishes, plus cheap Banks beers and rum. Locals often spend all day Saturday limin and meeting up with friends over good food and inexpensive drinks… And you could too, for a real taste of Bajan culture.
Unfortunately, on our last visit, it wasn't Saturday. The vibe was more laid back than what you'd find on a Saturday, but the food was just as excellent as always. Living up to our "uncommon" nature, we opted for the cow heel and chicken soup, with pigtail. Cow heel is mainly comprised of the gelatinous tissue between and around the joints of the feet of a cow (or bull). It starts out as really tough stuff, but it's perfect for a nice soup.
For you truly adventurous foodies interested in cooking up your own cow heel, grab your pressure cooker and head on over to Simply Trini Cooking. The recipe is right here.
Related Posts