Barbuda's Martello Tower: Uncommon Attraction
90%
It's a huge number, no matter the circumstances. When ascribed to the total number of buildings destroyed due to a natural disaster, though, 90% is downright unfathomable. Such was the feeling I had upon setting foot on Barbuda last May. A good 90% of the buildings on Antigua's sister island had been destroyed by Hurricane Irma just eight months prior… and it showed.
From Coco Point Lodge to the Pilgrim Holiness Church in Codrington and everything in between, every structure was shattered.
Every structure, that is, except for Barbuda's Martello Tower.
At first I mistook it for a sugar mill, like the type I grew up knowing in St. Croix. This tower, though, is/was something altogether different.
History of Martello Towers
Martello towers should actually be called Mortella towers. The British screwed up the name when they appropriated the design of the cylindrical strongholds they encountered upon attacking Mortella Point in Corsica in 1794. Corsicans had employed the then revolutionary fortress design since the 15th century.
So impressed were the English with the strength and 360-degree defense capabilities of the towers that they started building their own versions all over British Empire. Nearly 150 Martellos were built up and down the British and Irish coasts during the early 1800s alone!
Additional towers were constructed everywhere from Canada and Australia to South Africa, Sri Lanka, and yes, Barbuda.
Martello Tower Barbuda
The surviving Martello Tower in Barbuda dates back to those same heady days of heightened defense construction in the early 19th century. It's said to be the oldest such tower built in the Caribbean, followed in short order by Martellos in the BVI's, Jamaica, and Trinidad.
(There's one in Bermuda too.)
The interior floors within the tower long succumbed to the ravages of time. There's no scaling to the top these days. You can, however, climb the back section and gaze for miles over Barbuda's southern shores.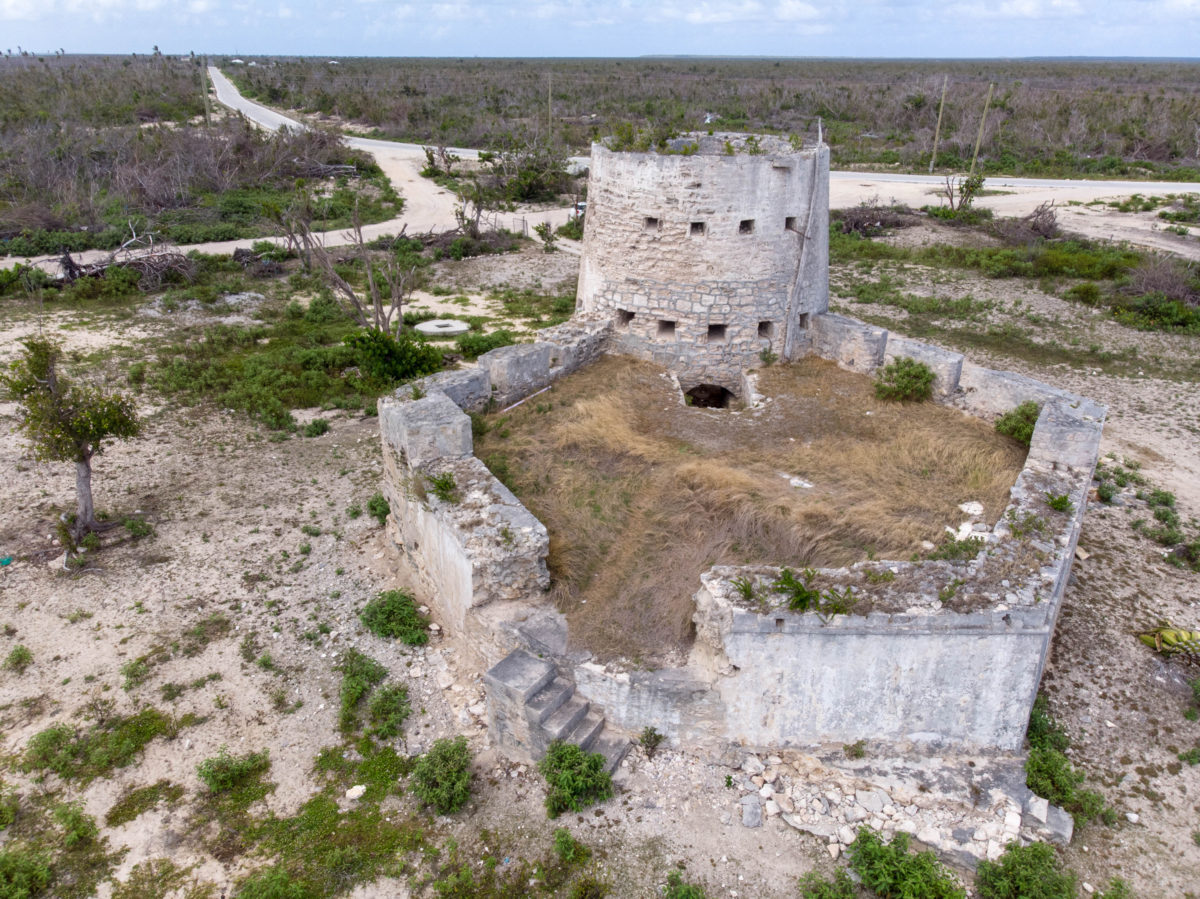 Barbuda's Martello Tower sits just off the main/only road from the ferry dock to Codrington. The famed Barbuda Pink Sand Beach separates it from the sea. It stands just 56 feet tall. In famously flat Barbuda, though, that's more than enough for the tower to serve as the island's primary landmark, aiding in navigation in and around Barbuda for more than 200 years.
Judging by how well it weathered Irma, you can bet that this Martello will continue to benefit Barbuda for many years to come.
Should you visit Barbuda now?
No destination was as severely impacted by the disastrous 2017 hurricane season as Barbuda. Now, nearly two years later, though, may be the very best time to pay this special island a visit. Check out this earlier post for reasons why I'm hoping to get back to Barbuda ASAP.
Related Posts