Tuesday 2 Cents: David LaHuta on Escaping to Bermuda… Permanently!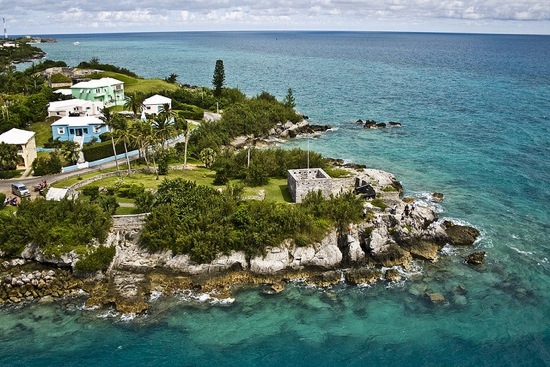 Just about everyone from the islands hopes to move back eventually (I know I do), while most everyone else dreams about living on "island time" at some point or another. David LaHuta is not most everyone. Originally from New York City, this freelance journalist now calls Bermuda home.
Editor's note: Yes, we know that Bermuda is technically not in the Caribbean, but just look at that photo! You telling me you want to split hairs when that could be your backyard? Didn't think so…
Bermuda is not David's first island home either – he lived in St. Croix from 2000 to 2003. We caught up with him recently to get some pointers on how to make a permanent escape to the islands…
Why did you move to Bermuda?
I have my wife to thank for that. She was offered a job at a local insurance firm – reinsurance being one of the island's major industries – and she jumped at the opportunity. Of course it helped that I was already a freelance writer working from home and that we both really enjoy living the island life. We've been here for 15 months and have never looked back.
How would you compare living in Bermuda to life in St. Croix?
It's not better or worse, just different. Compared to St. Croix, Bermuda is much more proper – people get dressed up for just about anything (smart casual is the appropriate island wardrobe), you can't drink alcohol in public (or while you're in your car for that matter) and if you're not on the beach you definitely should not be walking around without a shirt on (same goes for ladies in bikini tops too; a definite no-no if not on the sand). That said as in St. Croix, locals start all conversations with "good morning," "good afternoon," and "good night," and life tends to be a little slower, just the way I like it.
What hurdles did you have to overcome before settling in Bermuda?
The immigration process was, shall we say, a bit difficult. In order to move to Bermuda my wife and I had to provide the government police records, chest x-rays and letters from our doctors declaring that we were in good health. Other hurdles? Getting a local driver's license was definitely a giant hassle. You can read all about my travails of getting that little piece of identification here, here and here, but to make a long story short, Bermuda does not make it easy for ex-pats to get behind the wheel. Don't believe me? Where else in the world do you need written character references from non-family members in order to drive a car? Seriously Bermuda, it's 2010 for goodness sake.
What are your favorite/least favorite things about living in Bermuda?
There's nothing better than staring at the turquoise ocean from the desk of my home office. And I just love that I'm only a five-minute walk from the very best snorkeling spot on the island (Church Bay, Southampton if you're wondering). Bermuda also has some of the most amazing beaches anywhere in the world – they're plentiful, pink and unlike many great slices of sand in the Caribbean and beyond, they're totally accessible. Bermuda is less than a two-hour flight from most east coast cities including New York, which is my hometown. I live in one of the most exotic-feeling destinations in the world and yet can hop on a 90-minute flight to watch a Mets game. Bottom line, I love that it feels far-flung but is in every sense of the word very close to home. Least favorite things? Forget about delivery. You'll be picking up that pizza on Friday nights.
Any last tips for anyone considering a move to Bermuda?
No one can just up and move to Bermuda. Immigration is very strict about who gets to live here – it's mostly based on whether or not you have a job locally. Basically all jobs get posted in the local newspaper. If a position can't be filled by a Bermudian for whatever reason, the job is offered to an overseas ex-pat like me (I don't have a permit to work here but have permission to reside because of my wife's job). That said, most jobs tend to be in the insurance or financial services industries and require a great deal of experience and educational background. It's clearly a priviledge to live in this paradise.
Related Posts